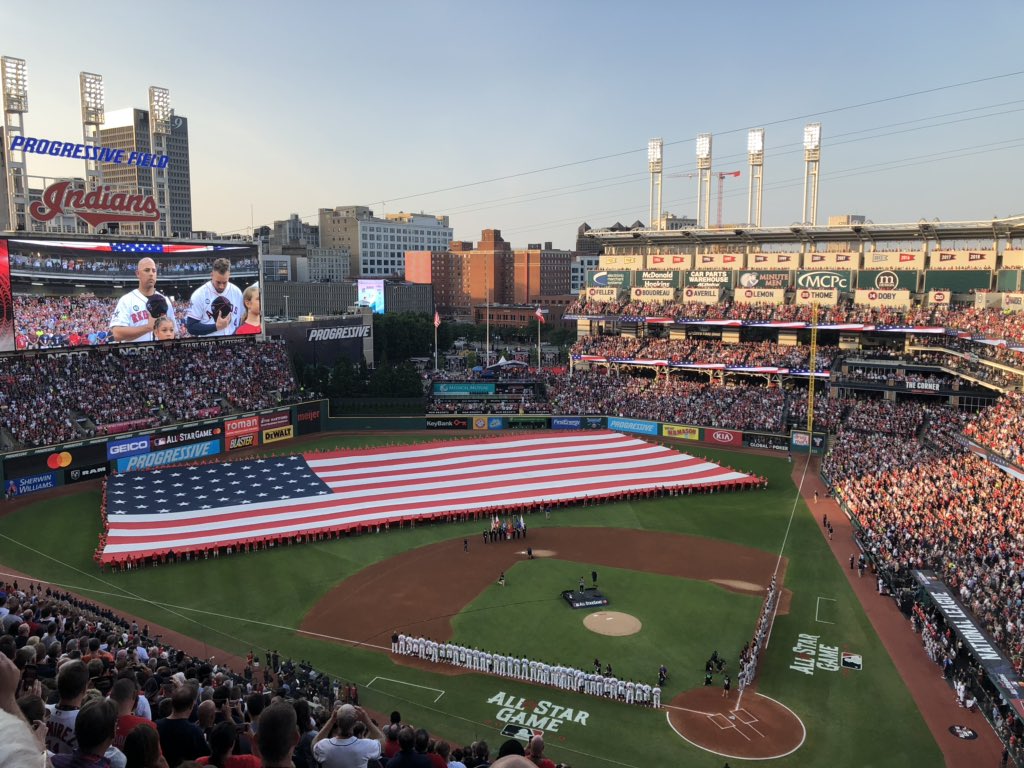 By Nick Broulis
The MLB all-star weekend has ended, but one thing is certain, Cleveland and the people showed just why Cleveland rocks!
Out of the four-major sports, if you asked 100 sports fans, I'd say probably 80 or 90 would say that the baseball all-star weekend is the best. After going to all the festivities on Sunday and Tuesday, I would agree.
I first wanted to say what a great job the entire city of Cleveland did from a fan's standpoint. What do I mean? Everything was so close. Playball Park was five minutes away from Progressive Field and what I appreciate about a city like Cleveland is how close everything is.
Security was everywhere and, to my knowledge, nothing bad happened. There were a lot of people in town and that's a tall order to keep up with everything and Cleveland police and company did a great job.
The weather couldn't have been any better. Based on all the photos that I saw online, there were a lot of chances to catch a screen saver sunset and plenty of cloudless blue skies. Weather in Ohio is always very unpredictable and my guess is, the weather Gods loved Cleveland enough so that everyone could enjoy those five days.
Let me start with how great it was to see all 30 teams being represented by at least a few fans. This is something you truly don't see much in life. I saw at least a few fans of every team. It was great to see everyone getting along even if the rooting interests were completely different.
Next, I thought the celebrity all-star game was actually pretty entertaining. I will admit that I didn't know half of the world team, but the game was fun to watch. It was good to hear the fans give J.R. Smith a big cheer.
The futures game was good as well. I'm not a minor league expert, but it was nice to see what the future holds with baseball.
I really enjoyed watching the home-run derby. Here's a reminder that Mets rookie Pete Alonso won it. Each round was fun to watch and I liked how the commentary talked about how you have to earn a home run at the ballpark in Cleveland.
There so many moments during the all-star game that I can talk about, but I will try to narrow it down.
I loved how the fans cheered for Sabathia, Brantley and the current Indians. Then, they booed Aroldis Chapman and Javier Baez. That was funny.
Mike Trout received a nice loud cheer from the fans as well.
Shane Bieber struck out the side in the fifth. The crowed really got into it with the second out and then were full throttle while Bieber pitched to Atlanta Braves young star Ronald Acuna Jr. and the place sounded more like it was cheering on Bieber as if it was a playoff game. Bieber would be named all-star game MVP later that night.
But the moment that I will never forget was during the stand up to cancer timeout. Over 36,000 fans stood and held a sign with the name of someone they knew who is battling or has lost their battle with cancer.
What made it even more incredible, was manager Terry Francona and the four Tribe starters standing with Carlos Carrasco, who is battling leukemia. What a moment.
Unfortunately, I'll have to wait another 25 or 30 years to go to the all-star game most likely, but I'm already looking forward to it.
From everything that I've read, to all that I've heard from players and coaches, Cleveland definitely rocks.

NEO Sports Insiders Newsletter
Sign up to receive our NEOSI newsletter, and keep up to date with all the latest Cleveland sports news.