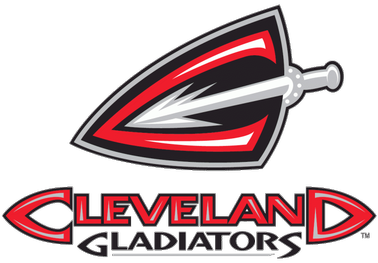 CLEVELAND, Ohio- The Cleveland Gladiators have been in the news lately regarding some coaching moves and today was an important day for the AFL franchise. The Cleveland Gladiators issued the following press release today:
GLADIATORS ANNOUNCE COACHING STAFF FOR 2017 SEASON
Dominic Jones promoted to Assistant Head Coach; Siaha Burley, Chad Schofield, and Clay Harrell join staff as first-year assistants.
CLEVELAND – The Cleveland Gladiators, presented by Unique Home Solutions, finalized their 2017 coaching staff on Friday, the team announced.Dominic Jones, the team's Defensive Backs Coach in 2016, has been promoted to Assistant Head Coach/Director of Football Operations. Additionally, the team has also announced the hiring of Siaha Burley as the team's Offensive Coordinator/Assistant Director of Player Personnel,Chad Schofield as the team's Offensive Line Coach/Football Outreach and Community Ambassador and Clay Harrell as the team's Defensive Line Coach & Strength and Conditioning Coach.
"I believe we have assembled the best coaching staff in our league," said new Gladiators Head Coach Ron Selesky.  "We have a great blend of personalities, men of character who have a proven track record in the Arena Football League and will put our team first. They have demonstrated the ability to teach as well as pass on their knowledge. It's an outstanding group of coaches and I can't wait to get started with them on our quest to the Arena Bowl."
Jones, 29, returns for his second season on the Gladiators coaching staff after a successful playing career as a Defensive Back in the AFL. In addition to his role as Assistant Head Coach and Director of Football Operations, Jones will oversee the Defensive Backs and Special Teams units. Jones coached a Cleveland secondary in 2016 that tied for second in the league with 19 interceptions, eight of those being returned for touchdowns, a single-season record.
"D.J. will bring a ton of energy to the table," added Selesky. "His knowledge of our game along with his leadership skills is unparalleled. He will leave no stone unturned in his attempt to help improve our team. D.J. is a rising star in the coaching ranks and I'm thrilled that he's our Assistant Head Coach."
During Jones' time as a player he totaled 335 tackles and nine interceptions while amassing 3,072 kick return yards. Jones was a part of the famed Gladiators "No Fly Zone" secondary during the 2014 campaign in which the Gladiators went 17-1 in the regular season en route to an appearance in ArenaBowl XXVII.
Jones is a native of Columbus, OH, and graduated from Otterbein University.
Dominic Jones bio: http://www.clevelandgladiators.com/team/roster/dominic-jones
Burley, 39, comes to Cleveland after spending last season as the Offensive Coordinator with the Arizona   Rattlers and brings with him five years of coaching experience in the AFL, including being named Assistant Coach of the Year in 2015 while with the Orlando Predators. Burley will call the plays this season as Cleveland's Offensive Coordinator while also serving as the team's Assistant Director of Player Personnel.
"Siaha has a proven track record as an offensive play caller and a developer of young talent," Selesky continued. "He will be a valuable addition to our staff."
Siaha (pronounced SIGH-uh) was a three-time All-Arena selection as a wide receiver and was the first player in league history to record 2,000 receiving yards in a season. Burley hails originally from Mesa, AZ, and is a graduate of the University of Central Florida.
Siaha Burley bio: http://www.arenafootball.com/sports/a-footbl/aflprd/mtt/siaha_burley_841775.html
Schofield, 29, returns to Cleveland for his fifth season, his first as a member of the coaching staff. With his playing days behind him, Schofield will lead the team's Offensive Line in 2017.
"Chad knows our game inside and out," Selesky added. "He was a perfectionist as a player, and will undoubtedly pass that trait onto his group."
In addition to his duties on the field, Chad will have an instrumental role as the team's Community Outreach and Football Ambassador off the field.
Schofield, a fan favorite during his time with Cleveland, has previously appeared in 33 games over the last four seasons with the Gladiators at fullback and along the offensive line.
Schofield is a native of Strongsville, OH, and played collegiately at Marshall University.
Chad Schofield bio: http://www.clevelandgladiators.com/team/roster/chad-schofield
Harrell, 34, will lead the Gladiators defensive line in 2017 after spending the 2016 season with the Orlando Predators as their line coach. Harrell, who will also serve as the team's Strength and Conditioning coach, brings five years of AFL coaching experience with him to Cleveland.
"Clay has done a great job developing rookie linemen over the years on both sides of the ball," Selesky continued. "He's made an impact on and off the field in every place he has been in his career."
Harrell played five seasons in the AFL as a fullback, including appearing in seven games with the Gladiators in 2013.
Harrell is originally from West Sacramento, CA, and graduated from Northern State University.
Clay Harrell bio: http://www.arenafootball.com/sports/a-footbl/aflblz/mtt/clay_harrell_830377.html
The Cleveland Gladiators are part of the Cleveland Cavaliers and Quicken Loans Arena organization, and also owned by a group led by Cavaliers Majority Owner and Quicken Loans Founder and Chairman Dan Gilbert. The group also owns and operates the Cleveland Monsters of the American Hockey League playing at Quicken Loans Arena and the Canton Charge of the NBA Development League playing in nearby Canton, Ohio at the Canton Civic Center.

NEO Sports Insiders Newsletter
Sign up to receive our NEOSI newsletter, and keep up to date with all the latest Cleveland sports news.