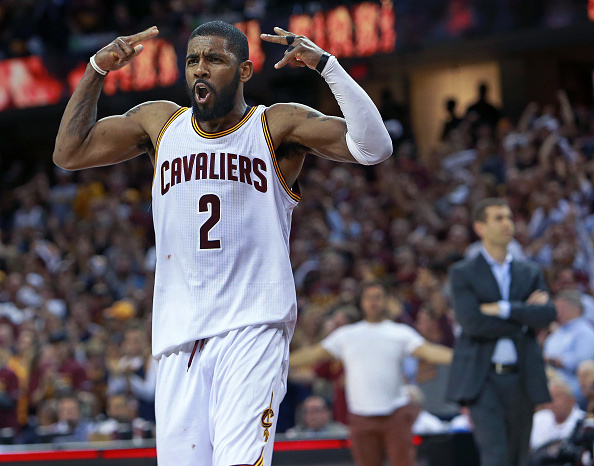 Cleveland– Kyrie Irving has requested a trade out of Cleveland, according to a new report from ESPN's Brian Windhorst.
Kyrie Irving requests a trade from Cavs, sources told ESPN. LeBron James was blindsided and is disappointed: https://t.co/54afvYge9V

— Brian Windhorst (@WindhorstESPN) July 21, 2017
Irving reportedly wants to play for a team where he can have more of a starring role, according to league sources.
Per Windhorst, Irving made the request last week to Cavaliers owner Dan Gilbert. The report says that LeBron James was informed of Irving's request, and was "blindsided and disappointed."
In a separate report, Windhorst said that James told the Cavs front office that he will not intervene and will allow them to take the lead in dealing with Irving's demands.
ESPN said that other teammates have learned of Irving's desire for a trade over the last few days. Irving's agent, Jeff Wechsler, would not confirm or deny ESPN's report to the network.
"Kyrie and I had a meeting with Cavs leadership where we discussed many different scenarios in reference to Kyrie and his future with the team," Wechsler told ESPN's Adrian Wojnarowski.
"The basis of those discussions and what went on in those discussions are between the Cavs and us. We are respectfully going to keep those private."
This news comes on the heels of Irving telling Sports Illustrated that the Cavs are in a "peculiar place" this off-season.
Sam Amico reported Friday Irving's father's rocky relationship with the Cavs also plays a role into his discontent.
Irving's father, Dredrick Irving, has often behaved negatively about his son playing alongside James, league sources told Amico Hoops — with Dredrick Irving often shouting demands from the stands that his son, and not James, should be the No. 1 option.
Irving has $60 million left over the final three years of his contract, and has the option to opt out before his final season. If Irving is traded, he would forfeit the ability to sign a supermax contract with the Cavs in 2019.
According to cleveland.com's Joe Vardon, the Cavs and David Griffin had a trade deal on the table for Irving prior to the draft. However, Irving had not yet made his desire to leave Cleveland known to the team.
Irving and the Cavs have gone to the last three consecutive NBA Finals, and if this trade comes to fruition, it would no doubt rock the team to its core. There's no telling how it would impact James' decision to stay in Cleveland following the 2017-18 season.
The Cavs selected Irving No. 1 overall in the 2011 NBA Draft. Irving was expected to lead the franchise in the years to come, until James returned to Cleveland in 2014. It's no secret that the two have clashed at times over the last three seasons, but there seemed to be more good times than bad over that same amount of time.
Following Game 4 of the Eastern Conference Finals this season, James heaped praise on Irving's play.
"The kid is special. He basically was waiting for the opportunity to be able to blossom, and I'm just happy and blessed that I decided to come back, and I was able to help him blossom I guess," James said.
"It's games that he's always been built for, he just never had an opportunity because of the teams at that point in time. … He was born for these moments."
More LeBron on Kyrie "He's a special kid… he was born for those moments" pic.twitter.com/D7Jau0Hnif

— Ashley Bastock (@AshleyBastock42) May 24, 2017
If Irving leaves, it's unclear who would take the starting point guard role; the move would also likely give the Eastern Conference some serious parity.
It's also unclear which team Irving has his eyes on, as most of the top teams in the league (including the Celtics, the Golden State Warriors, the Houston Rockets and the San Antonio Spurs) already have multiple superstar guards.
The bottom line remains this: Irving's decision to ask for a trade itself is blindsiding on multiple levels– and it's hard to imagine Irving or the Cavs landing in a better situation than both currently reside.

NEO Sports Insiders Newsletter
Sign up to receive our NEOSI newsletter, and keep up to date with all the latest Cleveland sports news.