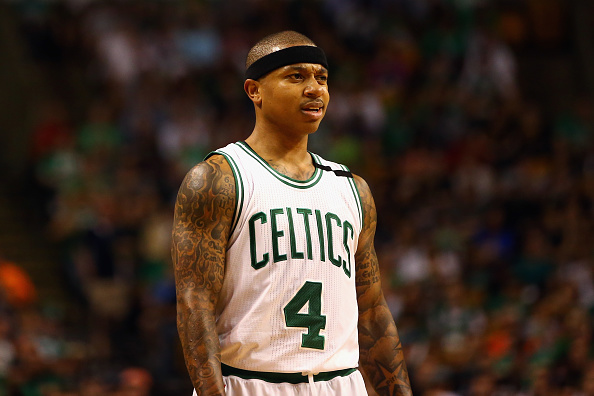 Early Tuesday evening, the Cavaliers traded Kyrie Irving to the Boston Celtics.
In return, Cleveland acquired Isaiah Thomas, Jae Crowder, Ante Zizic and the Brooklyn Nets unprotected 2018 first-round pick.
When news first broke of Kyrie Irving's trade request, we took a look at some of his stats and advanced metrics. Ultimately, it's clear that Irving is an incredible offensive talent who struggles on the defensive side of the ball. Thomas essentially provides the Cavs with all that Irving did, with some slight differences.
Points per game: Thomas has Irving beat here, as he averaged 28.9 points per game last season, compared to Irving's 25.2 points per contest. Thomas' numbers were good for third best in the league last year, behind Russell Westbrook and James Harden. Granted, now he will have to share the ball with LeBron James, and his numbers will likely experience a slight drop off, but he still provides an offensive scoring threat that is essentially equal to Kyrie Irving.
Usage rate: Thomas contributed on 34 percent of Boston's plays last season, while Irving contributed on 30.8 percent for Cleveland. This was a stat where Irving (ninth) surpassed James (12th) in 2016-17, but Thomas surpasses them both at fifth place in the league.
Real plus-minus: This is the stat most often cited to show the struggles of both Irving and Thomas on defense, and there is a bit of a difference in these numbers that gives Irving a slight edge.  Irving had an RPM of plus-2.05 last season, good for 53rd in the league. Thomas recorded a plus-1.83 rating, putting him at 59th. Given his scoring output last season, Thomas has the higher offensive rating of plus-5.72, compared to Irving's plus-4.35. Irving has the edge on defense, (which gives him the edge overall) with a minus-2.30 rating compared to Thomas' minus-3.89.
True shooting percentage: In the stat that measures a player's total impact shooting-wise, Thomas again has the advantage over Irving. Thomas record a 62.5 true shooting percentage during 2016-17, while Irving made 58 percent of all the shots he took. Irving had the advantage in the Playoffs however, as his true shooting percentage basically stayed the same at 57.3 percent, while Thomas dropped significantly to 56.3 percent.
Pick and roll defense: Irving and Thomas are essentially equally bad here, with Thomas having the slight edge. Irving gave up 0.96 points per possession while guarding the ball handler in a pick and roll last season, while Thomas gave up 0.91 points per possession. When guarding the screener, Irving allowed 1.10 points, while Thomas allowed 0.77.
The biggest difference between Irving and Thomas is Irving's playoff performances, as Irving's offensive numbers essentially stay the same throughout the Playoffs, while Thomas experiences a slight drop off. Irving also has the slight edge on defense, mainly because of his size.
Regardless, offensively Thomas has the ability to shoulder a big load for the Cavs this season that will likely lead to James handling the ball less. And while Thomas makes up for a lot of what Irving provided offensively, the most underrated part of this trade was the addition of Jae Crowder.
Crowder provides the Cavs with the post and wing defense that they were so desperately after in 2016-17. As an isolation defender, Crowder allowed just 0.73 points per possession last season for the Celtics, placing him in the 81st percentile in the league.
Crowder's RPM rating is also a huge step up. He was 20th overall in the league last year with a plus-3.89 rating. He posted a plus-1.69 defensive rating, coupled with a plus-2.20 offensive rating.
While Thomas doesn't do anything to combat the Cavs' defensive woes, Crowder gives them a big step up. Against the team that matters the most, the Golden State Warriors, Crowder has the ability to give James a respite by guarding either Kevin Durant or Draymond Green, and can hold his own against the guards if need be.
If he can keep up his performance from 2016-17, Crowder also has the opportunity to be big offensively for the Cavs. Last year he shot 39.8 percent from behind the three-point arc, far and away the best shooting of his career.
Yes, it could just be a flash in the pan, but if he gets in a groove, Crowder could essentially be a better version of Richard Jefferson or Channing Frye: A large body who can spread the floor with his shooting ability, but who poses more of a threat defensively.
Center Ante Zizic could also potentially be a big pick-up down the line. The back-up center position is one that the Cavs struggled with all last season, (see: the injuries to Chris Andersen, Andrew Bogut and Edy Tavares) and the move creates some depth. The Brooklyn Nets 2018 unprotected first-round pick also gives the Cavs the opportunity to pull from a young talent pool, and to begin preparing for life after LeBron James.
The Cavs had to be picky when it came to trading Kyrie Irving, and in the end, the wait paid off. With this trade with Boston, the Cavs got better for now and for the future. Losing an offensive talent like Irving is tough, but the Cavs essentially traded him for two starters, one of which is a better defender, and managed to make two good moves for their future.
It has been a rough summer in Cleveland up until this point, but through all the lows, rookie general manager Koby Altman worked his way to the best possible move.
Perhaps most importantly, the bottom line remains this: The Cavs are still the team best suited to beat the Warriors next season, and that speaks volumes about the team and LeBron James.

NEO Sports Insiders Newsletter
Sign up to receive our NEOSI newsletter, and keep up to date with all the latest Cleveland sports news.