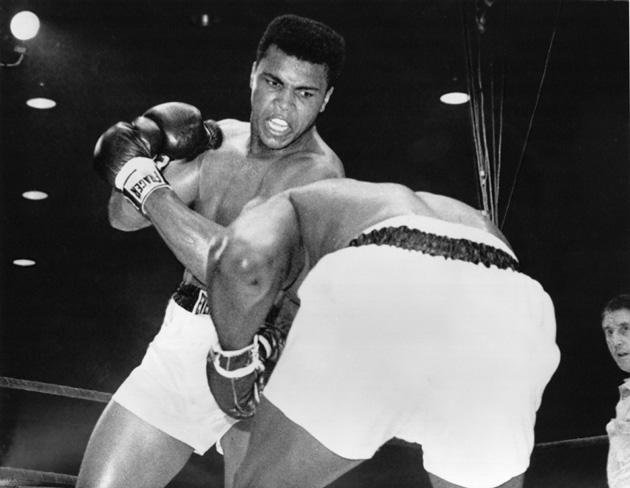 This preview is brought to you by the official Boxing Sponsor of NEOSI and premier GYM in Northeast Ohio, Workout Factory 24/7 in Parma.  You can visit them at the below link
https://www.workoutfactory.com/
The most feared man on the planet used to be The Boxing Heavyweight Champion of the World.  Sadly, those days are long gone.  However, with great books like "Boxing Kings" by Paul Beston set to come out soon, the interest in boxing will only increase.  Beston harkens back to some of the greatest, if not all of the greatest days of the American Heavyweight in this thrilling book.  It is a can't miss and I would highly suggest ordering your copy today!
I had the chance to speak with Paul, and his passion for the sport is quite refreshing.  Here below are some of the highlights of that conversation.  Enjoy!
Who were some of the fighters you grew up idolizing?
I grew up in a great time for boxing—the seventies and early eighties—when top fighters were plentiful, especially at the lower weights. I admired Roberto Duran, Salvador Sanchez, Alexis Arguello, Aaron Pryor, Ray Leonard, Marvin Hagler, and Ray Mancini, among others. I'm old enough to have seen some of Muhammad Ali's late fights on television, and I followed closely the careers of Larry Holmes and, later, Mike Tyson. Historically, the heavyweight who sparked my interest most was Jack Dempsey.
Why did you decide to write this book?
I realized that a single-volume history of the heavyweight champions hadn't really been done in a narrative form, as a story involving characters who connect with one another across time. And I wanted to tell that story in a way that stressed how these champions' lives and careers intersected with American history.
How much research goes into a book like this? Walk us through the steps.
Quite a lot. For a book covering such a long time frame (more than a century) and so many characters, one could keep on researching indefinitely and never cover all of it. The Muhammad Ali bookshelf alone is virtually endless; I read a few dozen Ali books. Most of the other major champions have only a handful of important books about them, so that was more manageable. Then there are the newspapers and magazine stories, which, for older figures, can be quite exhaustive, in an age before television. With the advent of YouTube, there is now a treasure trove of video and film clips available—not just their fights but also their appearances on television or movies or commercials. And with the Internet, there is a tremendous amount of new writing on these guys, and some of it is outstanding. So there is an enormous literature, both archival and contemporary, which can be overwhelming to get one's arms around. At some point you have to say, I've done the best I can, and hope that readers find the final product worthwhile.
Is there anyone you wish you could have interviewed for this book that you couldn't?
I didn't conduct interviews for this book—but if Jack Dempsey were still around, it would have been impossible to resist the temptation to ring him up.
What was your favorite part about the research that went into this?
Reading old newspapers: it's inspiring to try to go back into the past and experience these events as readers might have done back then, to note the different styles of writing, to look at the ads, to come across other fascinating stories going on in that day's paper, from big events in history to local homicides.
Can readers expect a sequel?
There's no real sequel to this particular story—of the whole cast of heavyweight champions, taken together—but the individual champions' sagas have all kinds of interesting threads that could be explored.
In your opinion, who is the greatest Heavyweight Boxer of all time and why?
I'd vote for Muhammad Ali, on the basis both of his skills and his achievements. He beat the most formidable competition that any heavyweight champion ever faced, holding victories over Sonny Liston, Joe Frazier, and George Foreman, not to mention many other good fighters. A good case still exists for Joe Louis, though. It always comes down to these two.
Where can readers purchase your book?
They can get it on Amazon, Barnes & Noble.com, Books a Million, and other websites.
Why has MMA become so much more popular then Boxing?
Boxing has been so poorly run and marketed that it lost a good portion of its audience, especially among younger fans. When I grew up, boxing was on free TV, seemingly every weekend. When boxing moved exclusively to cable and pay per view, it lost that natural everyday connection with people. Also, its organizational chaos and corruption eroded its fan support, and when MMA came along, shrewdly marketed and managed, it filled a void. I see MMA more as a byproduct of boxing's decline, not a cause.
What can boxing do to become the number one combat sport in America again?
Put on good fights that deliver on expectations—it's done some of that in recent years, and it's had a bit of an uptick. The one thing that could potentially change things would be if an American heavyweight champion emerged who captured public interest in something like the way Mike Tyson did in the 1980s. That's a tall order, of course. I don't know that Deontay Wilder can fill it, but if he gets a match with Anthony Joshua somewhere down the line, it will be interesting to see how much excitement it generates.
Why are there now a lack of great American heavyweights?
I'm not sure. Some boxing people seem to think that football and basketball started stealing big men away, but I've never been persuaded by that. Whatever the cause, boxing's decline has definitely been most dramatically felt in the heavyweight division, which used to be more or less an American property.
How much damage would it do to Boxing if McGregor beats Mayweather?
Boxing can survive anything, as it has proved again and again. (In what form it survives is another question.)
What do you hope to accomplish with this book?
I hope that readers looking for a one-stop history of the heavyweight championship in the U.S.—a history that involves some of the most prominent figures in American popular culture—will find the book engrossing, and that other readers who just wonder what all the fuss was about regarding boxing, and why so many people have cared about it over the years, might get an answer to that question from The Boxing Kings.
No matter if you are training for Boxing, MMA or just looking to improve your overall fitness, Workout Factory 24/7 is your place to be. Visit them now!!!
https://www.workoutfactory.com/

NEO Sports Insiders Newsletter
Sign up to receive our NEOSI newsletter, and keep up to date with all the latest Cleveland sports news.