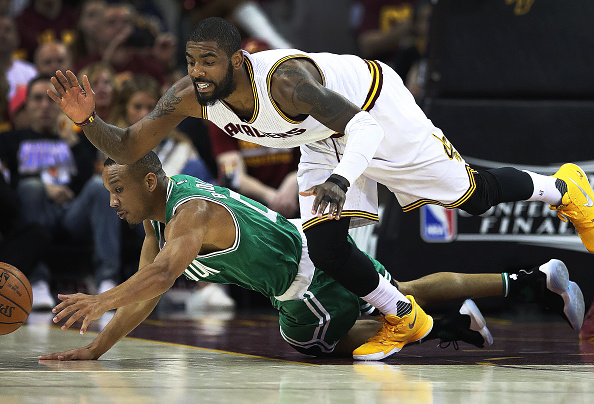 Kyrie Irving is going to be a Boston Celtic.
The Cavaliers have reached an agreement on a deal that will send Irving to Boston. In return, the Cavs will acquire Isaiah Thomas, Jae Crowder, Ante Zizic and the Brooklyn Nets unprotected 2018 first-round pick, as first reported by Shams Charania of The Vertical.
According to Adrian Wojnarowski of ESPN, the trade is official and was approved by the league. Shortly after the trade call, Irving was on the phone with Boston officials.
Irving's first game back in Cleveland will be the first game of the season on Oct. 17.
In a meeting with Dan Gilbert on July 7, Irving made it clear that he was unhappy in Cleveland, and was seeking a trade to a team where he could have more of a starring role.
Irving averaged a career-high 25.2 points per game in the 2016-17 season. He also shot 47 percent from the field, 40 percent from beyond the three-point arc and averaged 5.8 assists per game.
The Cavs selected Irving No. 1 overall in the 2011 NBA Draft. Irving expected to lead the franchise in the years to come when he signed a five-year contract extension in the summer of 2014, until LeBron James returned a few weeks later. It's no secret that the two have clashed at times over the last three seasons.
Throughout James' career, certain teammates have struggled to adapt to living in his shadow. A report from early August even stated that Irving had become so reserved, that he went weeks without talking to his teammates during the 2017 Playoffs.
Following Game 4 of the Eastern Conference Finals this year, Irving acknowledged the fact that it has been difficult for him to figure out his role on the team at times.
"For me, it hasn't been anything short of difficult, trying to figure out when will it be my time," Irving said. "My job is to be in the moment, especially with an unbelievable player like [James]. You have to enjoy the ride just as much."
"You can't cheat the game, and I don't." -Irving pic.twitter.com/rHLMMIw1xW

— Ashley Bastock (@AshleyBastock42) May 24, 2017
Irving was also reportedly unhappy with the team's decision to part ways with former general manager of David Griffin. The fact that Irving had apparently been included in a potential trade package when the club was trying to sign Paul George and Jimmy Butler was also seen as a slap in the face.
Over the years, Griffin worked tirelessly to combat a locker room that was at times filled with egos and individual interests. Coupled with the fact that the team had no exit meetings following the 2016-17 season, everyone, including James, was blindsided by Irving's trade request.
Irving provided Gilbert with a wish list of teams during their meeting that included the Miami Heat, New York Knicks, San Antonio Spurs and Minnesota Timberwolves.
Without a no-trade clause, however, Irving essentially had no control over his destiny.
Irving also is giving up millions of dollars with this trade, as he now forfeits the ability to sign a supermax contract with the Cavs in 2019.