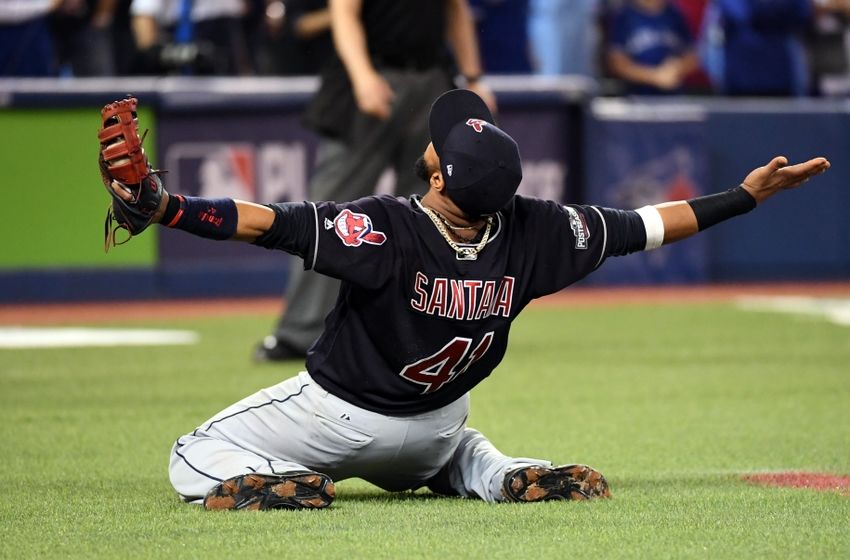 According to MLB.com and Jordan Bastian reports that Carlos Santana might be playing some Left Field during Games 3-5 of the World Series.
Recently Cleveland Indians designated hitter and first baseman, Carlos Santana, has been taking fly balls out in left field. During games 3-5 of the World Series in Chicago, a designated hitter would not be used due to National League rules of no DH and the pitchers hitting. Indians manager, Terry Francona, is weighing all of his options for the World Series. With 3 games being under National League rules, Mike Napoli or Carlos Santana would be forced to sit on the bench because of the DH rule. Both players play a big part of the Indians line up and can be a major boost for the team. Since both players are important in the Indians line up , Francona is thinking about starting Santana in LF when the Tribe heads to Chicago.
Francona had this to say on the National League DH rule :
"I don't like the idea that we play all year with the DH and now you get to the most important games and you don't have it. But that's the way it is, so we'll see."
Santana has only played one career game in left field and that was on August 12, 2012, Santana spent the final four innings of the game in that position.
The new left fielder? After talking to Antonetti, Francona and Mills, sounds like Indians strongly considering Santana in LF without the DH. pic.twitter.com/T2AxxjmlnH

— Jordan Bastian (@MLBastian) October 27, 2016
As for my opinion on this situation, previously in 2014 when the Indians had Nick Swisher at first base, the team tried having Carlos Santana play third base. Jose Ramirez, in the beginning of this season played some left field as they waited for Michael Brantley to return but shortly moved back to third base once the team released Juan Uribe. For this situation I believe that if you have Ramirez start in left field and have Santana play third it'd be a situation in which both players would be comfortable where they are stationed. In the end though, who am I to judge Terry Francona's mindset? He has proven time and time again that he is a genius.
What are your thoughts on the possibility of Carlos Santana playing Left Field during the World Series? Do you agree or Disagree? Do you have any suggestions ? Let us know on Twitter @NEOSportsInside or my personal Twitter, @PaytonVince .
GO TRIBE!

NEO Sports Insiders Newsletter
Sign up to receive our NEOSI newsletter, and keep up to date with all the latest Cleveland sports news.