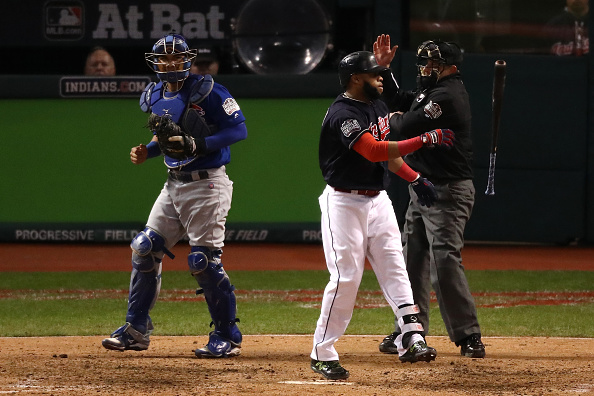 CLEVELAND – You didn't think it would be that easy – did you?
Well, the Chicago Cubs are not going to make it easy if the Indians want to take home their first title in nearly 70 years, as Wednesday night under cold and at times drizzling skies, they took care of business in game two of the best-of-7 series with a convincing 5-1 win.
Here's the breakdown of the game, and a little of what to look for as the team has Thursday off before game three in Chicago on Friday night.
1. No Power from Bauer
The big question going in was what could Indians starter Trevor Bauer do following the pinky finger injury that only allowed him to pitch to four batters in game four in Toronto. While he claims the finger was no factor on Wednesday, his stuff was not very good, with the Cubs getting single runs in the 1st and 3rd against him. Overall he lasted 3.2 innings, allowing two runs on six hits with two walks and two K's. Too many pitches, and allowing that second run to take place all with two outs was frustrating to watch. As Terry Francona said about the starter "they never let him settle into the game."
2. Arrieta's Dominance
Jake Arrieta of the Cubs was the Cy Young award winner last year, and Wednesday he looked like that again in holding the Indians to no hits until the 6th inning with the Cubs ahead in comfortable fashion already 5-0. The Indians had a chance in the first after two walks, but couldn't get the big hit as Jose Ramirez flew out to end the inning. Rajai Davis said that might have been the turning point of the game, as from there Arrieta got in a groove, and was able to hold the Tribe in check. They will see him again in game five in what could be a must win if the Tribe loses two straight in Chicago, and that's not something to look forward to.
3. An Off Night for the D
The Tribe defense, which to this point in the playoffs has been good, wasn't very good on Wednesday. They committed a couple sloppy errors, with Jason Kipnis and Lonnie Chisenhall having forgettable nights on D. "Kip will be fine," Francona said when talking about the D. Maybe the bigger issue is if his ankle is truly bothering him, and on a night when it was low 40's for most of the game, you have to think it didn't feel great. The D has to avoid mistakes to get a couple W's in Chicago.

4. The CF Issue
Right now a huge area of concern in the offense is that of center field, as Rajai Davis is in a massive slump this postseason, hitting 1-for-19 with eight strikeouts, and combine that with Tyler Naquin the two are a combined 4-for-37 with 19 strikeouts. A key for Davis is simply getting on base and trying to use his speed, but thus far in the postseason he's not done it much, if at all. Patience at the plate, or just getting some hits and building some confidence would be nice for this twosome to get the offense going again in the right direction.
5. Santana in the Outfield?
In order to keep his bat in the lineup, could Francona really be considering Carlos Santana in left field for one or two of the games in Chicago? Hard to think about, but with one spot already basically lost due to the pitcher and an offense that at times has had their issues in the postseason, they need to have every good bat in the lineup, and that includes Santana. Look for Francona to maybe get creative with Mike Napoli and Santana to make sure each are playing.
6. Gotta Get at Least One
Sad to think that this could have been the last game in 2016 at Progressive Field, but take heart, the Indians have done a great job avoiding losing streaks, and it's hard to think they will lose three in a row at Wrigley Field. With that, the Tribe has to win at least one in the Windy City to get a game six, even down 3-2, back at Progressive Field on Tuesday night of next week. It would be awfully nice to be up 3-2 with a chance to close out the Cubs at home in game six, but with the way the Indians have played all season at home, just knowing you have another crack at the Cubs at Progressive Field would be nice.

NEO Sports Insiders Newsletter
Sign up to receive our NEOSI newsletter, and keep up to date with all the latest Cleveland sports news.