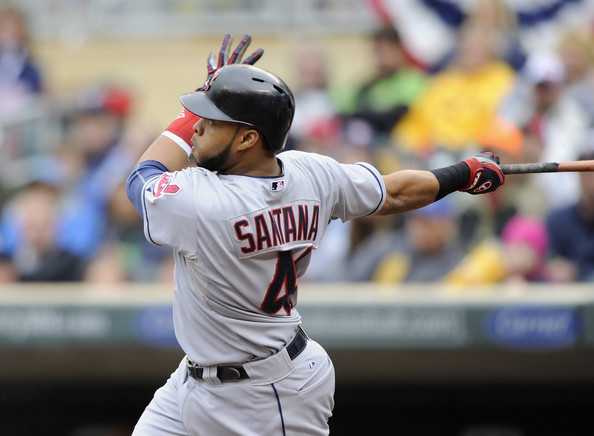 In the 1116 games that Carlos Santana has appeared in during his time with the Indians, he's played in the outfield in exactly ten of those games.
That very well could change for Santana in 2019, as he's already in the midst of a homecoming of sorts after a year away with the organization, and with such a shift with the teams' roster, there could very well be a chance that Santana might find himself some playing time in the outfield.
"That's something I want to sit down and talk to him about," Indians manager Terry Francona said Saturday after the chance of Santana in the outfield.
"Between (new Indian Jake) Bauers and Santana, we need to figure out what ends up being best for our team. And to do that, I think we need to communicate with both those guys and watch them play for a little while."
Bauers, who came to the Indians in a deal this offseason involving Yandy Diaz, played 40 games in the outfield last year for the Tampa Bay Rays, but it sounds like (at least for the moment) the team is ready to have him as the everyday first basemen.
If that happens, it leaves two positions for Santana, DH or the outfield, and Francona seems to want to try and make sure that Santana is on the field in some defensive role in 2019.
"Knowing Carlos, he's never been the biggest fan of DH-ing," Francona said.
"Some of that may have to come with how we're configured. I was proud of him for being willing to do it, I just thought physically it wasn't that hard for him. He's a better athlete than people give him credit for."
If it comes down to helping the team and doing what's best for the franchise, Santana seems ready to try his hand in the outfield, and with the current crop of players the team is looking to try and run into the outfield, it might be the best decision for the Tribe to have Santana shagging fly balls when the season starts.
"Everybody knows that my natural position is catching and playing third base and first base," Santana said on Saturday.
"I don't like to worry about that. I worry about if I'm going to be in the lineup every day. If Tito needs me to be in the outfield, then I'll do it 100 percent."
The Indians seem to be a team that is going to be built on players that can play more than one position, so it should not come as a surprise to see Santana in that mix playing in multiple spots in 2019.
If it means keeping his bat in the lineup trying to get on base for a team that might need help in that area, playing the outfield doesn't sound so bad to the Indians veteran.
"Everybody knows I'm a guy who likes to play," said Santana.
"I want to help my teammates. I'll help (Francisco) Lindor, Jose (Ramirez), any younger player. I have no preference. If Tito needs me, I'll do whatever."

NEO Sports Insiders Newsletter
Sign up to receive our NEOSI newsletter, and keep up to date with all the latest Cleveland sports news.