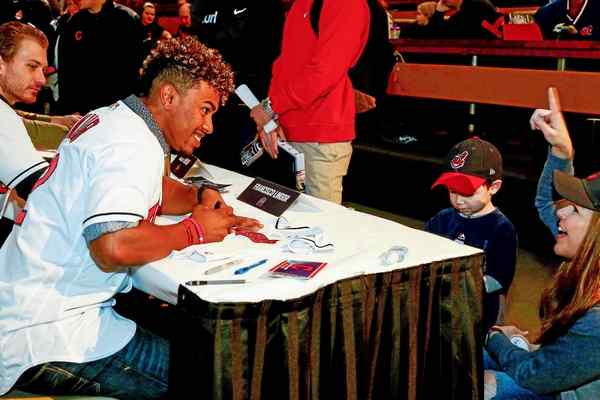 Complete with blue hair and a strained calf muscle, Indians superstar shortstop Francisco Lindor made his first comments today in Spring Training in Goodyear, and a lot of it surrounded the almighty dollar.
Lindor did not have to go to arbitration last month with the Indians, instead inking a one-year deal worth $10.55 million.
He's also under team control and can't hit the free agent market until 2022, but already fans want to see the shortstop make a long term commitment to the franchise, and the team would love to keep him around.
"I love the city of Cleveland. I love everything about Cleveland," Lindor said Monday.
"I love messing with you reporters. We'll see what happens. At the end of the day I'm playing the game to win, and this is a good place for me to win. We'll see. If the Indians come up with the right numbers and some point it happens — and I'm not even thinking about it — we'll see."
Lindor said he was happy about the money he ended up with this offseason, making over $10 million dollars at the age of 25 is not bad at all, but he probably could have ended up making more money if he would have taken the team to arbitration.
"Did you see the number? It's pretty good. I'll take it. I'm blessed to play this game and get paid for it. My agent did an outstanding job and the Indians came up with the right number," Lindor said.
"We thought it was good for what the market was dictating to me. I thank the owners, the front office and my agent as well. They did an outstanding job and I signed the paper. I'm happy."
Keeping the young star happy might be the most important thing the franchise has to do over the next few seasons unless they can somehow, someway make the shortstop happy enough to ink a long term deal.
Consider that Bryce Harper, this year's mega free agent, is rumored to be on the verge of inking a deal with the Philadelphia Phillies for 10 years at a reported $300 million, it's easy to think that Lindor can eventually get that type of money on the open market.
That is if he makes it.
If he reaches the open market in 2022, it's safe to say that he's as good as gone from the Indians organization.
Lindor though, says (as many athletes in the past have said) that it's not about the money, but the fact that the shortstop didn't take the Indians to arbitration and try to squeeze more money out of them is a good sign for the future.
"Money is good. I could buy a lot of things right now. I'm good, brother. My security is my family. This is not going to dictate what happens in free agency. Not a chance," Lindor said.
We will see if the Indians can find a way to come up with enough money to make Lindor happy, and if the young star stands by what he says and doesn't just wait for the biggest offer in three years and leave the franchise for the last buck.
With the backlash of this last offseason's payroll purge by the team, if they can find a way to get enough money put together to get Lindor paid, it will surely give Tribe fans something to cheer about.

NEO Sports Insiders Newsletter
Sign up to receive our NEOSI newsletter, and keep up to date with all the latest Cleveland sports news.