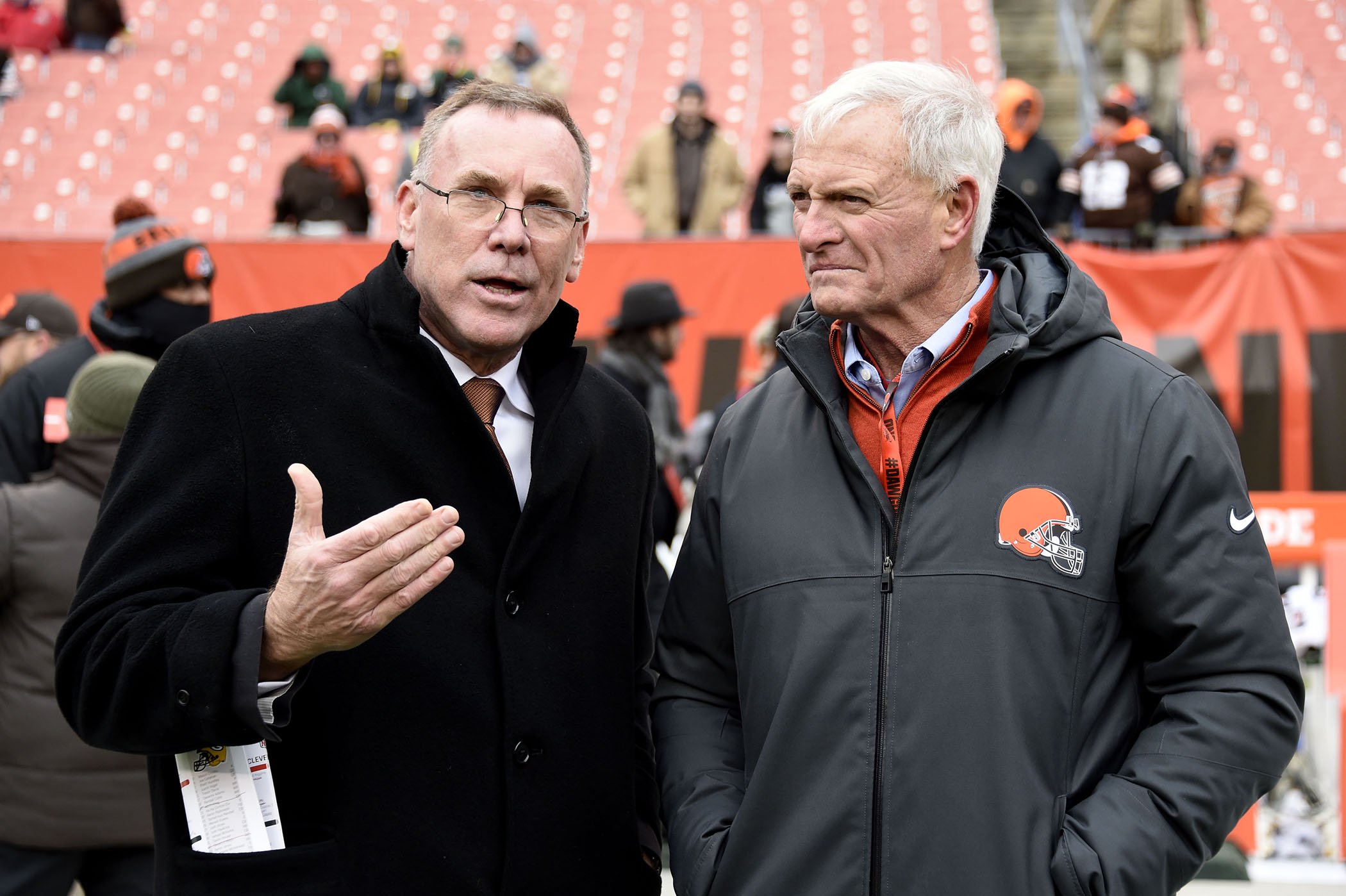 CLEVELAND – It's the burning question everyone in Northeast Ohio thinks they have the answer to: What should the Browns do with the first overall pick?
In reality though, even general manager John Dorsey hasn't made up his mind about what he'll do on April 27 when Cleveland is on the clock with the No. 1 overall pick. Speaking at the NFL combine last week he wouldn't even rule out trading the pick.
"My door is wide open if somebody wants to come up and talk to me about a trade, I'm willing to trade," Dorsey said of potentially moving the first overall selection.
Browns fans are no strangers to watching their team trade back on draft night. Former GM Sashi Brown made a brief living off of doing just that. And it's his decision to trade back with the Eagles from second overall in the 2016 draft and not select QB Carson Wentz that continues to cast a dark cloud over the organization, even after Brown's dismissal.
Anyway, Dorsey's remarks were followed by rumors over the weekend that Penn State running Saquon Barkley is very much in play for the Cleveland at one, which for a good amount of Browns fans is wonderful news. Others, not so much – they want a quarterback.
So what should the Browns do with the number one overall pick? Let's take a look at all their options and determine what makes the most sense:
Option 1: Stay put and draft a quarterback
This would seem like the most logical option for the Browns at No. 1. Cleveland hasn't drafted a quarterback higher than 22 overall since selecting Tim Couch first overall in 1999. You have to go back even further to 1993, to pinpoint the last time they even had a franchise quarterback. During that season they released Bernie Kosar. It's about time the Browns changed that.
Since the offseason began, Cleveland has been linked to pretty much all of these rookies. First, it was Sam Darnold, then they apparently loved Josh Allen. At the Senior Bowl, it was all about Baker Mayfield. Next week it'll be someone else. It's likely by design that the Browns have given mixed signals about which quarterback is their favorite too. It serves no benefit for Dorsey and company to reveal which prospect they actually covet. Whoever it is, addressing the quarterback position should be Cleveland's top priority. And at No. 1, they can have their pick of the liter from this talented group of quarterbacks that is likely to produce at least two superstars.
Waiting around for what's left over at four would be unwise. No position can turn around a franchise faster than a quarterback. The Browns need to draft their guy at one and finally stop this quarterback carousel in Cleveland. The fans finally deserve their savior.
Option 2: Stay put and draft a different position
There's really only one player worth considering over a quarterback and its Saquon Barkley, who is arguably the best overall player in this year's draft. It's never smart to put too much stock in NFL Combine results, but when a player is just dominating everything like Barkley did, how can you not? 29 reps at 225 pounds,  a 4.42 forty and a 41-inch vertical leap. Absolutely bonkers.
What's special about Barkley though is that this wasn't just a guy having a good day working out in spandex. His game tape speaks for itself as well. Whatever team lands Barkley is getting the next big thing at the position and while drafting a running back first overall may be considered taboo in today's pass-happy NFL, for a talent like Barkley it's totally worth it.
Look what drafting a running back in the fourth overall did for the Dallas Cowboys and Jacksonville Jaguars these last two seasons. Elliot went on to lead the league in rushing and helped get Dallas earn the top seed in the NFC during his rookie season in 2016. This past season, LSU's Leonard Fournette was the focal point of a Jaguars offense that advanced all the way to the AFC Championship game.
Barkley is certainly on par with, if not better than those two runners coming out of college and he'll likely have a similar impact on any team. The Browns are also in desperate need of more weapons on offense. Duke Johnson is a solid back, but he's not an every-down player. Barkley on the other hand is, and his freakish athleticism and versatility out of the backfield would be a major asset.
Take Barkley first and worry about the quarterback at four, where at least one of the top three passers will still be available. Let's not forget the free agent market either. Cleveland could easily address their need for a quarterback in free agency and put the quarterback discussion on the backburner a while longer.
Option 3: Trade the pick
The more draft capital the better, right? Sashi Brown would be proud. That exact philosophy deployed by Brown is how Cleveland wound up with five picks in the first two rounds of this year's draft and 12 total picks. Draft capital can be very valuable both in making trades or in acquiring more talent.
Trading out of the No. 1 pick would surely garner a massive return of picks for Dorsey. We're talking several early round picks spanning the next two or three drafts. What's not to like?
Of course, trading back comes with the caveat that Cleveland would miss out on a potential franchise-changing quarterback, and potentially Barkley as well. But maybe there is a quarterback they love in free agency worth hitching their wagon to for the foreseeable future, which could take drafting a QB out of the equation altogether. Additionally, the Browns have plenty of other needs to address, so more picks will help in filling other holes. Obviously, that requires drafting talented players, but with Dorsey and a revamped front office running the show there is plenty of reason to trust that the Browns finally know what they're doing.
The Verdict: Simply put, the Browns have put off finding a franchise quarterback for way too long. Two years ago they balked at their chance to land Wentz, trading back from second overall. Last year DeShaun Watson was handed to them on a silver platter at 12 overall and they did the same.
It goes without saying that Cleveland can't keep avoiding their need for a quarterback. And even though a player like Saquon Barkley could easily be considered the top player in the draft, history proves that the impact of having a franchise quarterback far outweighs that of any running back. In that vein, even though every last one of these rookie QBs has flaws, there's far more value in taking one first overall, than a running back, which in today's game are a dime a dozen.
I absolutely love Barkley and for me, he is undoubtedly the best player in this class. But if I'm the Browns I'm taking a quarterback hands down, and the thought of them taking a running back at No. 1 is mindnumbing. Barkley can't single-handedly turn around this abysmal franchise, the right QB, however, can. Moreover, beyond Barkley, this running back class is extremely deep, so there will be plenty of opportunities to add a running back later on.
The Browns played the "take the best player available game" last year, by taking Myles Garrett first overall, and rightfully so. Garrett should be an elite pass rusher for years to come. Still, that decision, along with trading back from 12, meant pushing their need for a quarterback off for another year. They can't keep doing this. And how there are Browns fans not fed up with this team continuing to neglect the most important position in the game, boggles my mind. It's not that you're dumb for wanting Barkley first overall, it's just hard to understand how anyone is okay with waiting for what quarterback scraps are left at four. That's essentially letting two other teams dictate who your quarterback of the future will be.
Trading back is just as silly. The Browns have done that enough of late and a team can only trade back so many times to stockpile picks. Eventually, you have to actually use those picks to, you know, acquire talent. And the Browns need plenty of that across the roster, most notably at quarterback.
Ultimately, I think Dorsey's remarks on trading back are more posturing than anything. Regardless, it's a bit surprising how much debate there is over what Cleveland should do at No. 1, given their well-documented avoidance of finding a franchise quarterback. It feels like such a no-brainer to finally get that monkey off their back. And again, it's stunning how many Browns fans there are on board with waiting for a quarterback, again. The argument for Barkley is obviously a sound one and I hear you, but the argument for a franchise quarterback is always a trump card.

NEO Sports Insiders Newsletter
Sign up to receive our NEOSI newsletter, and keep up to date with all the latest Cleveland sports news.