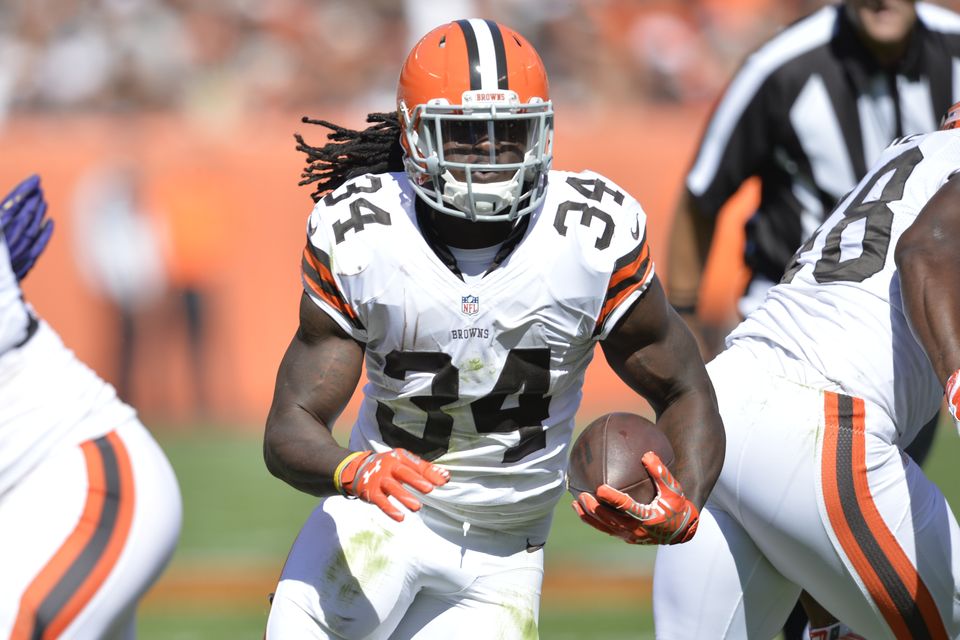 By Jay Alan
Isaiah Crowell has emerged as one of the only returning offensive skill position stars for the Cleveland Browns this season. Terrelle Pryor, who is represented by super agents Drew and Jason Rosenhaus, like Crowell, seemed close to a deal last year before leaving in free agency. Rookie Corey Coleman also showed promise, but his season was cut short by injury.
The Browns have had Crowell on the cheap relative to his production the last three years, because he was signed as an undrafted rookie free agent. Over his first three years in the league, the Browns have paid Crowell just 1.54 million dollars. Considering he averaged 4.3 yards per carry and totaled 2,265 yards with 19 touchdowns, the Browns got a steal.
This past offseason Crowell was frustrated that he and the Browns reportedly weren't able to come close to a deal, forcing him to sign his second round tender as a restricted free agent. The "Crow", as he is affectionately called by Browns fans, ran the ball 198 times for a total of 952 yards (4.8 yards per carry) on an offense that struggled mightily. Crowell thought he would get his payday this past offseason, and when that didn't happen, he parted ways with his old agent, and hired the Rosenhaus brothers.
Crowell says that he wants to stay in Cleveland and gave his thoughts on the situation at Training Camp Friday.
"Yeah, I would be very happy (to stay)," he said. "This is Cleveland. This is where I want to be. I am comfortable with my teammates, love my teammates, love my coaches and just love the city of Cleveland. This is where I want to be."
Cleveland upgraded the offensive line significantly this offseason. The addition of JC Tretter and Kevin Zeitler should mean more protection up front, and more yards for Isiah Crowell hopefully. Various preseason NFL scouting magazines have ranked Cleveland near the top of the AFC and top of the league overall in offensive line talent.
Even though Crowell averaged close to five yards per carry last season, the Browns only ran the ball an average of 21.9 times per game, which was tied for the lowest in the NFL. A struggling offense and porous defense meant that as it got later in the game, Cleveland was often playing from behind and forced to throw the ball, abandoning the running game.
If Crowell manages to gain the 1,300 or 1,400 yards this season that he has said is "definitely a possibility," next season will be interesting for the Browns. Crowell shares rushes with Duke Johnson, and while Johnson only gained 358 yards last season, he did average 4.9 yards per carry in 2016 and may be viewed by the Browns as a viable alternative. The Browns also have 12 draft picks in 2018. With the running back position being so relatively inexpensive compared to other positions, the Browns front office may prefer to draft a younger, cheaper replacement than open the check book for a fifth year running back.
Another less likely option for next offseason would be to use the transition tag on Crowell. This year, the transition tag is 10 million, which seems like a lot, but the math makes sense. Cleveland will get one more year out of Crowell in his prime and instead of signing him to four or five years at six or seven million, they would have him for a total of five years for just over 14 million, or an average of under three million a year for his career.
This gives the Browns one more year to see what they have in Crowell with an improved offensive line and a defense that should be better with first overall pick Myles Garrett, and a full offseason with Jamie Collins. Maybe they'll even have an idea of who their quarterback will be heading into 2018 and we'll have to wait and see if Coleman, Kenny Britt, David Njoku and Seth DeValve give Cleveland a formidable group of playmakers, but Crowell could be even more valuable with other weapons around him.
With Cleveland's new front office, it is hard to predict what the team will do. For a franchise that has lacked any real offensive star power in recent years, it would be hard to see Pryor and Crowell walk in free agency in back to back years while the Browns sit on plenty of cap space.

NEO Sports Insiders Newsletter
Sign up to receive our NEOSI newsletter, and keep up to date with all the latest Cleveland sports news.