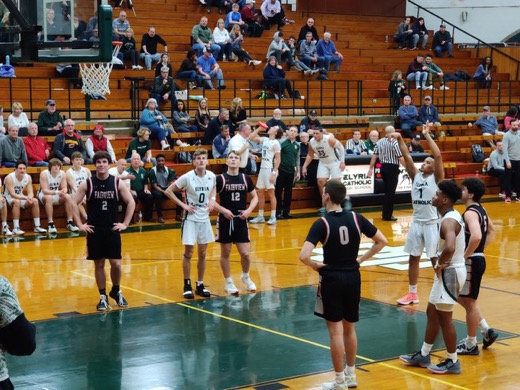 By Mark Perez
ELYRIA, OHIO – Elyria Catholic and GLC-leading Fairview were tied 72-72 with less than 10 seconds remaining in the fourth quarter before Panthers star guard Edward Wright was fouled with one second left.
"I had faith in myself. I knew that I was going to make (the shot), or I was going to get fouled," Wright describes their final play.
He split the free-throws to stop Fairview's late rally to send them home with a 73-72 upset loss.
"(Edward Wright's) an 80-plus percent lcareer free-throw shooter," Panthers' coach Rob Palmer said.
"I was asked the question earlier if we were trying to miss the second shot… We were trying to make both shots. We knew we had a foul to give with under .6 seconds to go."
To add more to Fairview's challenge, they had to travel the length to the court to score, which resulted in a half-court heave from Luke Howes, the Warriors' top scorer.
(12-6, 7-5) Elyria Catholic has many playstyles.
They can go big, or small, depending on the situation. The Panthers displayed their versatility against (14-3, 10-2) Fairview towards their favor.
"We have a lot of pieces," Wright said.
"We have speed in Jordan (Taylor) and we have size in Branson (Taylor). We have athleticism and length in Jaret (Frantz)… If we need to change the game plan, we can use different pieces in and be successful.
In Fairview, in December, Howes scored 32 points in when the two teams matched up previously.
"We learned from the first time," Wright said.
"Last time, we let him get downhill. So, the zone (defense) slowed him down. We did what we had to do."
In the first quarter, Elyria Catholic took the lead early, but conceded a 16-2 run to the Warriors before the quarter ended with Fairview leading 18-10. Howes scored seven points in the first quarter.
"We had to stop their best player. We contained and we did what we were supposed to do. We were letting other guys beat us except him. So, I know that we had to balance their scoring, instead of having him go off."
The Panthers recorded nine steals in the first half (15 total). Leading them was Wright with four to go along with his team-leading 20 points off the bench. and Palmer with three to go with his 13.
Late in the fourth quarter, Fairview trailed 70-58 after Howes split his free-throws while the Panthers' student section chanting "overrated" on the opposite end of the court.
After his split free-throws, Fairview went on a 12-2 run to tie the score at 72-72. Unfortunately for the Warriors, starters Noah Mesaros, Howes, and Ethan McQuate left points at the free-throw line four separate occasions as they all split their shots.
Passing was a huge factor for Elyria Catholic. They combined for 23 assists on the Warriors, showing great fundamentals.
"We probably had more assists tonight than we did the last three games," Palmer said.
Robert Palmer led them with seven assists.
On the bright side for Fairview. Howes tied former Warrior Paul Kerrigan in career scoring that was set in 1995 with 1,622 points, according to FPCSBN.
On Friday, the Panthers host Rocky River and Fairview looks to bounce back from their two-game losing streak as they host Parma.

NEO Sports Insiders Newsletter
Sign up to receive our NEOSI newsletter, and keep up to date with all the latest Cleveland sports news.