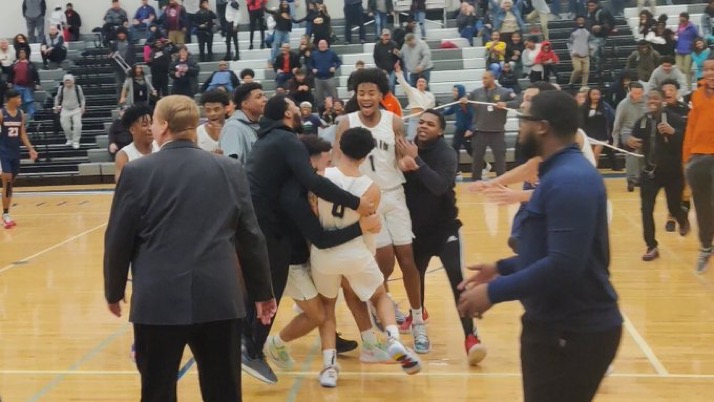 By Mark Perez
LORAIN, OHIO – "A lot of times, (Aaron Whitehead) came in the huddle with 4.1 seconds left, and he was encouraging everyone. He said this game is not over and we got a chance [to win]," Lorain coach John Rositano said.
The Lorain Titans found themselves down 39-37 with 4.1 second left in overtime while they've yet to score a point in the extra period. But, there was still a chance for the Titans to win.
Lorain's Senior guard Whitehead was given the inbounds pass by Jordan Jackson in their own backcourt as he turned the chance to win a reality with a half-court shot at the buzzer to defeat Cleveland Central Catholic 40-37 in overtime.
"It was crazy," Whitehead said after making his first buzzer-beater in his basketball career.
"I had a feeling that the game was still going. The game don't stop till that last buzzer. I just had faith in our team and that we knew we could bring out the win."
This was the (10-4) Titan's first win after they dropped their last three games to three Northeast Ohio powerhouse basketball programs. St. Vincent-St. Mary, Garfield Heights, and St. Edward.
"We just wanted to win, bad," Whitehead said.
"We hadn't won in three games and in some games, we could have honestly won. So I wanted to win bad.
After he made the game-winner, teammates celebrated by mobbing him in-front of the scorer's table. Spectators in the Lorain stands stormed the court to his direction to celebrate the victory, as Whitehead disappeared into the scrum.
"It felt like I was in a football game," Whitehead describes his post-game-winner experience.
"I knew the ball went through the net and everybody was on-top of me."
A struggle for (8-3, 3-0) CCC recently, has been their ability to make free-throws. That Achilles Heel proved fatal in the end result. They made two of their four shots at the line in overtime and were 4-10 in the game.
Making the game ugly, has been the Ironmen's specialty as the Titans scored two points in the second quarter, along with three in the fourth quarter and in overtime.
"It was a struggle scoring points," Rositano said.
"Points were at a premium and we just happened to get the last shot."
Quarters one and three was where the Titans were able to score the bulk of their points. 18 points were scored in the first quarter and 19 in the third.
Lorain went on a 11-0 run late in the third quarter to make the score 34-29 heading into the fourth.
Titans Seth Wilson played a key role in the run as he scored five of those points and assisted on two baskets.
"Wilson is a good player and we count on him to make a big shot. Him and (Jordan) Jackson are all veterans along with (Deonte) Benejan."
Benejan led the Titans in scoring with 11 points along with Wilson with 10 points. For the Ironmen, Jaden Williams led them with 10 points and L.A. Fayne scored nine points.
CCC's next game will be at home as they play Toledo St. Johns on Jan. 25. Lorain will host Warrensville Heights on Jan 24.

NEO Sports Insiders Newsletter
Sign up to receive our NEOSI newsletter, and keep up to date with all the latest Cleveland sports news.