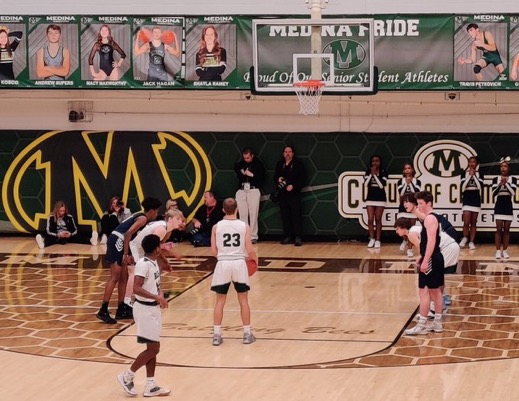 By Mark Perez
MEDINA, OHIO – Medina Bees' Corey Tripp was the hero for them in their last match up against the Solon Comets in the 2019-20 season, but tonight other players fed off the attention directed towards Tripp as Medina pulled away in a 65-58 win in overtime to sweep the series.
"Corey (Tripp) is a great player," Medina's coach Chris Hassinger said.
"But we have other kids that can score. You saw Brandon Geschke (11 points) step up tonight. If you are going to take away one of our guys, you gotta pick your poison."
The most poisonous, or should one say venomous bee for Medina (13-2, 8-1 in GCC) was Kyle Szumski, who scored a team-high 17 points with a College of Wooster coach in attendance.
"(Szumski) is one of the best players in Northeast Ohio," Hassinger said.
"He's not afraid to take big shots. He missed one earlier in towards the end of a quarter. He still came back and make the big shot that put us up three."
The big shot Hassinger is referring to was a clutch three-pointer by Szumski with less than one minute remaining in regulation that came off an assist from Tripp as he drove in the lane and kicked it out to the right wing.
Solon (7-4, 5-3 in GCC) sent the game to overtime by the heroics of Marcus Steele, as he scored all three points to tie it at 55-55. He did have a chance to take the lead with nine seconds left, but he split his free-throws to tie, instead of lead by one.
Steele lead the Comets with 18 points. Jimmie Williams was their second highest scorer with 14 points off the bench.
Szumski would miss an open three from the right wing as regulation expired.
Medina won at Solon in mid-December of 2019 because they outscored the Comets 19-7 in the fourth quarter.
This time in Medina, the overtime period was played like the fourth quarter of the first match up as the Bees outscored the Comets 10-3.
The overtime opened off with a missed layup by Tripp, but Junior forward Christian Howard-Caffey grabbed three-straight offensive rebounds off the Tripp miss and two of his own. The third time was the charm as he made the shot to give the Bees the 57-55 opening lead in overtime.
"(That play) shows his progression of him as a player," Hassinger said.
"He's got a lot of heart. He's a fiery kid. What people don't know is he's a really sick right now. We love his toughness and how he's playing through his sickness."
Another difference-maker for Medina in was Spencer Aylward. On defense, he gave the Bees highlight steals with a couple in overtime.
Another steal happened with 2.7 seconds left in the first half off an inbounds play in Solon's backcourt and made a layup to give Medina a 28-21 lead to start the third quarter.
The defensive pressure he and the Bees put on Solon, played a huge factor to the Comets turning the ball over 20 times.
Medina held the free-throw advantage over Solon as they made 90 percent (9-10) of those shots to the Comets' 50 percent (8-16).
"(Free-throws) have been a huge focus [for the team], because the game at Shaker (Heights) came down to free-throws," Hassinger praises his team.
"We weren't able to come out on top end of that. So, to hit free-throws shows us tonight where we are going as a team, because that is how you have to win in the tournament."
Medina's next match will be at Mentor, another contentender for the GCC crown on Jan. 31. One Feb. 4, Solon host Benedictine.

NEO Sports Insiders Newsletter
Sign up to receive our NEOSI newsletter, and keep up to date with all the latest Cleveland sports news.