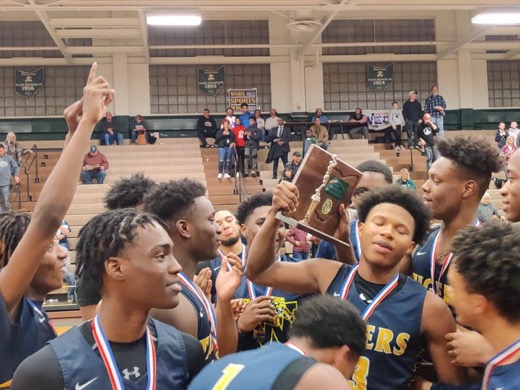 By Mark Perez
Last year, Warrensville Heights got knocked off by Elyria Catholic in the district tournament.
Fast forward to 2020, No. 4-seeded Tigers faced No. 2-seeded Panthers again, but instead of a sectional final, it was the Division II, Bedford District Final and Warrensville Heights got their revenge after an 80-77 overtime thriller to send them to the Regional Semifinals.
@Warrensville_BB is your District champions!

Final

Warrensville Hts: 80@ECHSAthletics 77 pic.twitter.com/NQEZCslQu1

— Mark Perez-Krywany (@MarkPerezK10) March 7, 2020
"[The win] means everything," Tigers coach Brian Swift said with the district championship plaque in his arms.
"It's been a long year for us. It's been an up-and-down roller coaster. We started [the season] off 2-0. Then we lost about seven-straight (games). We kind of lost our way… But, we came together, at one point, and we have been going up ever since."
The Tigers championship win was a roller-coaster experience as they started the game off by conceding a 13-1 Panthers' run to help them gain a 20-13 lead at the end of the first quarter.
"We knew that there would be jitters early [in the game]," Swift said.
"But, I think that we were just … got a little timid instead of aggressive. Once we settled down and got comfortable, we started to pick our spots and we started to execute better."
Jumpstarting (14-12) Warrensville Heights was Omahn Dobbins, who missed last year's playoff game against (18-6) Elyria Catholic.
Dobbins was on fire in the first half scoring 15 of his 18 total points after the 13-1 run led by star Panthers' guard Edward Wright with, who had 30 points, 11 rebounds, four assists and four blocks
Dobbins made 6-of-8 field goals and had 4 assists in the first half to make it a 38-37 Panthers' lead at halftime.
After Dobbins cooled off, Junior star guard Ramelle Arnold got into a rhythm and took over the game by scoring 24 points in the second half shooting 70 percent from the field.
"I feel like (Arnold) is the best point guard in the state," Tigers' Trezelle McQueen said.
"He can do everything. Defend, score, facilitate, team-player. I love that dude."
Arnold finished with 34 points, five assists and six rebounds.
The Tigers were able to slow down Panthers big-man Branson Taylor, the scorer with allowing 12 points. But this gave other Elyria Catholic players opportunities and Taylor found the open man as he finished with seven assists, two blocks and 15 rebounds.
"When (Taylor) got the (ball), we tried to double him a little bit," Swift said.
We tried to be scrappy… If he did want to dribble, we just wanted to swarm him quickly."
In the third quarter, Taylor hooked up with point guard Ryan Griffin multiple times to score Griffin's 10 of his 20 total points.
Wright, has a reputation for hitting clutch shots as he hit one against Crestwood in the prior round to win it and hit another 3-pointer against Warrensville Heights to send the game into overtime.
TIE GAME WITH 4.4 SECONDS REMAINING!

Edward Wright!@ECHSAthletics pic.twitter.com/3lpRwNwBGj

— Mark Perez-Krywany (@MarkPerezK10) March 7, 2020
A basket from Arnold, Jamarion Johnson, and two free-throws from McQueen gave the Tigers a 3-point lead, but the Panthers had one more opportunity to tie the game, but they failed to get Wright the ball for a chance, due to Warrensville Heights' deny ball defense on the star guard.
"We made it [an emphasis] that (Wight) doesn't touch the ball," Arnold said.
"I just did my best. I didn't pay attention to any other guys. I was focused straight on him."
McQueen was a big presence in the paint as he blocked five shots to go along with his nine rebounds and 6 points.
But, coming off the bench, Johnson was huge for the Tigers who scored 13 points on the court.
Warrensville Heights advances to the Regional Semifinals and will take on No. 1 seed Norwayne in the Canton Fieldhouse on Mar. 11.

NEO Sports Insiders Newsletter
Sign up to receive our NEOSI newsletter, and keep up to date with all the latest Cleveland sports news.