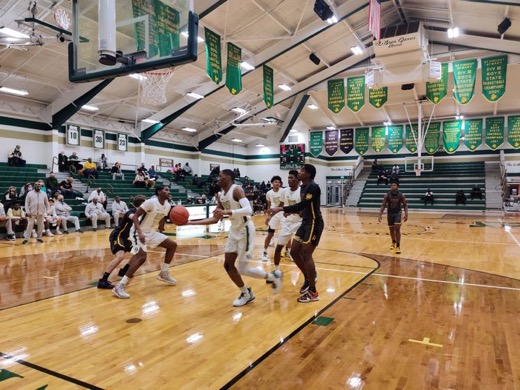 AKRON, OHIO – On one days rest for Cleveland Heights and St. Vincent-St. Mary, both teams faced off in The LeBron James Arena in Akron, OH.
The Fighting Irish came out on top in convincing fashion with a 69-37 win over the Tigers.
I thought we showed a lot of energy, after coming off two tough games," St. Vincent-St. Mary's coach Dru Joyce said after the win.
"Our guys played really well tonight and did a lot of good stuff."
From the start, the Tigers were hanging on until the latter half of the first quarter, when St. Vincent-St. Mary went on a 17-2 run.
Igniting the run was Sophomore Sincere Harris who scored the first nine points of the run before the quarter ended 23-8. He finished with a team-high 17 points.
"Those types of runs are important for us," coach Joyce said.
"All we talk about is positive possessions where we can get a stop and then a score. Those runs, we work on getting those sequences all the time and good things happen when we get it done."
The momentum continued in the second quarter as the Fighting Irish went on a 12-0 run.
The rebounding advantage was huge for the Fighting Irish and was a detriment for Cleveland Heights.
St. Vincent-St. Mary held a 44-27 rebounding advantage, which also resulted in 16 second chance points.
The advantage on the board was due in-part because Tigers' big-man Keyshawn Hall got into foul trouble as he had four before the end of the second quarter that ended with the Fighting Irish leading 39-15.
"(Hall) is going to play college basketball at some level," Joyce said.
"We wanted to make sure that every point he got, he earned."
The Tigers were cold from the three-point line in this matchup as they were 1-for-20 from the arch.
"That's a lot of long rebounds," coach Joyce said.
"We were able to get those long rebounds and turn into fast break points. You can live with the three, or you can die from the three. Sometimes that's a tough shot, and if you're not making them, teams can get down floor."
The Fighting Irish got down the floor courtesy of five players (Harris, Darrian Lewis, Lance Hayes, Dalen Burney, and Ramar Pryor) with at least two steals. Harris had three of the team's 13 steals.
Other leading contributors for the fighting Irish were Malaki Branham with 14 points and Austin Rayman with 11 points.
Up next for St. Vincent-St. Mary is a home game against Phoenix Prep from Arizona on Saturday, Jan 9. Cleveland Heights however play their first home game of the season as they will host Villa Angela-St. Joseph on Tuesday, Jan 5.

NEO Sports Insiders Newsletter
Sign up to receive our NEOSI newsletter, and keep up to date with all the latest Cleveland sports news.