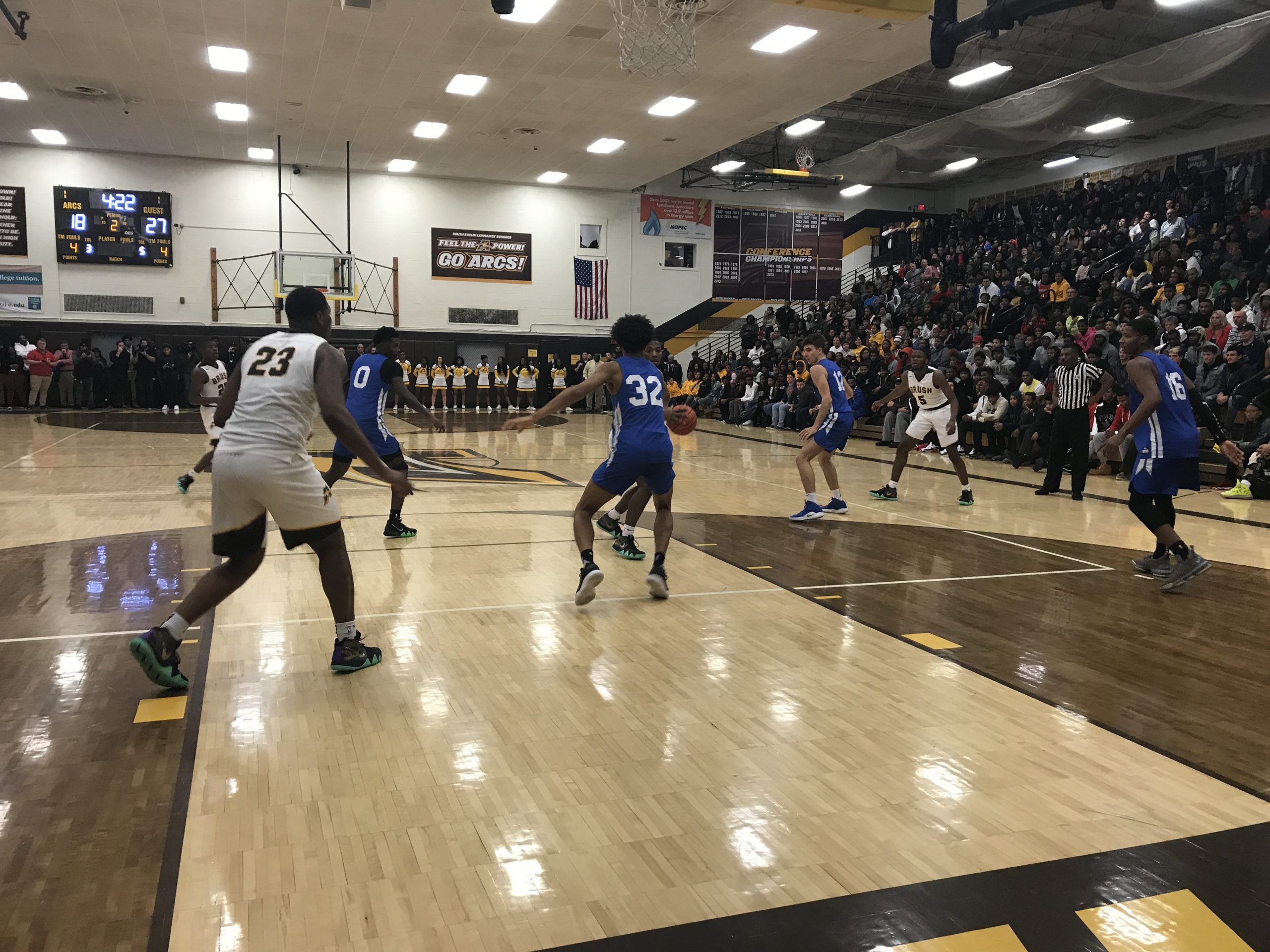 LYNDHURST, OHIO- The Brush Arcs suffered their first loss of the season by a final score of 82-61 to Spire Academy in front of a sold-out crowd Tuesday night.
For Brush head coach Chet Mason, playing against a team like Spire was a teachable moment for his team. Heading into Tuesday night's game, the Arcs were able to win their first 10 games by an average of 33 points.
After suffering their first defeat all season, coach Mason can only take away positives that will help his team be more prepared during the playoffs.
"Big ups for Spire for coming through and giving us a shot," he said. "It's a blessing that my young guys can get on the court and compete in that type of atmosphere against those caliber players."
The energy inside the sold-out gymnasium was felt by the players early on, ultimately resulting in punches thrown and Spire's Isaiah Jackson getting ejected from the game.
A mob of white and blue jerseys centered half court where John Hugley and Jackson exchanged words and elbows after the 6-foot-9 junior made a basket.
From there, Brush ended the first quarter on a 9-5 run to get within seven points. Three technical fouls in the first half would keep the Arcs within striking distance on Spire Academy and the deficit was just seven points heading into halftime.
All throughout the game, Spire employed a 2-3 full court zone defense that made things difficult for Brush to get a rhythm going on the offensive side of the ball.
Coming into Tuesday night's game, Spire head coach Jermaine Jackson wanted his team to force the Arcs into shooting contested and difficult shots outside of the key so that his team was ready to get the ball out and run on a missed shot.
Coach Jackson explained after the game that his players accomplished that goal.
"We just wanted to come out and shrink the court," coach Jackson said. "We wanted to have them play their offense on one side, one side of the court so our help side would be there and force them to take jump shots so we can get the ball out and run."
For Spire, Michigan State recruit Rocket Watts and Myron Gardner paced the offense with 23 points each, Gardner even including 11 rebounds and four blocks during the win. LaMelo Ball added 22 points to keep their undefeated season intact as well.
The seven-point lead for Spire after halftime wouldn't last long as they used several different scoring runs in the third quarter to ultimately open their lead to 21 points heading into the fourth quarter.
After hanging with the star-studded team, Brush point guard D.J. Dial explained after the game that despite the loss, they proved a lot on the court.
"[We showed that] we are hungry and we are not going to stop fighting," he said. "We try to be pit bulls on defense and pit bulls on offense and we are not going to back down from nobody."
For the Arcs, Wright State commit Andre Harris led the team Tuesday night as he poured in a game-high 29 points along with Dial adding 15 points during the defeat as well.
Coach Mason found a handful of plays that stood out to him during the loss on Tuesday night.
He wants his team to correct the mistakes they made Tuesday night and learn from them. The lessons learned from playing a team like Spire Academy can go a long way for coach Mason's team moving forward.
"This game for us was a teachable moment," coach Mason said. " We are going to take a lot of stuff out of it because at the end of the day in March, we will get ready for a playoff run."

NEO Sports Insiders Newsletter
Sign up to receive our NEOSI newsletter, and keep up to date with all the latest Cleveland sports news.