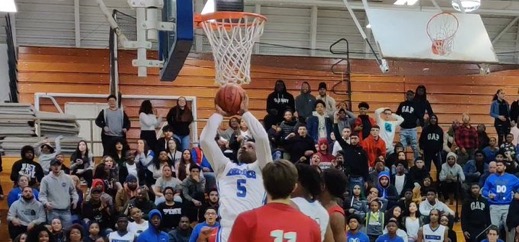 By Mark Perez
CLEVELAND – No. 6-seeded Parma gave No. 3-seeded Rhodes all they had and nearly pulled off the upset.
Saving the Rhodes Rams' season was Senior Deangelo Williams as the glass-eater scored 30 points, and 17 rebounds in their 56-52 overtime win over the Redmen in the Division I, Sectional final in the Lakewood District.
"It's my Senior year," Williams said.
"I could go out with a loss. I couldn't. I've only been playing actual basketball for three years. Coach Spencer in there, is a really good coach. He's taught me a lot. He taught me in life that there is more than life to just basketball. So, I'm honored to be one of his players."
From the field, Williams shot 13-18. In the fourth quarter and overtime period, he was 7-of-9 from the field. Not only did he grab 17 rebounds, 12 came from the offensive glass.
"D-Lo (Williams) will run through a wall for me," Rams' coach Shawn Spencer said after the win.
"I'm excited. He just recently signed to Cuyahoga Community College to play. So [Tri-C] coach [Michael] Duncan will be getting a hell of a player."
There was never a dull moment in the game. (13-11) Parma's artillery unit of 3-point shooters kept them in the game as they collectively shot over 40 percent (9-of-22).
Rhodes' three-ball, however, was not as effective as they shot 1-23 from the 3-point line (4 percent).
"(Parma) knocked down a lot of threes," Williams said. "Especially their big man [Josh Rose]. I didn't know that the big man could shoot. He showed me something tonight."
Rose made two three enroute to scoring 17 points. He tied the team-high with Junior guard Allan Eason, who caused a lot of problems for (18-4) Rhodes' defense.
"That guard, No. 1 [Eason] was tough tonight," Spencer said.
"I went to go scout those guys. I went to see them three times live. Two times he didn't play, and the last time, he couldn't find a rhythm, but he was in rhythm tonight."
Eason's quickness made him able to get in his spots. He was 6-of-13 from the field, and 4-of-8 from 3-point range with five turnovers.
Rhodes turned up the defensive pressure in the second half and overtime. Hakizimana Milan was tasked to guard Eason with deny-ball pressure.
They were seen on the court to what appeared to be jawing on the court. One of the officials even addressed both in between plays in the third quarter.
The pressure forced some key turnovers and bad shots to allow Rhodes to force overtime and win the extra period after Milan fouled out with 1:52 remaining in the overtime.
There were a couple of occasions, Rhodes started to pull away. The Rams led by four points before conceding a 7-0 Redmen run to trail 36-35 entering the fourth quarter.
Williams is a dominant inside force @RhodesRamsHoops @ParmaHighSports pic.twitter.com/ueZWZ7fFH8

— Mark Perez-Krywany (@MarkPerezK10) March 1, 2020
Brayden Humbel was also an impact player for the Redmen as he stretched the floor effectively by scoring nine points (3-of-5 from three), led the team in rebounds with 11, and had four assists.
Williams was the only Rams player with double-digit points. The two closest players to 10 points were Marion Landingham (7 points) and Jamal Sumlin (8 points).
Rhodes' win will send them to Lakewood High School to face No. 2-seeded St. Ignatius in the Division I, Lakewood District semifinal on Mar. 5.

NEO Sports Insiders Newsletter
Sign up to receive our NEOSI newsletter, and keep up to date with all the latest Cleveland sports news.