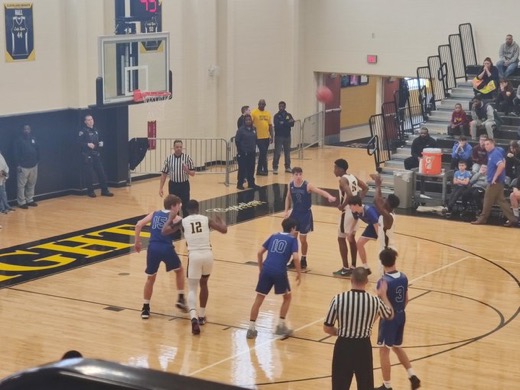 By Mark Perez
The Cleveland Heights Tigers have something to prove this year, after a tournament ban issued by the OHSAA was lifted by a judge in the Cuyahoga County Common Pleas Court five days before their opening playoff game against Madison.
"We definitely got something to prove," Tigers' leading scorer E.J. Farmer said.
"We're just coming in and we're trying to kill everybody [on the court]. We're coming for everybody at this point. We don't have anything to lose. We got [the state tournament] taken away from us at one point. Then, we got it back."
In their opening playoff round, Madison became their first victim in a 82-46 rout in the Division I, Euclid Sectional Final.
The score was close with them leading (12-10) Madison 15-12 and the Blue Streaks even took a 19-18 lead halfway through the second quarter.
(17-5) Cleveland Heights' defense sprung into action as they went on a 18-2 run to have a 36-23 lead at halftime.
The Tiger's athleticism was on full display as Farmer (team-high 14 points), and Garvin Clarke (13 points) were their consistent scorers.
The standout in the second quarter was Davon Smith-Johnson, who scored 8 of his 13 points in the quarter off the bench.
Cleveland Heights dominated the third quarter with Juruan Hardin scoring 10 of his 13 total third quarter points. They often came in the form of second chance points in the paint, utilizing his 6-foot-6-inch frame.
The Tigers outscored the Blue Streaks 27-9 in the third quarter.
"We have a lot of speed and a lot of athletic ability," Tigers' coach J.R. Bremer said.
"Guys that can jump high and have that ability to turn it on and take over a game with rebounds and that's what Davon (Smith-Johnson) did and we needed it. (Madison) were outplaying us for a good moment that first half… Davon (Smith-Johnson) gave us that spark that first half and (Hardin) gave us that spark in the second half."
Hardin grabbed 14 rebounds enroute to Cleveland Heights having the 42-34 rebounding advantage over the Blue Streaks.
Jaylen Davis, who has been the Tigers' starter for almost the entire season was sidelined against Madison due to a nagging injury.
Sophomore Jamarion Lanum took his place in the starting lineup. He had a quiet afternoon.
Along with being the team's leading scorer, Farmer had an impact on the defensive end as he had five rebounds, four steals, and one block; showing he can play both ends.
"Sometimes I kinda do [feel overlooked as a defense player], because I talk to (coach Bremer) all the time about defense. I've really been wanting to work on it this year. People say that I don't really play defense. But now, I've been really trying to guard [the other team's] best player every single game. I don't really care who it is at this point."
According to Farmer, he has been honing in on the mental aspect of defense, because he personally feels like he can guard every position on the court.
"I feel like I can guard anyone if I want to. I can guard one through five," he said.
The victory sends Cleveland Heights to the District semifinals that will take place in Euclid High School as they will take on the winner of Brush and Benedictine on Mar. 5.

NEO Sports Insiders Newsletter
Sign up to receive our NEOSI newsletter, and keep up to date with all the latest Cleveland sports news.