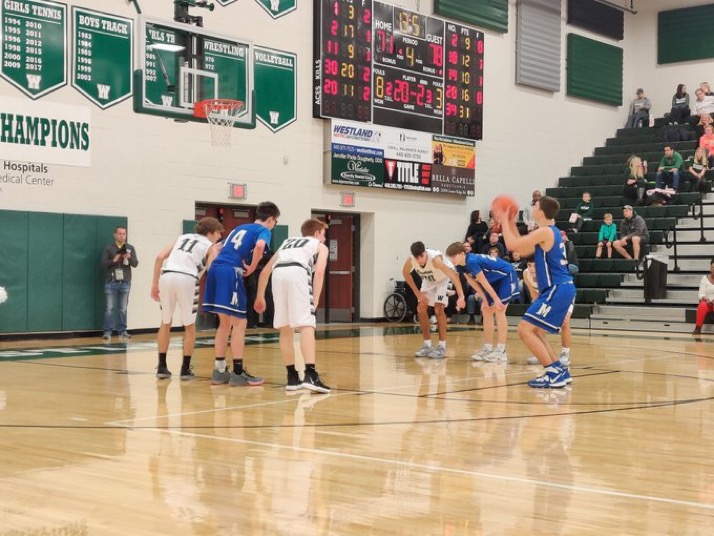 By Mark Perez
WESTLAKE, OHIO – The Southwestern Conference leader Midview Middies found themselves down early to third place Westlake Demons.
Very quickly, Midview took the lead and retained it for almost the entire game as they defeated the Demons 80-71.
Paving the way for (11-2, 8-1) Midview was Jonny Manning, their tallest player. He produced 33 points, 14 rebounds, three assists, and 6 blocks as the Middies' presence in the middle.
In Manning scoring arsenal, he has the ability to knock down three-pointers and according to him, this hasn't been, in his four years playing in Middie blue been able to hit them the way he did against Westlake.
"I've hit a couple three's in some games," Manning said after the win.
"I've been working on it a lot. Coach (Jim Brabenec) has really been expanding his confidence in me from shooting from range. Tonight, they felt good. My teammates had confidence in me to keep shooting so that's what I did."
According to Middies' coach Barbenec, the original game plan was to swing the ball and have Manning post up, but that changes to giving the ball to Manning, the hot hand.
He made five of seven threes for Midview.
There were plenty of hot hands for Midview as their starting lineup produced all of their points. Marcell Young had nine points, Nyco Vidal had 12 points, Tyler Dawson had 10 points and Aden Gregory had 16 points to go with Manning's 33.
In the first half, Westlake controlled the tempo with a faster pace and Midview showed the can handle it.
"Traditionally, we like to slow it down and play at our pace," Manning said.
"Westlake really sped us up tonight. When we played at their pace, it all came down to sharing the ball and being the best teammates we can be."
No quarter signified that style of play like the second quarter, as both teams made a combined nine three-pointers to go to halftime with Midview leading 43-38.
Westlake also outscored Midview 24-21 in the second quarter, which started from a 18-9 run by the Demons. That run was followed up by a 12-6 run by Midview.
He also lamented that Midview is willing to play fast paced and can thrive off it.
Another player who thrived in Midview's system was Gregory, who came to shootaround early on his day off from school to put shots up, prior to their game.
It paid off for him as he scored 16 points for the Middies. All but four of those points came in the second half. The 12 second half points were all three's.
In the first half, Westlake had the rebounding advantage on Midview. They were able to get a large portion of offensive rebounds, which can lead to second-chance points. That changed in the second half as the frequency dropped.
"We talked about (rebounding) at halftime]," coach Barbenec said.
"I thought they out-rebounded us in the first half. We normally rebound the ball pretty well. I think Jonny (Manning) stepped up. Anything that came his way, he got them, but we got some other guys really step in and crash (the boards)."
Looking back, Young thought there were a few things that set Midview apart from the Demons in their win.
"I thought we were more unselfish with the (play)," Young said.
"(Westlake's) Justin Garcia, he is a good player, but I thought he was forcing a lot of shots, but he was also making a lot of shots. I feel like we got a lot of our teammates involved and that made us more of a threat."
Garcia scored 20 points and made two three-pointers off 10 attempts. He was the Demons' leading scorer.
Westlake's will host North Olmsted on Dec. 21. Midview's next match will be at North Ridgeville.

NEO Sports Insiders Newsletter
Sign up to receive our NEOSI newsletter, and keep up to date with all the latest Cleveland sports news.