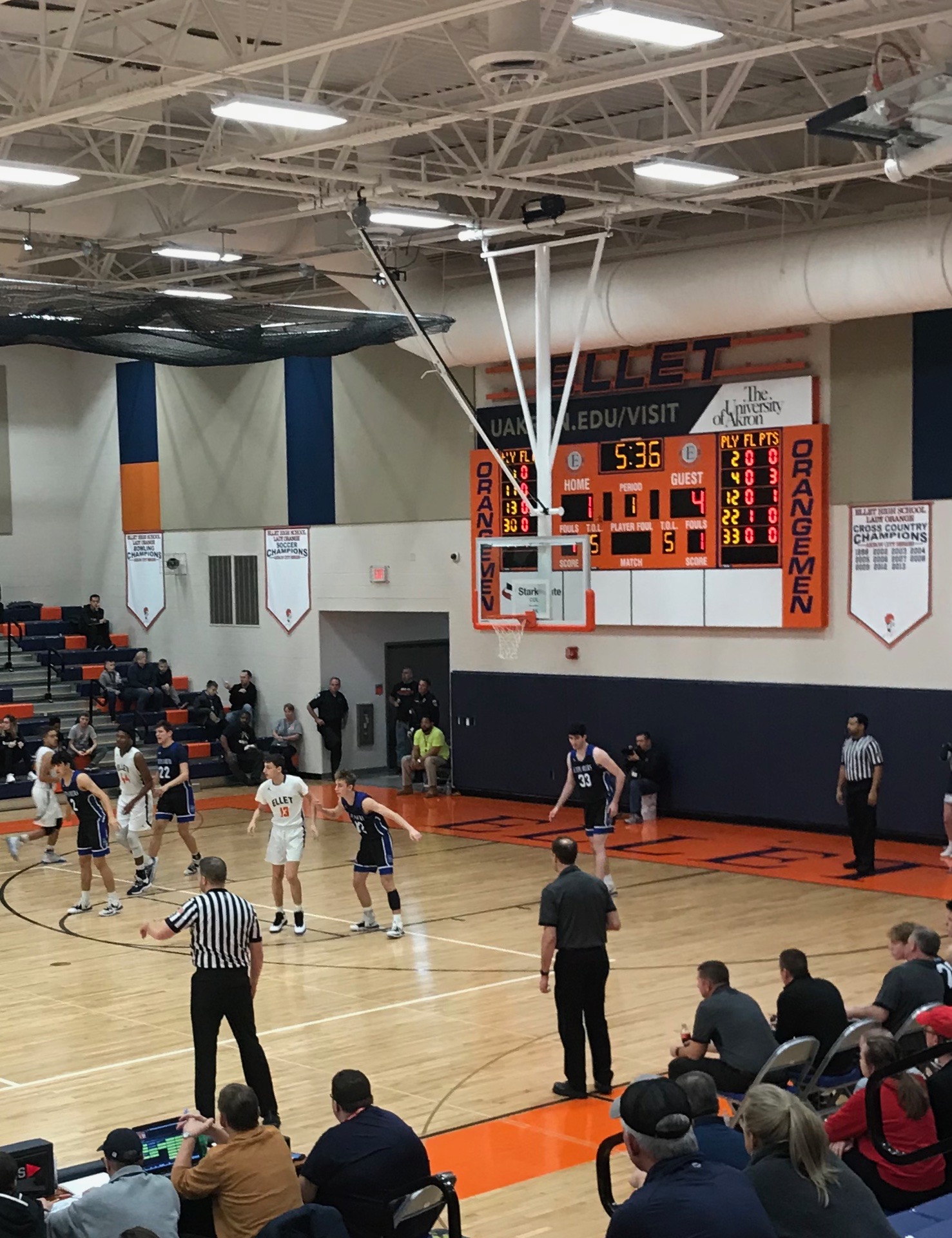 By Don DiFrancesco
Hudson 10 8 17 9 = 44
Ellet 6 11 10 22 = 49
Ellet senior guard Trevin Carter scored 14 of his game-high 15 points in the fourth quarter, leading the Orangemen to a come-from-behind 49-44 victory over Hudson on Saturday evening.
The first half was low scoring. Hudson went ahead 18-17 on a layup by junior forward David Gentry with 1:30 remaining in the second quarter and held that lead at the intermission.
Gentry and senior guard Damani Ganaway scored 12 points each to lead the Explorers in scoring.
Hudson (5-7) came out strong in the third quarter and took their largest lead of the game at 30-20 when Ganaway connected on a 3-pointer with 4:15 to play in the period. The Explorers led 35-27 heading to the fourth quarter.
Ellet went on an 11-3 run to start the fourth and tied the game at 38 on a Carter layup with 5:30 to play.
Following a bucket by Hudson's senior forward Peyton Koscho, Ellet junior guard Marjay Bickley buried a three to give the lead back to the Orangemen, 41-40, with 5:05 remaining in the game.
Ellet (11-2) never trailed from that point on. The Orangemen were able to control the ball for most of the game's final three minutes and used clutch free-throw shooting by Carter and junior guard Levi Lovett to seal the victory.
Hudson
Ganaway 4-1-12
Gentry 5-2-12
Burdett 4-0-8
Koscho 4-0-8
McCormick 1-1-4
Field goals overall: 18/44, 41% 3-point shots: 4/17, 24% Free throws: 4/6, 67%
Rebounds: 28 Turnovers: 13
Ellet
Carter 5-4-15
Bickley 3-0-8
Smith 3-0-8
Lovett 2-2-7
Jones 2-0-6
Jordan 1-0-3
Winters 1-0-2
Field goals overall: 17/39, 44% 3-point shots: 9/23, 39% Free throws: 6/7, 86%
Rebounds: 22 Turnovers: 9