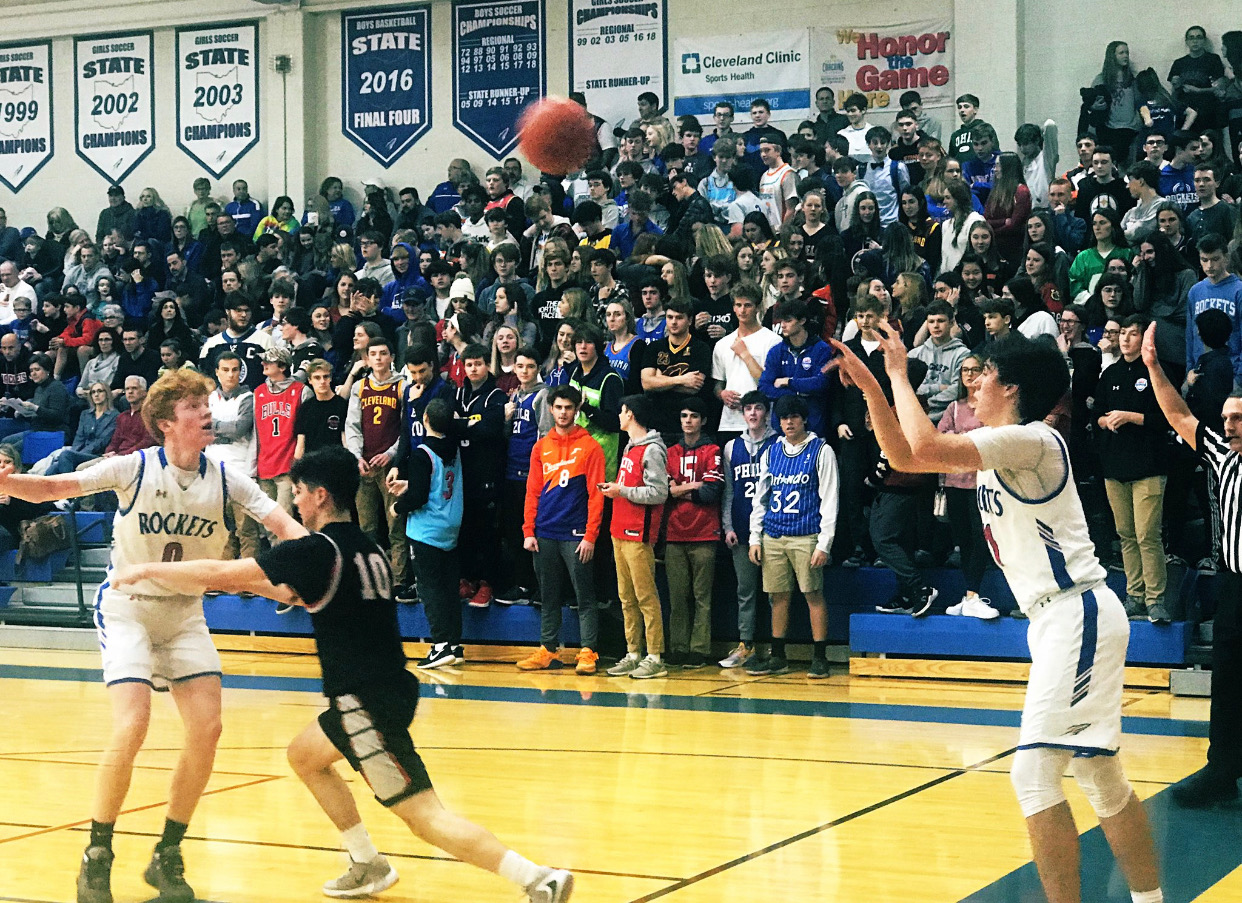 BAY VILLAGE, OHIO – In front of a large crowd packed into Bay Gymnasium, the Rockets were looking to hand Fairview their first loss since opening night.
The Warriors would have no interest in that storyline, as they soundly defeated Bay 86-59 on Friday night.
The game started off promising for Bay, as senior guard Ashton Price was firing on all cylinders. He paced the team with eight points in the opening quarter, as they were tied 14-14 heading into the second.
Beautiful behind-the-back assist from Sam Houk to Ashton Price!

Bay leads Fairview 12-10 midway through the 1st.@FPWarriorSports @BayAthletics pic.twitter.com/dCeGN3dLrZ

— Northeast Ohio HS Sports (@NEOhsAthletics) January 25, 2020
Fairview, a team averaging nearly 80 points per game this season, would shake off the slow start to take off on Bay.
They held Price scoreless in the second quarter, forcing the Rockets to shoot just 3-for-14 from the field.
Fairview has outscored Bay 17-5 so far in the 2nd quarter, lead 31-19 with 3:00 before halftime. @FPWarriorSports @BayAthletics @zeusisfat @MayorNEOPrep @MarkPerezK10 pic.twitter.com/67FiXcwZb5

— Northeast Ohio HS Sports (@NEOhsAthletics) January 25, 2020
With area standouts Luke Howes and Martin Lowry leading the charge, Fairview outscored Bay 27-9 in the frame to gain a 41-23 halftime lead.
Lowry, who finished the game with 15 points, received an offer from Siena Heights University following his strong performance.
Blessed to receive an offer from Siena Heights University! pic.twitter.com/5QoyeZ1GJF

— Martin Lowry (@martin_lowry_) January 25, 2020
The second half featured more of the same, as Fairview continued to dominate on the road.
A key component to their success this season has been stellar ball movement, and that was on display for most of the evening despite a few turnover problems.
Strong ball movement by Fairview has been a key to their success this season. 48-23 Warriors over Bay early in the 3rd.@FPWarriorSports @NEO_Spotlight pic.twitter.com/x9dSYMLseb

— Northeast Ohio HS Sports (@NEOhsAthletics) January 25, 2020
Noah Mesaros scored 10 of his team high 19 points in the third, propelling Fairview to a 67-36 lead heading into the final eight minutes.
In addition to his productive scoring night, Mesaros became Fairview's all-time rebounding leader.
With starters pulled early in the fourth, Bay was able to produce a productive final quarter, outscoring the Warriors 24-19. Cullen Gergye finished with 17 points in addition to Price's 19, but it wasn't enough to get a victory over a strong Fairview team.
Final Score 🏀

(12-1, #9) Fairview Warriors – 86
(5-7) Bay Rockets – 59

After a tightly contested opening quarter, Fairview rolls over Bay to win their 12th consecutive game. pic.twitter.com/ffjvrFSeyV

— Northeast Ohio HS Sports (@NEOhsAthletics) January 25, 2020
One side story in this contest was the condition of Bay head coach Jared Shetzer. Battling the flu, Shetzer was forced to turn over his duties to assistant coach Scott Sharp early in the third quarter.
get well soon!!!

— Kyle Goodwin (@OhioSportsNet) January 25, 2020
Fairview improves to 12-1, with their next test coming Saturday night when they host a much improved team in Lutheran West (8-5).
Bay drops to 5-7, and will look to end their 2-game skid on Saturday when they host Normandy (6-6).
Box Score
Fairview 14 27 26 19 86
Bay 14 9 13 23 59
Leading Scorers
Noah Mesaros (Fairview) – 19
Ashton Price (Bay) – 19
Cullen Gergye (Bay) – 17
Luke Howes (Fairview) – 15
Martin Lowry (Fairview) – 15

NEO Sports Insiders Newsletter
Sign up to receive our NEOSI newsletter, and keep up to date with all the latest Cleveland sports news.