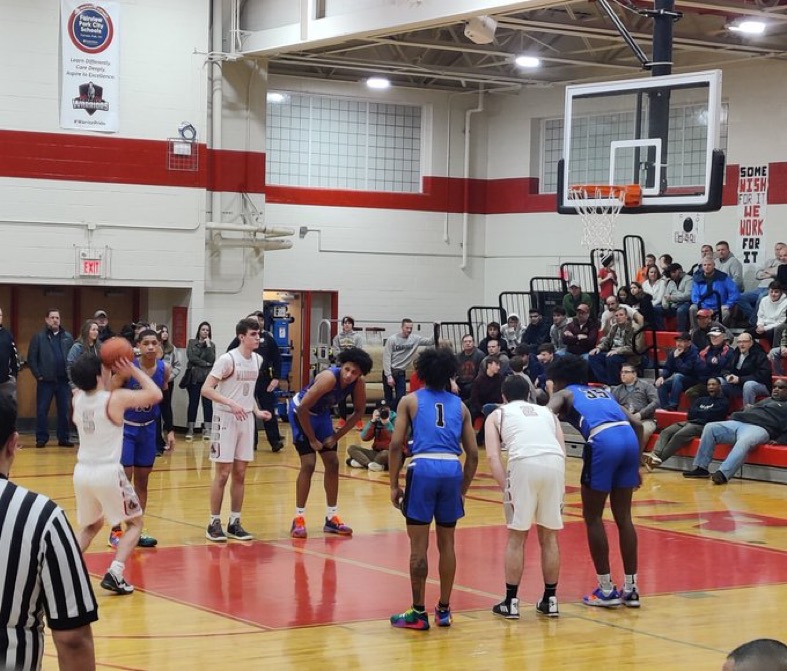 By Mark Perez
FAIRVIEW PARK, OHIO – Lutheran East Falcons had the only two guys that are 6-foot-6-inches or taller against the Fairview Warriors.
The size advantage was on full display as the Falcons defeated the Warriors 83-75.
"We had the size advantage and we knew that," Lutheran East coach Sam Liggins said.
"We know that (Fairview) is a very explosive team offensively. But, with our size advantage, we thought we could slow them down a little bit. We got the easier shots and it turned out to work for us in the long run."
Jalin Billingsley and Nehemiah Benson were the Falcons' main contributors. Billingsley, for the most part, handled the defensive glass with eight rebounds to go with his team-leading 26 points and three blocks.
Meanwhile, Benson grabbed seven rebounds with five being on the offensive end and converting into second chance points as he totaled for 16 points, third highest for Lutheran East to go along with his four assists.
(17-3) Lutheran East outrebounded (16-5) Fairview 34-20.
Billingsley's 12-point first quarter set the tone for Lutheran East early as they lost the lead once the entire game when Fairview led 5-4.
Falcons' guard Sirr Hughes, the only first quarter Lutheran East scorer who didn't stand at 6'6," made a three-pointer to retake the lead from the Warriors and the team didn' look back.
The other four points came from Benson as the Falcons entered the second quarter with a 19-12 lead.
Near the end of quarters two and three, Fairview went on runs to keep them trailing by three to four possessions.
The Warriors went on a 7-1 run near the end of the second quarter to trail 28-37. In the third quarter, they went on a 7-2 run to enter the fourth quarter trailing 62-49
"We knew (the runs) were coming,.." Liggins said.
"I told our guys, 'hey. Remain poise, stay calm. They are going to make a run. That's what good teams do and good teams also withstand runs."
In the third quarter, the Falcons' guard-play joined the action as Hughes scored 12 points in the period after going 1-for-5 from the field in the first half.
"Hughes had a slow start in the first half," Liggins said.
"At halftime, I told him you don't look like yourself. Be more aggressive. Look for your shot more. (Fairview) is sagging in on (Billinsley) and Nehemiah (Benson). When you are open, you shoot it and play with confidence and he did that.
From 7:05 to 2:57 in the fourth quarter, Fairview rallied back to trail 73-68 after outscoring the Falcons 17-8 in that time period. They even fouled out Benson with 3:33 remaining with their use of grit and hustle.
Even when Benson fouled out with Lutheran East leading Fairview 73-65, Liggins kept to his gameplan.
"We are fortunate to have two 6'6" or taller kids," Liggins said. (Jalin) Billingsley is another kid that we have that is really good for us. So, we knew when Benson went out, we knew we could still feed (Billingsley) down there and still have the same gameplan."
After adjusting to their loss, Lutheran East sealed the game after Hughes threw an alley-oop to Billingsley with 1:02 remaining.
Lutheran East also passed the ball effectively as they totaled 23 assists in the win.
"That's been our mark all year, which is sharing the ball and being unselfish," Liggins said.
"Our team is really talented. We have a lot of guys who can do a lot of different things. When our team is playing that way with 23 assists, more than likely our team is coming out on top."
Fairview's guard Luke Howes scored 23 points against the Falcons, which included 13 points in the fourth quarter.
Martin Lowry (13 points), Noah Mesaros (19 points), Marty Rehor (13 points) the other Warriors' players who finished with double-digit points.
This was Lutheran East's last game of the 2019-20 regular season. Their record gave them the first seed and a first-round-by in the Division II, Ashtabula District. They will host the winner of eighth seeded East Cleveland Shaw and nineth seeded Geneva on Feb. 28. In the District Quarter-Finals.
Fairview is also the one seed in the Division III Bedford District. But, before they play in the tournament, they will conclude their regular season as they host Bay Village on Feb. 21.

NEO Sports Insiders Newsletter
Sign up to receive our NEOSI newsletter, and keep up to date with all the latest Cleveland sports news.