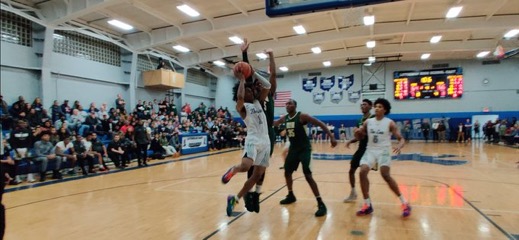 By Mark Perez
CLEVELAND HEIGHTS, OHIO – Lutheran East's Junior guard Colin Albert had six points early in the fourth quarter as they trailed St. Vincent-St. Mary 60-48.
"Colin (Albert) has been Mr. Fourth Quarter all year," Falcons' coach Sam Liggins said after they defeated the Fighting Irish 76-73 in overtime.
"It's something about the fourth quarter where he feels, with the game on the line, he's at his best.
Albert scored 14 points in the fourth quarter, assisting a 12-3 run.
He also scored the game-tying basket to force overtime with a high glass finish from a baseline drive.
"The coach drew it up for me," Albert said.
"(Liggins) told me to come off the screen and he told me to get downhill and get a bucket for us and I did.
To go along with forcing overtime, he converted the basket to give (14-3) Lutheran East the final lead with less than a minute left in overtime.
"I was just trying to do whatever I could to give my team a chance to win the game," Albert said.
"I was just trying to be extra aggressive and try to make plays for us."
His basket was the second time they led (14-4) St. Vincent-St. Mary since halfway through the second quarter with the score 21-19. Albert finished with a team-high 24 points.
There were five combined lead chances with three ties in the overtime period. Albert had the last lead change, but Jalin Knott scored a three-pointer to give them a 73-71 lead with two minutes remaining.
Knott usually came off the bench, but started against the Fighting Irish and shined in the third quarter.
"The truth is that I have eight guys that can start, but only five can start at a time." Liggins said.
Jalin Knott is just as good as any starter that we have. He's a captain on this team. He sacrifices every single day. He starts, he comes off the bench. Whatever I ask him to do, he's going to do it. He's an ultimate team player."
Knott made all five of his three-pointers in the quarter to keep the Falcons chances in reach as they trailed 51-45, entering the fourth quarter.
"I had a bad first half," Knott said, who finished with 20 points.
"I knew I had to clean it up. My team was telling me to keep shooting, and I shot with confidence.
Along with the three in overtime, he also grabbed an offensive rebound assisted Albert's lead-taking shot after Sirr Hughes missed a shot after stealing it from Malaki Branham
Knott didn't score in the fourth quarter, but he did help dive Lutheran East two free-throws and an extra possession by baiting Fighting Irish's Marcus Johnson to draw a technical after a scuffle with less than 1:15 remaining in regulation.
"Everybody's playing hard," Knott said.
"Getting into a tussle. If he swings, you flop; we get the call."
Albert went to the line and buried both free-throws to tie the score 66-66.
"(Johnson's technical) was a huge momentum shift for us," Albert said.
"We needed it. We needed something to happen and it happened for us."
Their win over St. Vincent-St. Mary ended the Falcons' two-game losing streak to St. Edward and Shaker Heights, two premier Northeast Ohio basketball programs. Liggins said it was a huge win for his team's confidence moving forward.
The Fighting Irish led for the majority of the game, because they forced turnovers and converted them into easy points off the fastbreak. Lutheran East had double-digit turnovers in the first half as they trailed 28-26.
Sencire Harris (22 points), Branham (13 points), Johnson (17 points) and Darrian Lewis (10 points) benefited the most from their defensive production on the offensive end.
Other impact players for the Falcons were Jalin Billingsley (10 points), Hughes (12 points) and Nehemiah Benson (eight points)
Compared to Lutheran's East's last two games, they will face an easier opponent as they go up against Padua Franciscan on Feb. 11. St. Vincent-St. Mary's eight-game winning streak has been snapped and will look to recover as they take on Walsh Jesuit on Feb. 8.