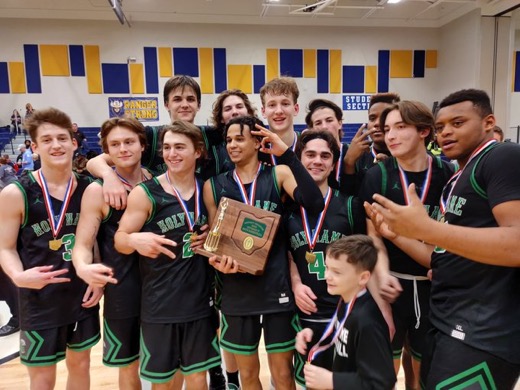 By Mark Perez
NORTH RIDGEVILLE, OHIO – No. 2-seeded Holy Name has three bigs that can get the job done down low and have the range to stretch the floor for the offense.
6'6" Tony Carter, Jack Kenneally, and 6'5" Josh Petrilla's marksmanship was in full effect as they defeated No. 1 seed Cleveland Central Catholic 64-57 to win the North Ridgeville District Championship.
Holy Name,

Your district champions! pic.twitter.com/qWF9HvYHzl

— Mark Perez-Krywany (@MarkPerezK10) March 7, 2020
"They stretch the floor," Green Wave's guard Quentin Richardson said.
"It also opens up a lot of lanes for me. If someone steps in-front of my drive, I'm just kicking (the ball) out to the three for a wide open [shot] for one of them."
Richardson scored a quiet 10 points for Holy Name. He was a perfect 6-for-6 from the free-throw line, but his biggest impact was sharing the basketball as he had nine assists.
His unselfish play allowed Carter (18 points) and Kenneally (17 points) to shine from the 3-point line. Carter made two of his four threes, while Kenneally was the most efficient with 5-of-6 made threes.
"All season, we work on the development of our game," (20-5) Holy Name coach Ryan Patton said.
"We want to be able to do everything with Jack (Kenneally) and Josh (Petrilla). So, not only can they shoot, but now if they have a little guy on them, they can play with their back to the basket also."
While playing with that style of play, they also didn't allow the (18-7) Cleveland Central Catholic to be as dominant as the Ironmen normally are in the rebounding category as they broke even for total rebounds (24-24).
"In pre-game, [rebounding] was our No. 1 thing written on our board before we ran out," Patton said.
"We cannot give (Cleveland Central Catholic) second chance opportunities, because they are incredibly athletic and they are great at getting second chance shots. It was something that we really emphasized."
13 of the Ironmen's 24 total rebounds came on the offensive end.
Patrilla patrolled the paint more so than Kenneally and Carter as he had 13 points and seven rebounds (1-of-3 from three).
Defensively, Carter was assigned to guard Tevin Jackson, a shifty point guard with a great handle.
When we went over offensive and defensive stuff, (coach Patton) was like, 'hey Tony (Carter), you're guarding Tevin (Jackson)," Carter said.
"It was a very interesting (game plan), but it worked. (Jackson) is very quick and he did beat me a couple of times. But, our game plan was if he gives it up, we'll just double-team the post, because they had the 6'8" (Deshaun) Nettles kid."
Carter finished with 18 points and was very efficient from the field (8-of-11). 11 points came in the third quarter as each team continued to trade baskets. He also grabbed five rebounds and blocked two shots.
One block came right before halftime on Jackson and gave teammate Sam Espostio an outlet pass for a half-court shot that almost went in.
Huge block by Carter.@CCCHSIronmen leads @NamerAthletics 46-45 entering the fourth quarter pic.twitter.com/iE3ndQzdkC

— Mark Perez-Krywany (@MarkPerezK10) March 7, 2020
Cleveland Central Catholic fought hard as three other players along with Jackson had double-digit points.
Seniors Arthur Fayne had 12 points, Charles Knuckles had 11 off the bench and Nettles had 12.
Holy Name advances to the Division II, Regional Semifinals and will match up against the Millbury District champions at Bowling Green State University on Mar. 12.
Here is the official scorebook for @NamerAthletics and @CCCHSIronmen District Championship pic.twitter.com/kspd8thgu9

— Mark Perez-Krywany (@MarkPerezK10) March 8, 2020

NEO Sports Insiders Newsletter
Sign up to receive our NEOSI newsletter, and keep up to date with all the latest Cleveland sports news.