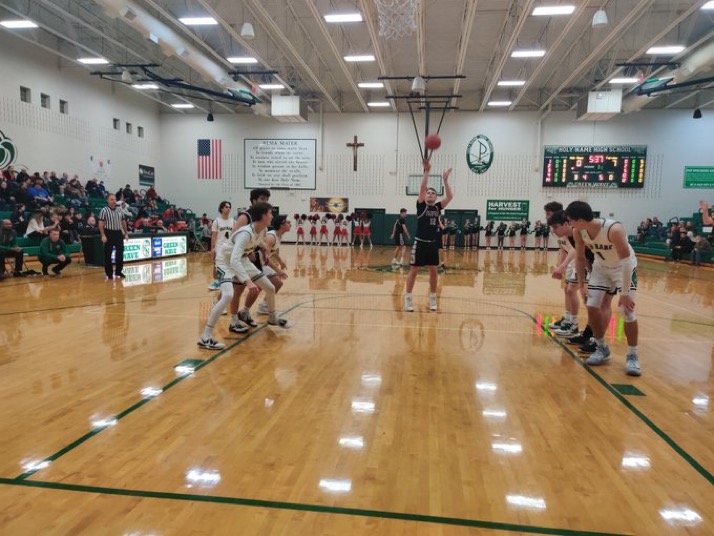 By Mark Perez
The Fairview Warriors did not find themselves trailing once the entire game in Holy Name's gym and came away with a 85-66 victory in a highly anticipated Great Lakes Conference matchup.
(3-3, 1-3) Holy Name Green Wave even found themselves down by one point (59-58) to (5-1, 3-0) Fairview, in the beginning of the fourth quarter, but the Warrior s outscored the Green Wave 26-8 to pull away.
"(Holy Name) came out in the second half [and] came out on fire," Warriors' four-year starter Luke Howes said.
"They made a lot of shots. We need to play great transition defense. Credit to them, they played a great third quarter, but we regrouped, got together on defense and turned the game around."
Fairview also made 10 of their 11 free-throws in the fourth quarter.
This loss put the Green Wave on a three-game losing streak. All of those losses were against conference opponents after starting off the season 3-0.
Holy Name had to face their conference opponents in large part without their star player Quentin Richarsdson, who left the Elyria Catholic game a week ago and has not been back since.
Fairview coach Ryan Barry would have preferred him to play, but he still gives Holy Name praise for putting up a good fight.
"Give those guys credit. Holy Name battled," Barry said after the win.
They made it a game. They made it tough on us. Luckily, we were able to pull away at the end and start playing our style of basketball. It was a good win.
Leading the way for Fairview was Howes, who scored 26 points, 18 in the first half.
"Luke (Howes) is a phenomenal player," coach Barry said.
"That tenacity on defense leads to some run-outs for him. He rebounds better than, probably any guard in the area. He loves to rebound and then offensively, he just attacks the rim. He's a four-year starter for us. He's been doing this for a long time. Sometimes we take him for granted. He does performances like this on a regular basis and it's special to have."
According to coach Barry, the Warriors were able to extend their lead, even when he was on the bench and wants to keep his three core Seniors fresh.
A highlight play for Howes was a full-court inbounds play as he picked up a rolling ball to prevent the clock from running, only pick it up with less than three second and make a three-pointer on the left wing to send the game to halftime with them leading 46-35.
"I gotta do a better job keeping these guys fresh, even when the game is tight," Barry said.
"[We also must] trust our subs, because our subs played phenomenal when they were out there."
Also, leading the Warriors in scoring was Martin Lowry (13 points) and Noah Mesaros (16 points).
A 7-0 run in the start of game threw Holy Name off balanced. Also, their offense piled on more points as they scored 30 first quarter points to the Green Waves' 18 points.
"We always start our fast," Barry said.
"I think it takes some teams a little time to adjust to our tempo and our pace. (Holy Name) did a nice job weathering the storm and we get a little tired and it slows [us down] not intentionally."
Leading the Green Wave in scoring was Jack Kenneally (18 points) , Tony Carter (12 points), and Josh Petrilla (17 points).
Holy Name may have out-rebounded them 47-39, but Fairview turned the ball over seven times to the Green Wave's 21.
Holy Name is in the thick of their conference schedule as go to Buckeye on Dec. 20 and Fairview gets put to the test Friday, Dec. 20 as they host fellow GLC powerhouse Elyria Catholic.

NEO Sports Insiders Newsletter
Sign up to receive our NEOSI newsletter, and keep up to date with all the latest Cleveland sports news.