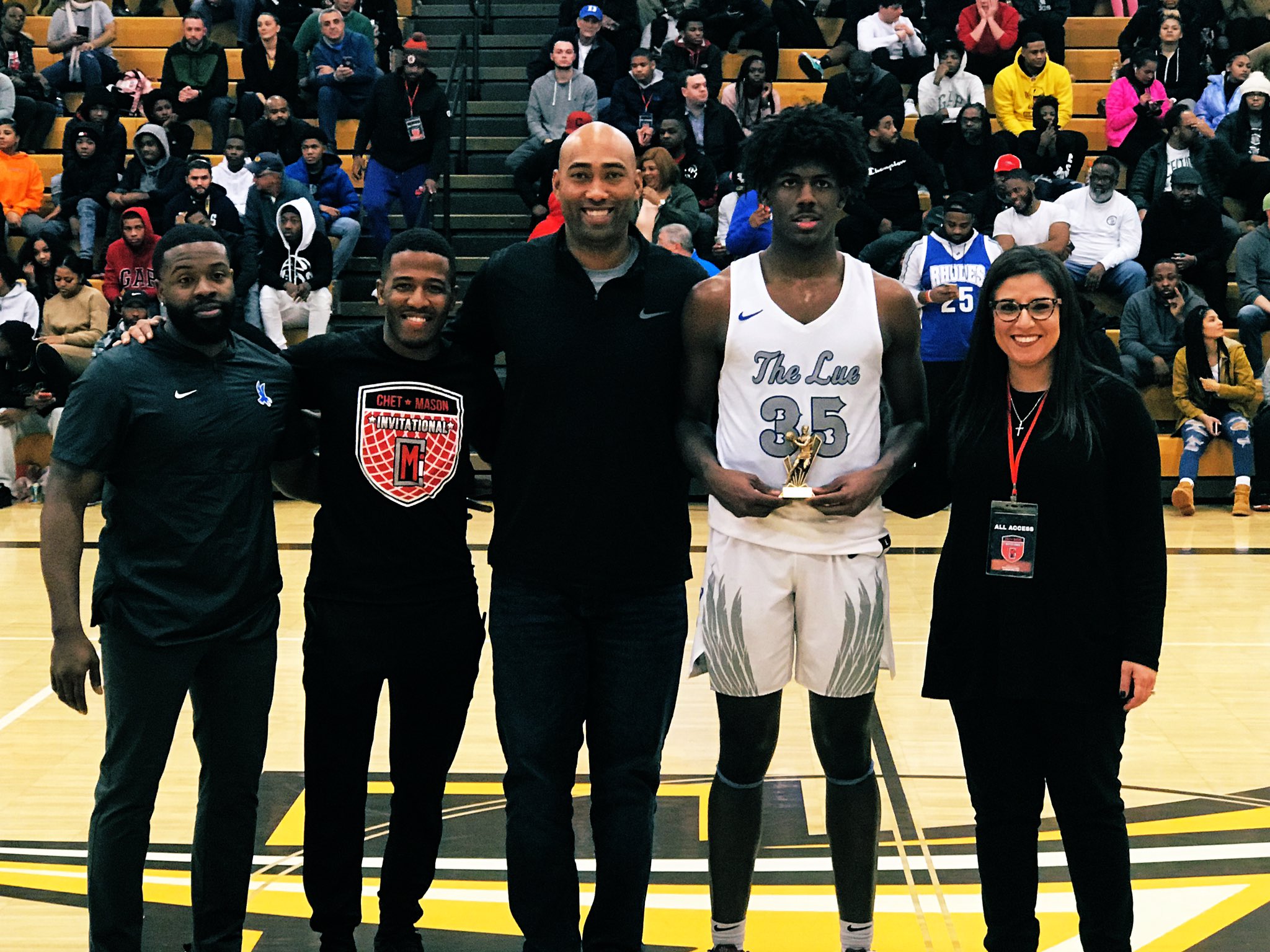 LYNDHURST, OHIO – The Chet Mason Invitational is consistently marked on the calendar as one of the biggest events of the Northeast Ohio high school basketball season. This year, it was no different.
Both college coaches and fans alike swarmed Brush High School on Sunday for a day filled with some of the best talent the area has to offer. While there were many local gems participating, such as Davidson commit Grant Huffman and Pittsburgh commit John Hugley, those in attendance were treated to a show from several out-of-state Division 1 recruits.
While the passing of NBA great Kobe Bryant placed an emotional toll on players, coaches, and fans, there was still plenty of great basketball to be played at Brush High School.
Game #1: Toronto Basketball Academy 70, Cincinnati Dohn Prep 57
The opening game of this year's event featured two teams that may not be known to this area. Both are preparatory schools, one based in Toronto, Ontario, Canada and the other in Cincinnati, Ohio.
In the first half, it was a battle between two players. TBA's Jasha'Jaun Downey and Dohn Prep's Jaidon Lipscomb. They were both in double digits heading into halftime, with TBA holding a 27-26 lead.
Both Downey and Lipscomb had strong second half performances, but there was a more balanced scoring effort on both sides. TBA would pull away in the fourth quarter to defeat Dohn Prep 70-57 in their home state.
Game MVP awards went to Downey (25 Points) and Lipscomb (18 Points). Amhed Khalid of TBA pulled down 13 rebounds in the double digit victory.
Game #2: SPIRE Institute (Post-Grad) 67, Canada Oakville Prep 57
From the opening tip-off , SPIRE Institute's post-grad squad seemed to have the number of Oakville Prep.
They would build a 36-15 halftime lead, behind an impressive 15 point half by Andre Polk. With the score at 53-24 heading into the fourth, Oakville scored nearly half of their total points in the final frame to make the score respectable.
Fueling that charge was game MVP Jayrell Diggs, who finished the game with 22 points for Oakville. However, it was a classic case of "too little, too late" as SPIRE went on to win 67-57. Winning the MVP for SPIRE was Andre Polk, who had 19 points in the victory.
Game #3: Cleveland Central Catholic 46, SPIRE Institute 33
The first Northeast Ohio high school matchup of the day featured athletic forward Deshaun Nettles and CCC, as they faced SPIRE's high school team.
SPIRE was the main attraction in the 2019 Chet Mason Invitational, as LaMelo Ball stole headlines for his flashy play. However, a once explosive offense has lost some of its "wow" factor, as they were contained by Cleveland Central Catholic.
Deshaun Nettles and Shannon Tatum pieced together a few memorable dunks, while CCC used a strong 2-3 defense to stymie the SPIRE offense. They held them to just five points in the second quarter to build a 22-18 halftime lead.
Strong defense has been a cornerstone to CCC's success this season, and they put that on display in Lyndhurst on Sunday. The Ironmen would go on to win 46-33, allowing their fewest points to an opponent this season.
Game #4: St. Edward 71, Aspire Academy (KY) 57
When Grant Huffman steps onto the floor, he might not look like the best player out there. But when the game gets going, it's obvious as to why he is a Davidson commit and one of the best players in the Cleveland area.
Aspire Academy, a nationally-seasoned preparatory school based in Louisville, struggled to handle the St. Edward offensive attack throughout most of the game. Huffman and Devontae Blanton combined for 33 points in the first half, as the Eagles held a convincing 37-19 lead at the intermission.
On the second game of a back-to-back, St. Edward elected to pull most of their key players in the 3rd quarter, leading 52-24. West Africa native Cherif Kanoute and his Aspire squad took advantage of the Eagles' "B-Team".
Closing the gap to 12 in the fourth quarter, Aspire forced Huffman and Blanton to get the call off of the bench. Before they could check in, the call was retracted, as Ed's would rattle off a quick five points to put the game out of reach.
Michael Bova emerged as a surprising MVP for St. Edward, finishing with six points along with some strong defense. Cherie Kanoute was the MVP for Aspire, as he finished with 12 points in the losing effort.
Game #5: Huntington Prep (WV) 65, ISA at Andrews Osborne 51
The matchup between Huntington Prep and ISA may have been the most intriguing for the college coaches in attendance. There were multiple high-end Division 1 players on the floor, including Keon Ambrose, Charles Bediako, and Isaiah Cottrell.
ISA is a relatively new program in Northeast Ohio, boasting top-tier talent from across the country and across the globe. The team also features Andy Barba, a Columbia offeree from right here in Cleveland.
ISA got off to a great start on both sides of the ball. They led 15-8 after the first quarter, and 32-29 at halftime. Leading the strong first half for ISA was Charles Bediako, a 7-foot big man who holds offers from Duke, Ohio State, and nine other schools.
Huntington Prep, who lost to St. Edward earlier this month, was not interested in going 0-2 in the Buckeye state. Led by West Virginia commit Isaiah Cotrell, the Irish took over the second half to earn a 65-51 victory.
Cotrell finished with 18 points to win MVP for Hungtington Prep, while Bediako's 18 points gave him MVP for ISA.
Game #6: Lutheran East 58, Rhodes 56
Just like the colors of their blue warmup tops, Lutheran East and Rhodes were about as evenly matched as you can get.
Both teams featured big time playakers and Division 1 recruits. Nehemiah Benson and the Lutheran East Falcons led 14-12 after the first quarter, with several lead changes to follow in the second.
Sophomore point guard Jamal Sumlin is a name to watch in Northeast Ohio. He displayed his impressive dribbling, vision, and scoring ability as his team fought to a 24-24 halftime tie.
Rhodes, looking to score one of the biggest wins in school history, kept their foot on the gas for the second half. Despite strong efforts from Benson and Collin Albert, Lutheran East just could not pull away from the Rams.
With a 54-49 lead, Rhodes attempted to play keepaway for the final few minutes. This plan would falter, as Lutheran East closed the game on a 9-2 run to secure a 58-56 victory after a desperation heave from Rhodes wasn't successful.
Amarion Dickerson led the game with 20 points, but it was Sumlin who earned MVP for the winning team. He shined on the big stage, nearly putting up a triple double performance. Sumlin finished with 16 points, 7 rebounds, and 8 assists. Rider commit Nehemiah Benson won MVP for Lutheran East, finishing with 20 points.
Game #7: St. Vincent-St. Mary 76, Brush 46
The final game of the night started with a touching tribute for Kobe Bryant, who's death was reported during the second game of the event.
Brush head coach Chet Mason and Cleveland Heights head coach JR Bremer both had interactions with Bryant during their professional careers. "The impact he's had on the basketball community today is immeasurable," Bremer said, "I don't know where the game would be without him".
The near capacity gym would then observe a moment of silence for the late NBA great before the opening tip-off.
Brush, the host school of the event, played tough with St. Vincent-St. Mary through the first quarter. Pittsburgh commit John Hugley scored all 10 of his team's first quarter points, as the game was tied 10-10 heading into the second.
STVM would shake off the slow start in spectacular fashion. A 20-0 run that spanned nearly eight minutes gave them a commanding 38-16 lead in the third quarter.
The Fighting Irish never looked back, as game MVP Ramar Pryor led the way with a season high 24 points en route to a 76-46 victory. Despite a quiet night for four-star Ohio State offeree Malaki Branham, the rest of Dru Joyce's squad stepped up to earn a 30 point victory. Marcus Johnson also played a big role in the victory, finishing with 16 points.
Hugley was awarded MVP for Brush, as he finished with 21 points and 13 rebounds.
Wrapping It All Up
Even though the death of Kobe Bryant cast a shadow over the event, it was still a phenomenal series of games in a great atmosphere. The top three teams in our weekly rankings all earned victories, along with a bounce back win for Cleveland Central Catholic.
The 2021 edition of the Chet Mason Invitational is already in the works, with Mason himself announcing there are a few new teams already locked in. The "mamba mentality" work ethic is strong within Mason, and it will be used to create another phenomenal event next winter.