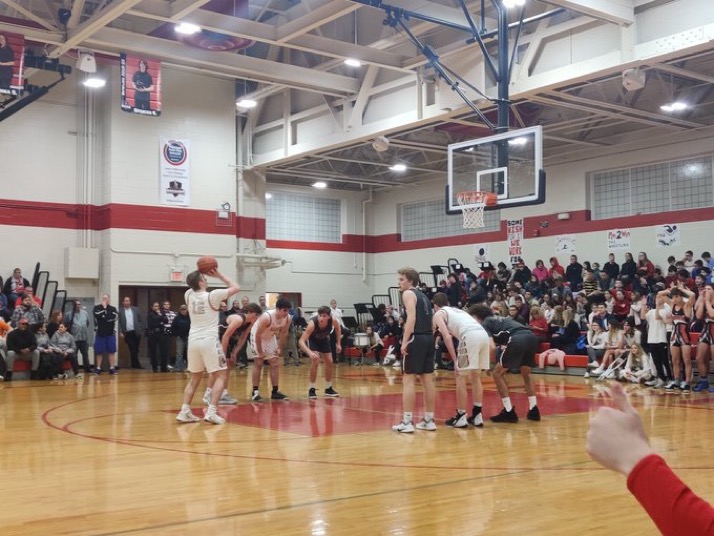 By Mark Perez
FAIRVIEW PARK, OHIO – Late in the fourth quarter, as Fairview led Rocky River 74-56 Marty Rehor grabs a rebound off a Pirates' missed shot and throws an outlet pass to Martin Lowry who was airborne in front of the Warriors' bench on the right wing.
"Martin (Lowry) was about five feet in front of me and we were running down the same sideline," Warriors' Luke Howes said after Fairview defeated the Rocky River Pirates 84-62.
"I see the ball going over my head, so I started running towards the middle. Then, the next thing I know, Martin (Lowry) hits (the ball) from behind, a no-look (pass to Howes) for a layup."
Teamwork makes the dream work. 💯

(Via @FPCSBN ) pic.twitter.com/IJCctN7sQn

— MaxPreps (@MaxPreps) January 11, 2020
Lowry went back on defense with a "I can believe I did that " look on his face as he high-fived teammates.
"Martin (Lowry) does things like that all the time in practice," Warriors' head coach Ryan Barry said.
"He has good court awareness. It was a bad long pass. I knew Martin (Lowry) could get it. I didn't necessarily know what he was going to do with it. I saw him eying it, looking over his shoulder. He knew Luke (Howes) was gone… It was a perfect smack-pass into the breadbasket for Luke (Howes)."
Fairview's (10-1, 7-0) win over Rocky River (6-5, 4-3) was led by their big three. Howes, Lowry and Noah Mesaros, who lead the night in scoring with 28 points.
"I was making a lot of my shots, but really, my teammates were finding me in open spots and putting me in good positions," Mesaros said.
"Coaches [were] running plays and I was getting good looks."
Mesaros was the Warrior's leading scorer for the second game this year. The last time this occurred was against Valley Forge in early December.
"Noah (Mesaros) sacrifices a lot for the team offensively, because we ask a lot of him defensively [as he] goes out against bigger guys, stronger guys," Barry said.
"Noah can be 'the guy' on probably any team around here. He's capable of those performances every night. But sometimes, he sacrificed so much for the team, that he may get six points and 12 rebounds. But when we know when the match up is there, he'll explode one of these nights, and tonight was good. He deserved it."
Howes scored one point less than Mesaros and Lowry scored 19 for a combined 74 points of the team's 84 points.
"I tease those guys. I said: 'It would have been nice if you shared the basketball with other people," Barry jokingly said to his big three.
"At one point, (Howes, Lowry, and Mesaros) had 69 of our 72 points and Justin Younkin was the lone man with the three (points). They didn't play selfishly between the three of them. It was what they gave us and the way they attacked off of passes created by some of the role players."
Role players Rehor and Ethan McQuate scored a combined three points, but their defense along with the rest of the Warriors forced Rocky River's tempo to be faster than Barry expected it to be as they played a diamond full-court press.
Knowing going after steals was a gamble, the defense gave one of the Pirates' best scorers Tommy Ruma lots of open shots in the first half, particularly in the first quarter as he scored 13 points and made three three-pointers.
That helped keep the Pirates within one possession as they trailed 22-19 going into the second quarter.
"The idea [of the early full-court press], was to speed them up," Barry said.
"I think if we had [the pace] their way, I think we would have played a little slower. Speeding them up and getting them to have to work on both ends… We thought that they wouldn't be able to do it for four quarters."
According to the scoreboard, the strategy worked as they went into a 1-2-2 defense, according to Mesaros and helped give them a 39-31 lead at halftime.
The 1-2-2 defense is designed to defend against shooters like Ruma and open the fast break.
Fairview won both games against a top two team in the GLC standing, pushing them further ahead of the rest of the conference. They are undefeated in the GLC and currently hold tie-breakers against many of those teams.
"[Extending the conference lead] feels good," Howes said.
"It relieves pressure off of us. At the end of the day, we have to go out every day, every game and focus on winning."
Fairview will go to Buckeye High School to face the Bucks on Friday, Jan. 17 and Rocky River will host Normandy after dropping to try and bounce back from their two-game losing streak.

NEO Sports Insiders Newsletter
Sign up to receive our NEOSI newsletter, and keep up to date with all the latest Cleveland sports news.