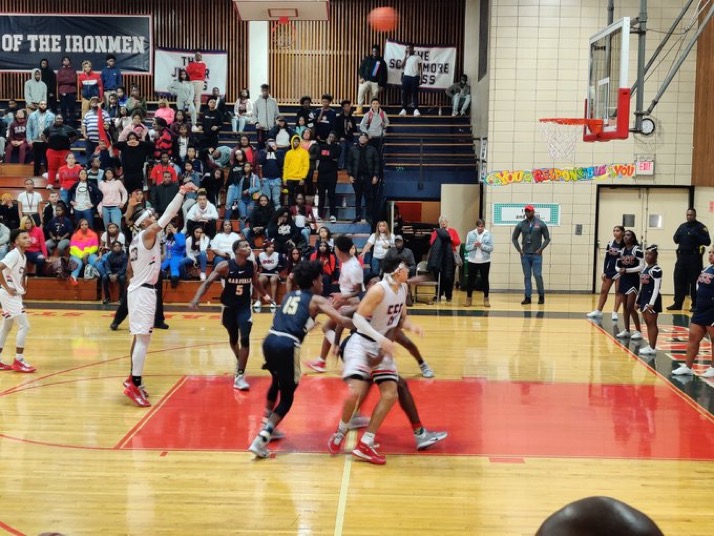 By Mark Perez
Cleveland Central Catholic's team name isn't the Ironmen for nothing.
Garfield Heights forced two overtimes against Cleveland Central Catholic, but it wasn't enough as the Ironmen outlast the Bulldogs 51-48 in double-overtime in a gritty defensive battle.
"Since I've been here, we've always hung our hat on the defensive end," Ironmen coach Jordan Duke said.
"If shots aren't falling; if we can't get it done offensively, we've got to be able to defend. Tonight, it kind of was what it was."
They practice defense everyday, and tonight, it paid off as they allowed 23 points in three quarters.
Bigs like Terran Mack and Deshaun Nettles posted their firm presence in the paint. Mack posted a double-double (11 points, 11 rebounds) and Nettles had seven points, grabbed eight boards and blocked a shot.
Nettles also posterized a Bulldogs defender in the first quarter to lead 5-4. This was their first lead of the game.
Though Cleveland Central Catholic (9-2, 3-0) defeated Garfield Heights (10-3, 3-1), it was an ugly win for them as Duke saw room for improvement on the offensive side of the ball, especially at the free-throw line and isn't afraid to win ugly.
"We didn't shoot free-throws well," he said.
"We made some timely turnovers and we didn't finish at the rim as well as I'd like to be. But, we pulled the win out and it shows our grit and how hard our guys want to win. That's who we are. If we got to make it ugly, we are okay with that.
The Ironmen had their biggest lead at halftime after L.A. Fayne scored a buzzer-beater three-pointer on a pick-and-pop as the screener to make the score 24-15. Point guard Tevin Jackson made the assist.
But the Bulldogs outscored the Ironmen 4-8 to put them back in the game, heading into the fourth quarter 28-23.
Garfield Heights used a variety of scorers in the fourth quarter, but the one who stood out, was Tavion Tatum.
Tatum scored the final six points to propel the Bulldogs into the first overtime.
The Bulldog's path to overtime consisted of a lot of events transpiring.
Nettles was sent to the line with 1:31 remaining in regulation. He made one free-throw. Garfield Heights turned the ball over because of an inbounds violation. An Ironmen turnover gave Tatum two free-throws for the Bulldogs.
Free-throws was something both teams did not execute well in. Garfield Heights made 50 percent and Cleveland Central Catholic made 42 percent, but Tatum made both free-throws in the clutch to make it a two-point game before he made the buzzer-beater game-tying layup at the end of regulation with the score 39-39.
The second hero for the Bulldogs was Junior Makail Cottingham, who scored another game-tying basket for them.
This one was off an inbounds play from Ronald Davis on the baseline before passing it to an open Cottingham to send it to a second overtime with the score tied at 46
Garfield Heights had another opportunity with a three from Tyler Jackson, but bounced off the rim.
Leading scorer for both teams are Jackson, who scored 12 points for Garfield Heights and Fayne who scored 17 for the Ironmen.
Cleveland Central Catholic will host Villa Angela-St. Joseph on Friday, Jan. 17. Garfield Heights hosts Cleveland Heights in a highly anticipated Lake Erie League match up. The Tigers defeated the Bulldogs 55-47 at Cleveland Height High School on Dec. 6.

NEO Sports Insiders Newsletter
Sign up to receive our NEOSI newsletter, and keep up to date with all the latest Cleveland sports news.