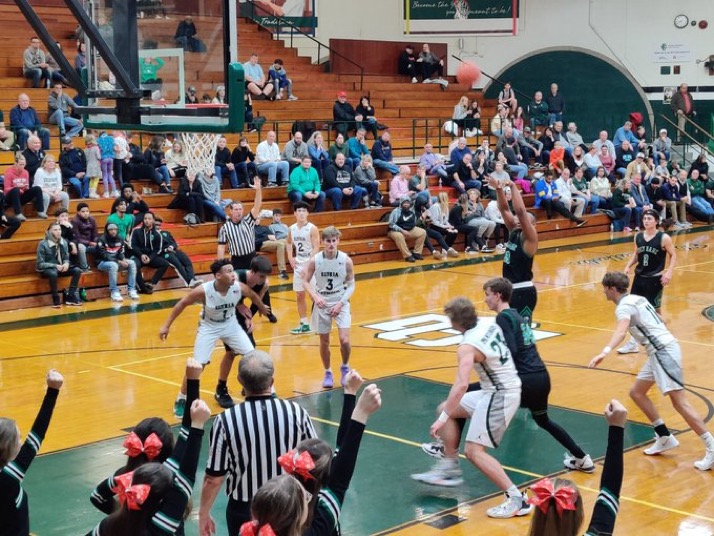 By Mark Perez
ELYRIA, OHIO – After conceding an 18-3 run late in the third quarter and the start of the fourth, Holy Name Green Wave's offense reached high tide to send the game to overtime with the score 65-65 at the end of regulation.
However, the Elyria Catholic Panthers collected themselves and went back to playing their brand of basketball to pull away with the 82-75 win.
"We know how to control the game," Senior Edward Wright said after the win. "But sometimes, we get sped up. As a leader, me, Branson (Taylor) and our seniors, we all brought us together and under control and made smart plays."
The conference win over Holy Name puts Elyria Catholic in a great position to defend their Great Lake Conference crown.
"We knew this (game) was personal for them, for sure, because we came out; we beat them twice [last year]… So we knew they were coming out for our neck," Senior Connor Trockley said about Holy Name.
"We only had two days to practice to prepare for them so we knew we had to take all of our time. We couldn't goof around. We didn't execute as well as we thought we should, but we ended up making more plays at the end of the game."
In the 18-3 run, the Panthers' defense stepped up by getting crucial stops that led into points to turn a 52-47 deficit to a 65-55 lead.
One glaring stop by Elyria Catholic was Trockley, who chased down blocked Holy Names Jack Kenneally while he was trying to lay the ball in the net to stop the hemorrhaging.
"I saw (Kenneally) coming and I was like: 'I might as well go for it," Trockley said.
"Before I knew it, I was landing and the ball fell on the ground. I felt like LeBron (James) [blocking] Andre Iguodala [in Game 7 of the 2016 NBA Finals]."
Panthers' head coach Rob Palmer recalled thinking about "The Block" when Trockley made the play.
"(Trockley) is very athletic," Wright said.
"He's long, he's lengthy, he's a wide receiver in football. He's super fast, super quick that was an amazing play by him and it was just shocking. It came out of nowhere. I didn't even see him running. He just got down there so fast. It was an amazing play for sure."
Kenneally and Trockley are good friends and jokingly said that Kenneally will never hear the end of it.
The Trockley block resulted in two made free-throws by Jordan Taylor.
Trockley finished with 11 points.
This was just one of the many defensive stops that resulted in points and Wright said that they are difficult to stop when they play with defensive intensity.
"Once we get going, it's hard to stop us," he said.
"We all get hyped and we all turn it up everywhere. We turn it up on defense and when we turn it on defense, it turns into offense [production]. It's just a great sight to see when we get going. It's hard to stop for sure."
Wright led (3-0, 2-0) Elyria Catholic in scoring with 23 points. Nine of those points game in the first quarter, but (3-1, 1-1) Holy Name started to put their longer players on him to slow him down.
It may have slowed Wright down, but his teammates were able to step up by having four other Panthers in double-digits. Jack Griffin had 10, Eli Palmer had 12, Trockley had 11, and Branson Taylor had 18 points.
In overtime, Wright was one of the closers and led by example, as he scored five points in the extra period to help extend their lead and strengthen his belief as a leader.
"I feel like I paid my due," he said.
"I've played the game long enough to understand what I need to do to be a leader and I feel like we all have. Me, Branson (Talyor), Trockley and (Elias Palmer) have been playing long enough to do in certain situations. I understand that we just came into the role that we know what to do and we just have to get everybody on the same page so we can be successful."
Green Waves' guard Quentin Richardson was effective in the first half with nine points, but an injury sidelined him as he was seen from the bench with an icepack on his knee.
Leading the Green Wave in scoring were Kenneally with 17 points, Mike Lechler with 15 points, and Sam Espostio with 14 points.
Holy Name faces Rocky River at home on Dec. 13 and Elyria Catholic goes on the road to Columbia on Dec. 13.