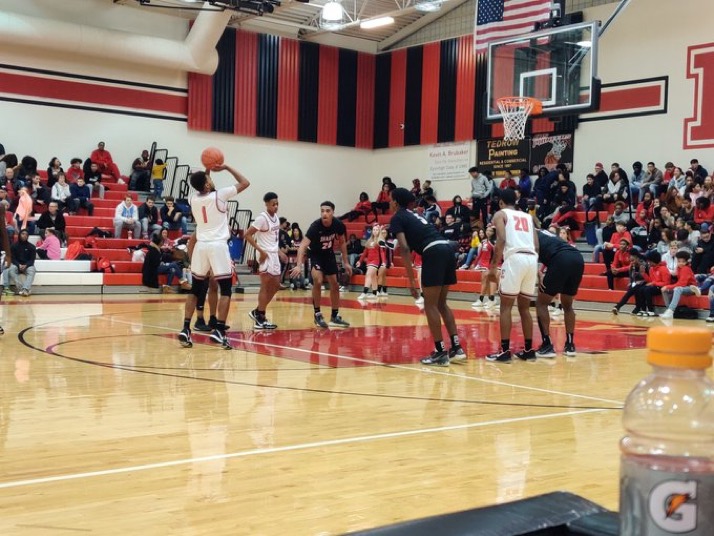 By Mark Perez
ELYRIA, OHIO – On the day Shaker Heights' forward Dakota Chochran received an offer from The University of Akron, he scored a season high 39 points in the Red Raiders 100-83 win over Elyria to stay undefeated.
"(Cochran) knows what to do," Red Raiders' head coach Danny Young said.
"He knows the schemes and where to be; how to rotate. He's always steady."
His athleticism put a couple of Pioneers on posters and his marksmanship from the three-point line was uncanny with seven made threes.
Despite (4-0, 2-0) Shaker Heights' winning by 17 points, (1-3, 0-2) Elyria was competitive against their Greater Cleveland Conference foe for much of the game at the lead continuously changed until the latter part of the third quarter.
Elyria's Aiden Carter (16 points), and MarSaun Robinson (18 points) scored the ball effectively for the Pioneers and made plays to give others scoring opportunities.
The one who capitalized the most from their passes was Dezaron Shelton who scored 22 points for the Pioneers with five made threes.
They started the game off with a 13-2 run to put the Red Raiders on their heels, but they responded with a 14-2 run of their own to help trim the Pioneers' lead to two points.
"I was a little nervous about this game," coach Young said. "Because I thought their guards could get downhill, cause you to sink in and then kick it and they can sink threes. I told my guys: 'they got two guns in this gym… that means they can shoot the ball and that they are good at getting downhill in straight lines. They are not very big, and sure enough, they jumped in on us. I tried to stay calm and not really try to get real high on them. I thought our pressure could wear them down, down the stretch."
Down the stretch of the quarter, it seemed to have worked as the Red Raiders forced turnovers off full-court presses and went on runs near the end of all four quarters.
In late second quarter, the Pioneers led 35-31 and seemed to have the momentum to possibly put Northeast Ohio on upset alert, but a 7-0 run, featuring and-1s by Cochran and Danny Young Jr. on back-to-back possessions propelled them to a 38-35 lead heading into halftime.
Their run at the end of the third quarter was 12-0 while trailing 58-54 and ended with a very deep buzzer-beater three by Young Jr. to give them a 66-58 lead to enter the fourth quarter.
"We are a defensive team, not an offensive team," coach Young said. "We focused on getting multiple stops and we weren't doing that in the first half. It was we score and they score. I think the guys locked down with our principles. Dakota (Cochran) led us, as he always did. He is a good leader."
Also, in the third quarter, Cochran made all four of his threes and all two of his free-throws for 14 points in the quarter.
"It was a good victory," Young Jr. said.
"We started off slow. We came in at halftime. We talked about this being a league game and it really meant something. It wasn't just a Cleveland Heights' game. That doesn't mean anything, but this was a league game. So we came out, and started out strong."
Shaker Heights had four players score double digits. Shammah Scott had 12 points, Young Jr. had 18, Jahdae Walker had 12 and Cochran with 39.
"We have a lot of guys that can score," coach Young said.
"There are a lot of guys that try and key-in on Danny (Young Jr.), Dakota (Cochran) and Shammah (Scott), but we have a lot of other guys that can score the ball."
Starters Eric Mudd and Alex Benson also finished with nine points.
Near the end of the game coach Young was determined to have his team score 100 points.
"I did [want to score 100 points], because (Elyria head coach Brett Larrick) got it on me at my place," he said jokingly.
"I think it was his 100th victory. When they celebrated, they brought in balloons and everything for him on my court. I don't mind.
"He's a good guy and I guess he thought I was trying to show him up a little bit. I have the utmost respect for this program and (coach Larrick)."
Coach Larrick's 100th victory happened in January 2016 against Shaker Heights, winning 82-71 in overtime.
On Dec. 17, Elyria hosts Midview and on the 27th, Shaker Heights faces Pickerington Central in the Tiger Roundball Classic.

NEO Sports Insiders Newsletter
Sign up to receive our NEOSI newsletter, and keep up to date with all the latest Cleveland sports news.