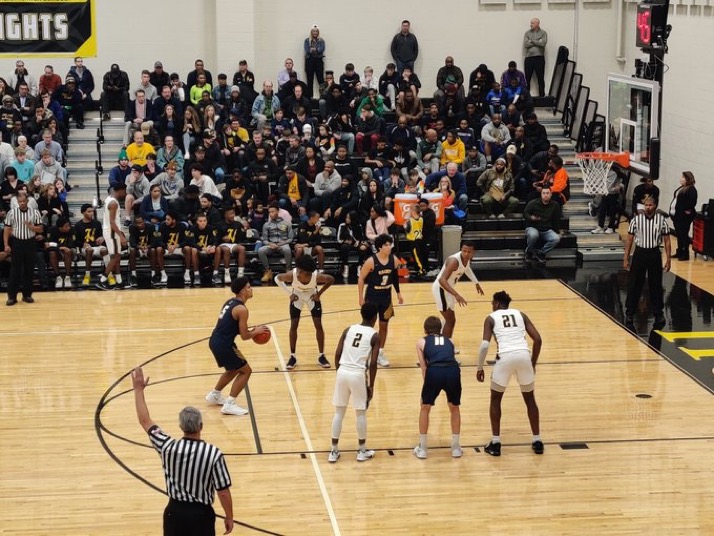 By Mark Perez
GARFIELD HEIGHTS, OHIO – St. Ignatius' big third quarter trimmed Cleveland Heights' lead to five points entering the fourth quarter, but the Tigers' defense led the way as they allowed the Wildcats to score five points in the final eight minutes to pull away in a 71-50 win.
"We stuck together," Tigers' head coach J.R. Bremer said.
"We made our run early. We got up by 16, and then they started making their runs. They started getting their stops. They threw a couple of wrinkles on defense that we weren't ready for… That type of adversity is something that you want in a game so you can learn how to get over it and stay in the game."
In the beginning and the end of the game, (7-3, 2-0) Cleveland Heights' defense played a major role.
The first quarter was low scoring on both sides as it ended with the Tigers leading (4-2) St. Ignatius 16-8.
"For me, my biggest focus is how we play defensively,.." Tigers' head coach Bremer said about his defense. Everybody knows and I know that we have scorers that can put the ball in the hole. But what wins games is defense and we try to hold them to as few points as possible. I didn't think [the first quarter] would be eight points, but it was an incredible start out of those guys.
They forced many Wildcat turnovers and helped propel their offense. The biggest beneficiary of their lock down defense was Junior E.J. Farmer, who scored 33 points, which is almost half of Cleveland Heights total at the end of the game.
He made six three-pointers and five of his seven free-throws. He scored 13 points in the fourth quarter to help pull the Tigers away with the win.
"Tonight was E.J. (Farmer's) night," Bremer said about the Junior standout.
"His hand was hot and we tried to find him and he knocked down some big shots. They cut the game down to five [points] and he hits a big three. It's nice to know whatever you throw at him, he can still put the ball in the hole."
Bremer wasn't shy to give him more praise as he called Farmer one of the best Juniors in the country.
"(Farmer) is one of the best Juniors in the state and one of the best Juniors in the country," he said.
"He's a hard guy to guard. He can shoot it, he can dribble it and he can also pass it. Any given night you never know when he is able to step up for us.
Though this game was Farmer's night, it doesn't mean other players aren't willing to step up.
Tonight, it was E.J. (Farmer), the other night in (Las Vegas) it was (Davon Smith-Johnson) and the other time it was Greg Pitts. We play as hard as we can. Whoever scores the points, that's who scores it. We don't focus on the individual player who scores it. We focus on the score that says Cleveland Heights."
One other Tiger score double-digits against the Wildcats. (Jamol Coles: 13 points)
For the Wildcats, their leading scorers were Emmett Hanna (13 points), Henry Raynor (10), and Jon Effortz (11).
Cleveland Height will face Richmond Heights in the NEO Youth Elite Christmas Classic on Dec. 28 and St. Ignatius visits St. Vincent-St. Mary to face the Fighting Irish in Akron on Dec. 31.

NEO Sports Insiders Newsletter
Sign up to receive our NEOSI newsletter, and keep up to date with all the latest Cleveland sports news.