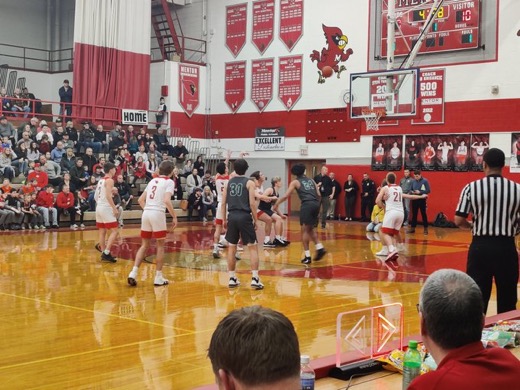 By Mark Perez
MENTOR, OHIO – Mentor Cardinals' star guard Luke Chicone wore his Kobe's Nike shoe to honor the passing one of his favorite basketball players.
But, the best way to honor the Black Mamba was to hit a buzzer-beater three like he did against GCC juggernaut Medina to give the Cardinals the 81-80 win to inch themselves closer to a conference crown.
"We ran out of timeouts," Chicone said.
Knowing if (Jack Hagan) misses (the free-throw) we gotta get the rebound. We have about four second. Whoever got the rebound is going to give it to one of the guards, take a couple dribbles and live with what we got."
In typical Kobe Bryant fashion. Chicone scored 14 points in the fourth quarter. Nine of those points propelled Mentor to score 11 points in the last 41 second to win.
After Chicone hit the shot, the crowd stormed the court to celebrate.
"It was a surreal feeling," he describes the post-game-winner.
"I grew up dreaming about those moments like these."
Chicone's other five points were scored halfway through the fourth quarter back-to-back. Mentor called a timeout after he nailed a three with 2:26 left. Chicone missed a couple of shots in a row before.
Medina was able to come back with an 8-0 run to lead 80-72 before Senior Chad Rogers made a putback layup with 41 seconds remaining. After that, Chicone took over.
"Keep your composure," Chicone describes his emotional state under the adversity.
"Kobe (Bryant) used to say: 'if you miss the first, second, third, fourth, fifth shot, it doesn't matter. He's gonna make the sixth and seventh."
Chicone finished with 25 points, seven assists, and eight rebounds.
In the two teams' first match up this season, (13-3, 8-2) Medina defeated (10-4, 7-2) Mentor at home 94-81.
"We played more as a team," Cardinal's guard Luke Foriea said.
"(last time), it was our second game. We were still figuring everything out. We really came alive in the fourth quarter. Chico (Chicone) did too. Chico became a legend in the city if Mentor. I'm just happy we got the win and we are onto Cincinnati."
Mentor's win still puts them in third place, but Medina drops from first to second, switching with Shaker Heights after their win against Strongsville.
This puts the Cardinals in a prime position to take the GCC lead as the Bees are one game ahead and Mentor has a chance to sweep the Red Raiders when they face each other on Feb. 14.
"We had to win this to stay in the league hunt," Mentor coach Bob Krizancic said. "I think, more so with our confidence with our starters and the ones coming off the bench on how we are going to play without Caleb (Piks). I thought this game was huge with the win… It was one of the better wins in a long time."
Piks suffered a broken finger, which is casted for the team's first night without him. According to Chicone, he is out for four week, but will be back in time for the playoffs.
Mentor forced 15 Medina turnovers to help Mentor win their 28th home game in their last 29.
"I've been coaching for 40 years," Krizancic said.
"Not many games like this, but this one with the league on the line and [against) almost a top 10 team in the state and to come back and score 11 (in the last 41 seconds). It was one of the best, especially at home."
Other than the scoring, Chicone, the Junior, was a vocal leader in the huddle during the time of adversity.
"(Chicone) is a Junior captain with three seniors,.." Krizancic said.
Respect is earned, and he's earning the respect from all the Seniors. That's a tough thing to do. He plays with everything and he has a huge heart."
Other top scorers for the Cardinals were Chad Rogers with 25 points and Luke Foriea who dropped 20 and also surpassed the 1,000 point milestone for this Mentor basketball career.
Kyle Szumski scored 32 points in Medina's last match against Mentor, but ended up with 29 points, along with 13 from Corey Tripp, 11 from Doug Sartain, and 10 from Christian Howard-Caffey.
Mentor faces Lakota East on Feb. 1 in a back-to-back, while Medina will play Spire Institute in a back-to-back.