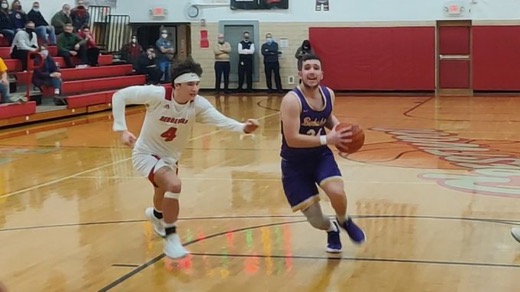 Badgers' Freshman Mason Mendolera turned 15-years-old on the same night as 16th seed Berkshire's road Sectional Semi-final game against 11th seed Crestwood.
It would turn out to be a day to remember as he drained the game-winning shot for the Badgers to advance to the Division III, Northeast 3 District, Sectional Finals with a 57-56 win over the Red Devils.
Freshman Mendolera takes the lead for Berkshire with .9 seconds left.@cwoodbasketball @BHSBadgerDen pic.twitter.com/QdwEBCCJFj

— Mark Perez-Krywany (@MarkPerezK10) February 24, 2021
"J.T. (Bergmeier) kicked it out to me and I had an okay of an open (jump) shot," Mendolera said following the win.
"But I figured I'd just drive it and get a good look, because that was working for us all night. I was just sticking to what was working. Didn't get afraid of the moment. I went [to the basket] calm and won the game."
After the basket, Crestwood called a timeout as his Badger teammate began to mob him on the court, despite two seconds remaining in regulation. Mendolera was fully aware of that.
"It didn't feel real until the buzzer finally sounded and I was staying calm," the freshman said.
"We have two more seconds left and they could get a shot off like I did."
Berkshire was worried for good reason, because Crestwood had Trent Jakacki who is one of the top scorers in Northeast Ohio averaging 27.5 points per game.
The last two seconds resulted in a missed half-court shot from Jakacki, who finished with 17 points in his final game as a Red Devils.
The Badgers' goal was to limit him to 10 points and they had a plan to contain him.
"Our goal was to hold Jakacki to 10 (points)," Berkshire's coach Ryan Dickard said.
"But he had (17 points). It was a hard fought (17). That's a credit to him, because we had almost three guys on him at all times."
End of Q1.

Crestwood 22
Berkshire 16

Crestwood is 4/6 from 3.@cwoodbasketball @BHSBadgerDen pic.twitter.com/5vgBojjGia

— Mark Perez-Krywany (@MarkPerezK10) February 24, 2021
Along with double and triple-teaming him, they were also aware of the last time they played, resulting in a 55-39 loss. Jakacki had 25 points that time.
Berkshire found out that he scored a lot of his points by getting offensive rebounds and in transitions off turnovers.
They countered with early box outs when shots went up and kept the turnovers low. It was effective, as Jakacki had one offensive rebound and the Badgers committed 10 turnovers.
"We just had to box out (Jakacki) early," Mendolera said.
"Since, we had one guy on him at all times, (that person) would box him out, which came back to bite us with a couple fouls… I feel like that slowed him down and took away from his points that he got."
Keeping the turnovers down was a big concern for Berkshire as they had a "abysmal" practice against their Junior Varsity team the day before the game, according to Dickard.
"Yesterday's practice was abysmal," he said.
"Our (Junior Varsity) would pressure us, (leading to) double-team and turnover every single time, which was concerning coming into this game."
Crestwood started off the game on fire from the three-point line, making 4-of-6 attempts in the first quarter and led 22-16 going into the second quarter.
Crestwood is on fire from the arch 🔥@cwoodbasketball @BHSBadgerDen pic.twitter.com/I7fYD4JpbT

— Mark Perez-Krywany (@MarkPerezK10) February 24, 2021
Berkshire made it a 1-point game at halftime with the help of three free-throws at the buzzer at the end of the second quarter. It came from a foul by Red Devils' Mitchel Ward on the Badgers' Isaac Potter on the 3-point line, resulting in three free-throws and trailing 34-33 at halftime.
Ward fouls Potters 3pt shot at the end of Q2.

Potters makes both FTs to make the halftime score 34-33.@cwoodbasketball @BHSBadgerDen pic.twitter.com/e0fAlGxkYJ

— Mark Perez-Krywany (@MarkPerezK10) February 24, 2021
Crestwood struggled to make shots in the third quarter, only scoring 7 points to trail 45-41 heading into the fourth quarter.
The two starting Seniors for Crestwood, Austin Johnson (team-leading 21 points) and Jakacki were the Red Devils' only scorers in a back-and-forth fourth quarter that resulted in six lead changes.
Mendolera and teammate Potters led their team with 19 points each.
Official scorebook for Berkshire's 57-56 win over Crestwood.

Leading scorers:

– (B) Potters 19, Mendolera 19
– (C) Johnson 21, Jakacki 17 pic.twitter.com/7pxyMk8Rdp

— Mark Perez-Krywany (@MarkPerezK10) February 24, 2021
Berkshire advances to the Sectional Final and will go on the road to face fifth seed Pymatuning Valley on Friday, February 26.

NEO Sports Insiders Newsletter
Sign up to receive our NEOSI newsletter, and keep up to date with all the latest Cleveland sports news.