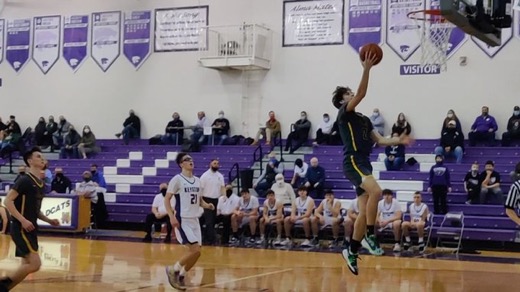 LAGRANGE, OHIO – Amherst Steele wants to be at their best basketball come tournament time.
"We are on a roll right now," Junior George Gotsis said after their 76-53 win over Keystone in the Coach Shaw Classic.
"I believe if we keep it up, we have a chance to go far in the tournament."
Amherst Steele (15-3, 14-2 in SWC), The Southwestern Conference champions used their high pressure to force 20 Keystone (14-5, 13-1 in Lorain County League) turnovers.
"We were able to speed them up and we were forcing turnovers," Gotsis said.
"When they were screening, we would (double-team) the top guy and we would make some trouble and then jump the passing lanes."
Against the Wildcats, the Comets knew what to do after they forced the turnovers as they produced plenty of points on the offensive end.
"We talked about this all season, and it is getting stops," Comets' coach Pat Bray said after the game.
"We did that. We talked about also when we do get those stops, we have to turn and push the ball and get (the possessions) into points."
Gotsis (24 points), Ty Weatherspoon (22 points), Nick Hamrik, who scored 16 off the bench benefited immensely off the extra possessions.
Comets take a 4-0 lead to start.@SteeleComets @KeystoneSchools pic.twitter.com/UtBhFG1Aps

— Mark Perez-Krywany (@MarkPerezK10) February 20, 2021
The team was without Junior Austin Bray, who is suffering an injury.
On the distribution end, their leader was George Fayer, who dished out 8 assists. All assets were recorded in the first half to help Amherst Steel have a 41-30 halftime lead.
Halftime! 🚨

Amherst Steele 41
Keystone 30@SteeleComets @KeystoneSchools pic.twitter.com/i4E8vZ6txC

— Mark Perez-Krywany (@MarkPerezK10) February 20, 2021
"George Fayer is a true point guard," coach Bray said.
"He can get to the rim and he can distribute the ball. Also, if you want to drop off him, he can knock down a three. Tonight was his job to distribute the ball and he took it on."
End of Q1.

Comets lead 20-9.

Fayer has 5 assists for Amherst Steele so far.@SteeleComets @KeystoneSchools pic.twitter.com/LETiqy5vLL

— Mark Perez-Krywany (@MarkPerezK10) February 20, 2021
Fayer was finding his teammates all over the court and wasn't shy to showcase some flair with behind the back passes to find shooters and thread the needle to find players slashing to the basket.
"It's great to play with a guy like (Fayer)," Gotsis said.
"Whenever you are open, he is able to split almost every double-team and find you an open shot."
Fayer finished with five points.
One thing coach Bray stressed to his players was to finish strong and not allow the opposition to come back.
"We know that teams are going to make their runs and we gotta be able to take that punch in the gut and [then have our turn]. They cut the lead to five (points) and then we hit a big three," he said.
Keystone's shining light was Ryan Walsh, who scored 13 of his 21 points in the third quarter. He made five threes. But Amherst Steele's 12-0 run in the beginning of the third quarter gave them a 61-46 lead to enter the fourth.
(13th seed) Amherst Steele is a Division I team that will host 16th-seeded Wadsworth on Saturday, Feb. 27 as their first matchup that will take place in the second round in the "Northeast 6" District that is shared with (2) St. Ignatius, (5) Garfield Heights, and (10) Lorain.
"We are a team that is filled from top to bottom," Gotsis said.
"We have shooters, we have drivers, guys who can defend. Everyone loves playing with each other."
Official scorebook for Amherst Steele's 76-53 win over Keystone.@SteeleComets @KeystoneSchools pic.twitter.com/x5plnVacSR

— Mark Perez-Krywany (@MarkPerezK10) February 20, 2021
Keystone will play in Division II, Northeast 3 District as the sixth seed following the loss to Amherst Steele. They will host the winner of 15 seed Woodridge and 24 seed Hawken on Friday, Feb. 26.
Before the OHSAA Boys' Basketball State Tournament starts. Amherst Steele will face Fireland on Saturday, Feb. 20 at home.

NEO Sports Insiders Newsletter
Sign up to receive our NEOSI newsletter, and keep up to date with all the latest Cleveland sports news.