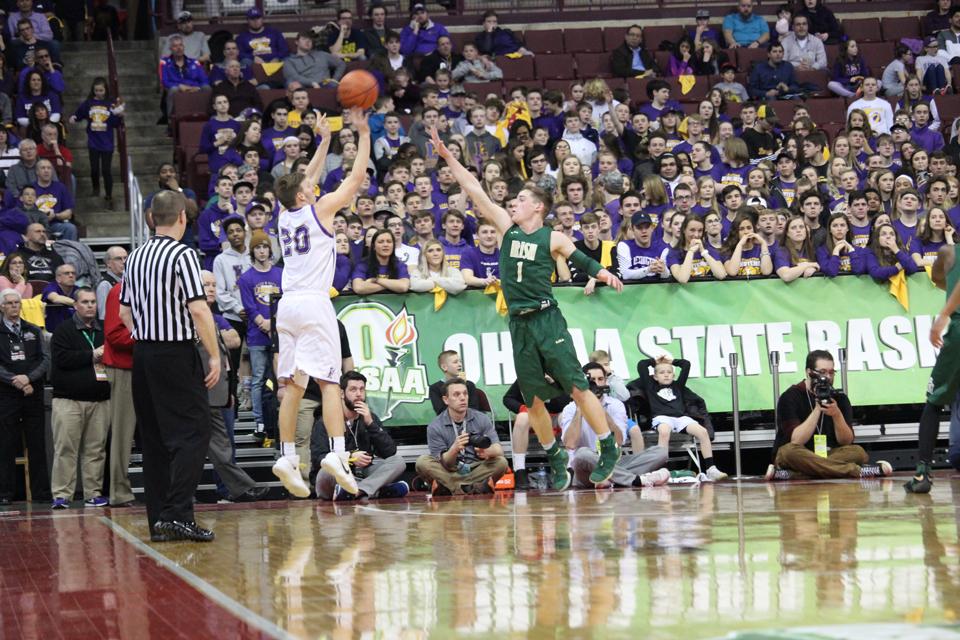 By Corey Perez
1) Three straight State Finals
With Friday's afternoon 62-51 victory over the Minutemen (23-6) the St. Vincent-St. Mary Fighting Irish are going back to the Division II State Championship game for the third straight season. In 2016 the Irish finished as the runner-up, then finished as Champions last season. While a great program like St. V has success season after season, this particular group only returns five players from last years title game.
2) Different path… same result
In last Saturday's regional final vs. Cleveland Villa-Angela St. Joe's the Irish relied on the 3-point shot to create separation from the Vikings. Today versus the Minutemen was a completely different style of game as the Irish only hit two of their ten 3-point shots. St. V used a more balanced approach on offense as they shot 54 percent from the field and did an excellent job of limiting Lexington to just one shot per possession.
3) Young Minutemen
Lexington started just two seniors this season and the majority of their roster will be returning next season. The Minutemen's best player, Cade Stover, averaged 18.5 points and 13 rebounds a game this season. They also return their best t3-point shooter in Kyle Johnston (41.8 percent) while they graduate their senior guards (Bryant Givand and Mason Kearns). Don't be surprised if the Minutemen make a return trip to Columbus next season.
4) Ridiculous depth
As mentioned above, St. V will making their third straight trip to the state title game, with an inexperienced roster of sorts. The Irish had nine guys score in Friday's semifinal, including 21 bench points. Lunden McDay led the way for the Irish with 15 points, four rebounds and four assists. This roster is riddled with a number of different guys who can step and make plays throughout the game, so when game planning it's difficult to really key in on just one guy. The team tasked with game planning for Saturday is the Trotwood-Madison Rams.
5) Rematch a year in the making
In sports you can't write a better story. Last season the Trotwood-Madison Rams lost to the Irish by two points in the state semifinal. A loss like that sticks with you, and can be a motivating factor to get back to Columbus. Luckily for fans of OHSAA basketball, the Rams made it back and have a chance at revenge, this time with a state title on the line.
The Rams defeated Meadowbrook 88-42 in the first semifinal on Friday. The Irish will be tasked with stopping the three-headed monster that is the Rams, Amare Davis (21 points), Myles Belyeu (18 points) and Carl Blanton (18 points.) The Irish and Rams meet Saturday at 5:15 p.m. for the Division II State Championship.
**Click through the pages to see a photo gallery from the win.

NEO Sports Insiders Newsletter
Sign up to receive our NEOSI newsletter, and keep up to date with all the latest Cleveland sports news.