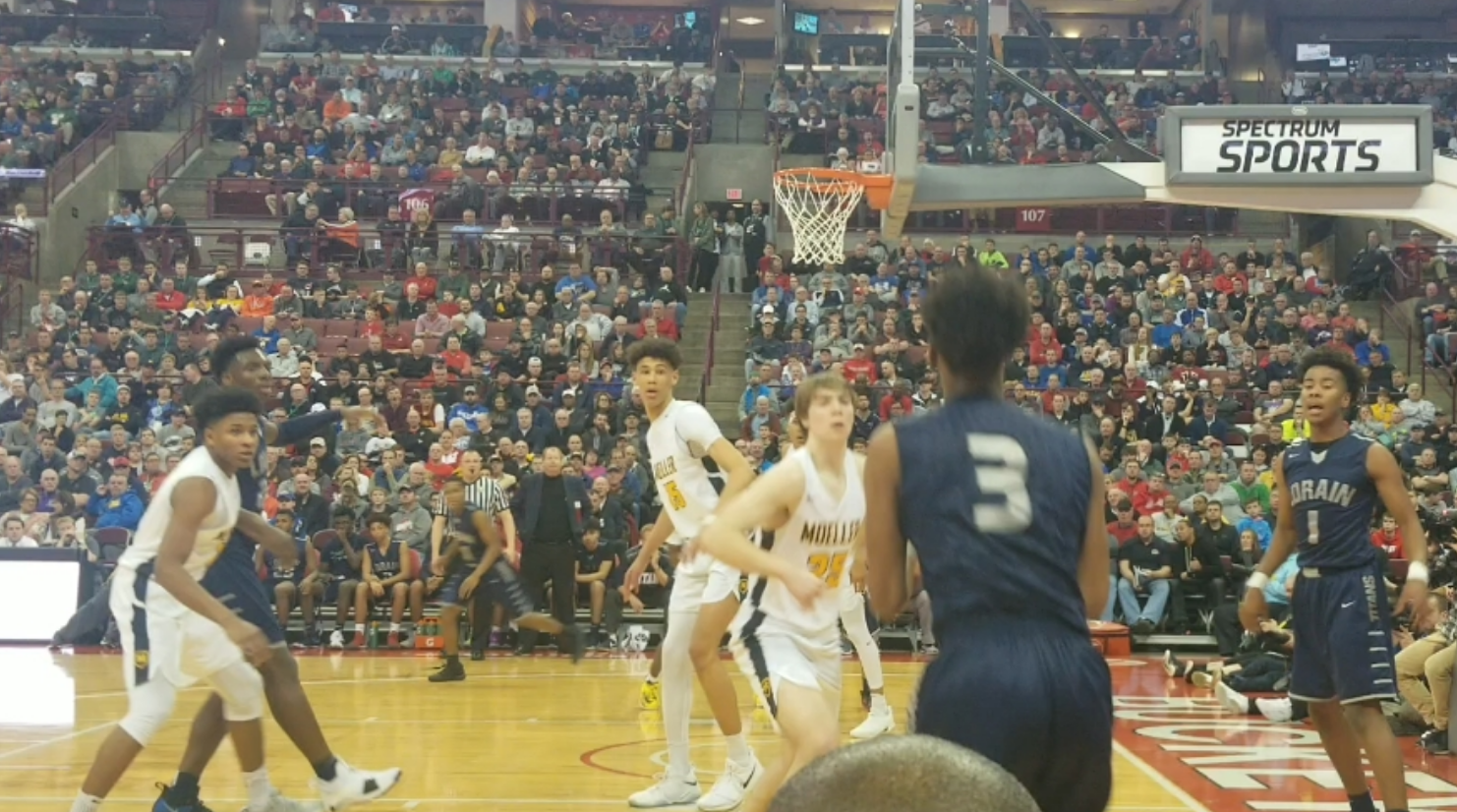 by Corey Perez
1. Tough path wins out
If the Lorain Titans wanted to play for a state title they were going to have to beat St. Edwards, Toledo St. Johns and Cincinatti Archbishop Moeller to do so. Unfortunately for the Lorain faithful that traveled to Columbus, the Titans were only able to defeat two of the Division I giants as the Titans fell to the Crusaders of Moeller by a final of 51-44.
2. Hopeful future
The Titans are coached by John Rositano, who in his five seasons at the helm has won a very impressive 102 games. This season marked Lorain's first trip to the state semifinals since 1923 and if things break right they could return next season. The Titans' best two players Devon Grant (17 points) and Taevon Pierre-Louis (10 points and 13 rebounds) are both juniors and will return next season. Lorain only graduates two players in senior guards David Weatherington and Jaiden Sledge.
3.Ugly throughout
While both teams played extremely hard and made plays on both ends of the court, this game was not particularly pleasing to the eyes. Lorain shot 34.8 percent from the field for the entire game, including just 33 percent in the fourth quarter. Meanwhile, Moeller didn't shoot much better (41.7 percent) but was able to withstand every run the Titans made. The poise of the Crusaders offense ultimately won out.
4. Hard fought
Despite trailing most of the game, the Titans never gave up. Lorain was able to make multiple runs against Moeller, but just weren't able to get the extra stop or the extra basket to tie the game. Twice Lorain was able to get the lead under 3 points late in the game, but the depth of the Crusaders wore down the Titans.
5. Whats next?
Moeller will try and avenge last season's state final loss when they lost on a controversial play at the end of the game to the Massillon Jackson Polar Bears. While Jackson is at home on Saturday night, the boys from Moeller will await the winner of the Solon-Pickerington Central. Moeller is led by two Division 1 recruits Jeremiah Davenport (10 points, nine rebounds and three blocks) and Jaxson Hayes (16 points and 13 rebounds.)