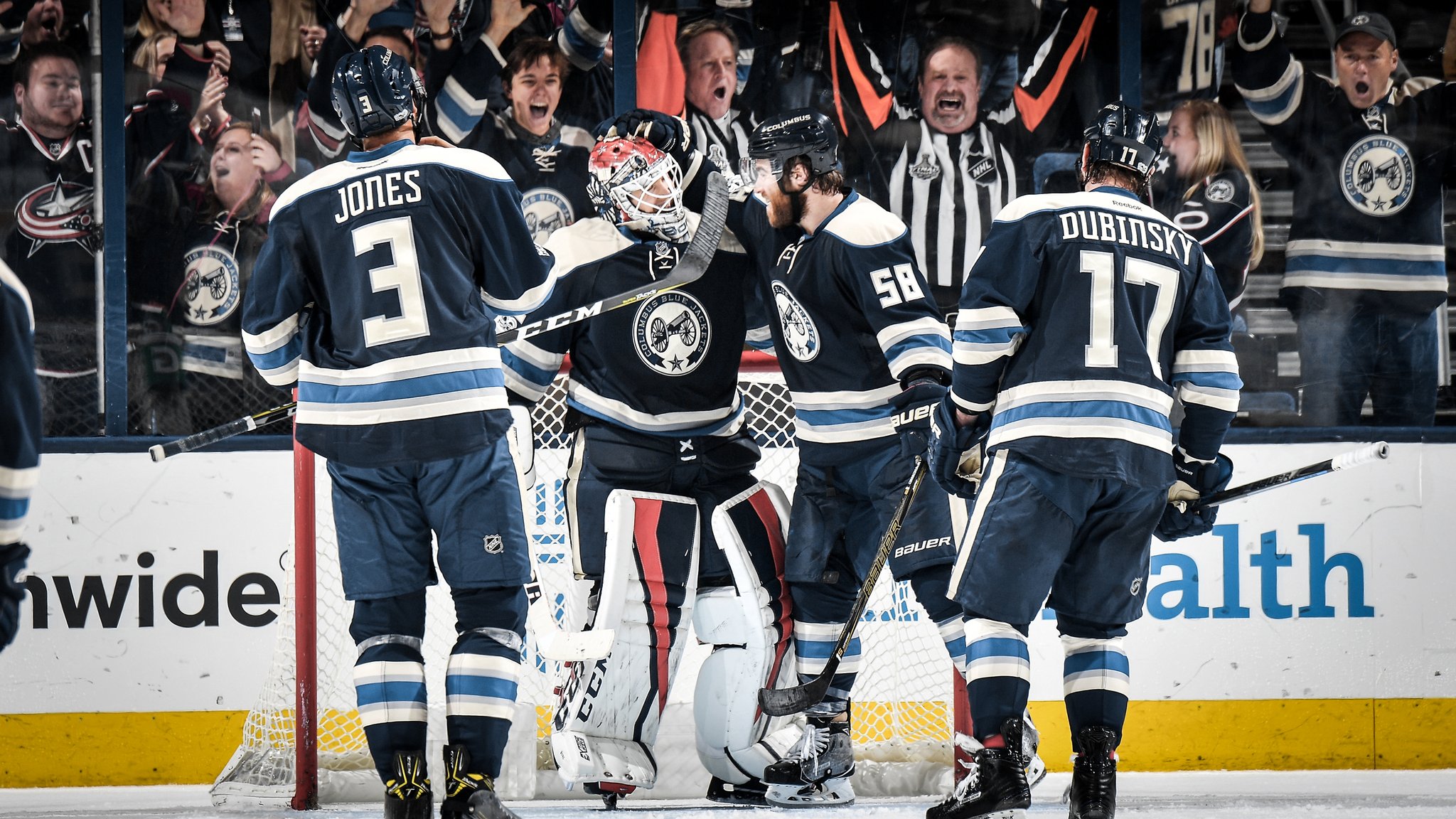 Tuesday night's win over the Edmonton Oilers moved the Blue Jackets within inches of history. The win against the Oilers bumped the CBJ up to 2nd in all-time consecutive wins, at 16. One win away from tying the all time record, and two away from rewriting the books.
The Jackets just keep finding ways to win. Whether it be from outstanding defense, hot shooting, or just a balanced attack like Thursday night, the Blue Jackets just keep putting teams away.
With the win streak is getting all the attention, Coach Tortorella wants to make sure the team stays focused and professional. The circumstances make this win streak extra special but keeping an eye on the bigger picture is a priority.
"We're a group of businessmen as far as I'm concerned," Tortorella said.
"We're becoming really good pros."
Cam Atkinson on the power play put the Jackets on the board, scoring his 18th goal and adding to his team leading 37 points.  Atkinson's shot from down low deflected off the oilers goaltender and into the net. Cam's goal was assisted by Zach Werenski and Alexander Wennberg.
The Oilers would tie up the game at one 5:39 into the second period. This would be the only goal given up on another soild outing for Bobrovski. Bob had 20 saves moving his current win streak to 14 games.
'Wild Bill' William Karlsson and a second power play would put the Jackets back on top. Roughly five minutes after the Oilers tied it up, Karlsson would catch a cross ice pass from Brandon Saad to bury the 12 footer. Seth Jones also was credited with an assist.
The CBJ's preseason PP struggles have certainly not carried on into the season.
The power play has played a pivotal role in the team's success, tonight included, scoring two goals with their first two power plays of the night.
The Jackets would go on to dominate the third period. Although they would only find the net once, the CBJ would control the entire period. That one third period goal however, was a beauty.
A incredibly wide open Nick Foligno intercepted a puck and drilled a wrist shot past Cam Talbot to find the upper right corner of the net, making it 3-1. Captain Foligno's goal was unassisted.
The Blue Jackets will have a tough road to history, playing the Washington Capitals in Washington Thursday  for the record tie and then back at home Saturday against New York for the outright win streak record.
The record would only be a cherry on top to what has turned out to be a breakout season for the CBJ. Regardless of if they grab the record or not, we still have a lot of hockey to be played. The bigger prize will be the Jackets continued success late into the season.
Full highlights of win:
W W W W W W W W W W W W W W W W pic.twitter.com/tIEIgB6hWk

— Columbus Blue Jackets (@BlueJacketsNHL) January 4, 2017