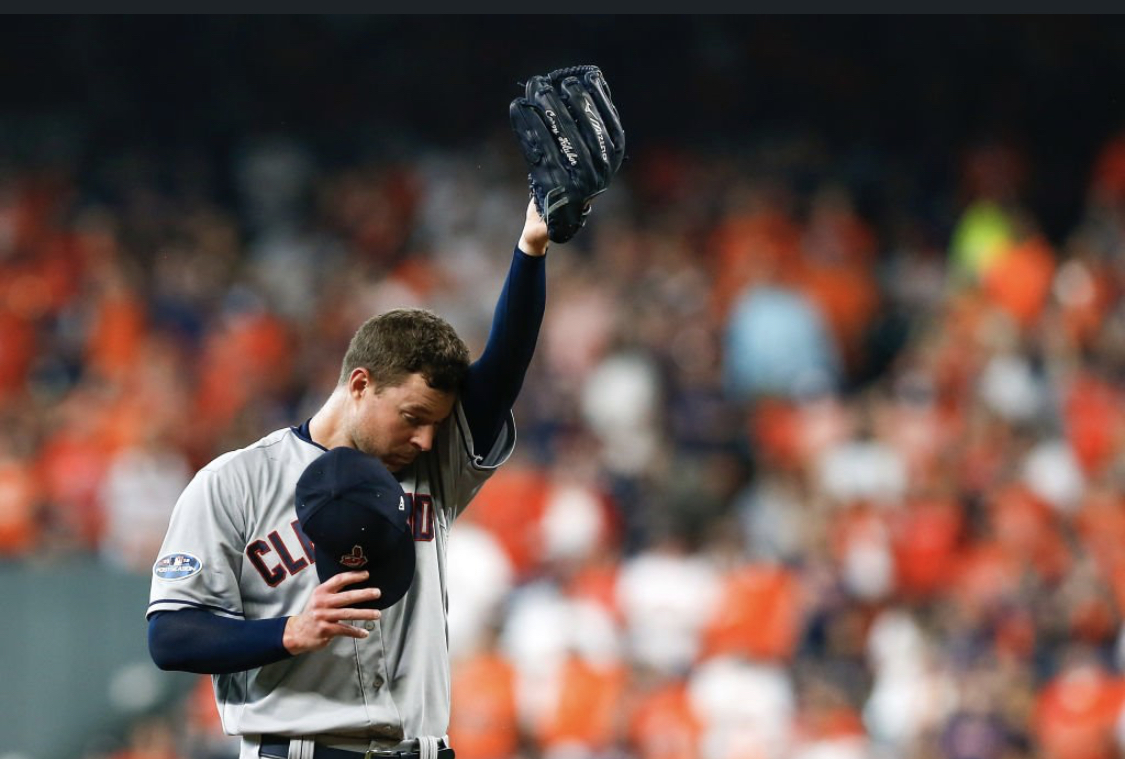 By Mike Holzheimer
There is no question Corey Kluber needed to be better in Game 1 of the ALDS against Houston.
The ace of the pitching staff has to be better, and nobody knows that more than Kluber himself because that's how professionals think.
With that in mind, can those firing one social media post after the other about how "Kluber sucks," he "chokes" and the most asinine comments of all "I'd sit him for the rest of the playoffs" and "trade Kluber now," just please STOP IT?
I'm well aware it's in the postseason where everything matters, no doubt it does.
But Kluber' s regular season efforts gets the Indians to the playoffs-plain and simple.
You don't win 15-to-20 games in the big leagues by accident, and not without dominating talent. You don't win TWO Cy Young awards without some ability.
Kluber was dominating in the 2016 playoffs until a tired arm, pitching on three days rest, eventually got to him in the World Series against Chicago, which was verified by Tribe management.
And last year against N.Y., Terry Francona publicly said Kluber was hurt. These are not excuses but the fact remains Kluber himself offers no excuses, and expects to be better when it counts.
Oh, and by the way, Cleveland is up against the defending World Series champions.
The Astros, to coin an old phrase, aren't exactly "chopped liver" inside the batter's box. That's a mighty offense over there, and mighty didn't exactly describe the Tribe's bats yesterday.
Where's the finger pointing regarding the Indians' inability to hit? Maybe that's coming in future rounds of social media rants.
The bottom line folks, is appreciate watching a solid player on your team, a proven winner, and one who does it with class.
Kluber helps get this team to October baseball. It's time for the ENTIRE TEAM to figure out the formula for winning October baseball, and to cross the ultimate of finish lines in this sport.
Yes, Cleveland, appreciate what you have in watching one of the best at his craft. Otherwise, you might be reminded of another old phrase: "you don't know what you've got until it's gone."

NEO Sports Insiders Newsletter
Sign up to receive our NEOSI newsletter, and keep up to date with all the latest Cleveland sports news.