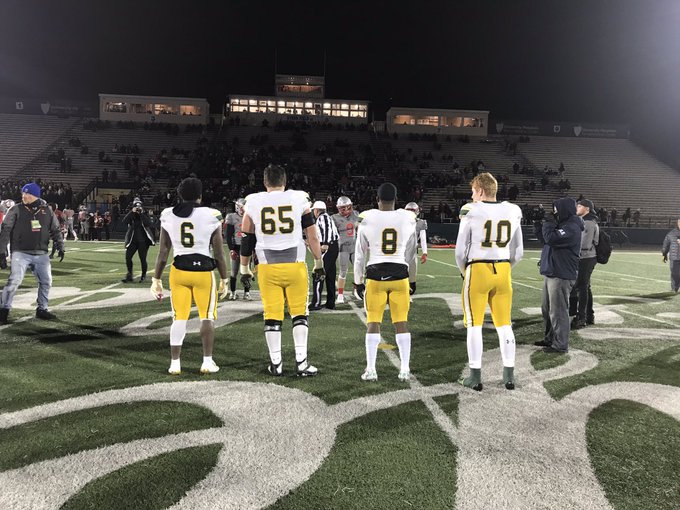 PARMA, OHIO – There will be a new state champion in Division I football.
The Mentor Cardinals outlasted the St. Edward Eagles in overtime Friday night, 36 – 35, at Byers Field in Parma to advance to the state final four, where they will play Pickerington Central in one Division I semifinal.
This Region 1 final tracked eerily similar to the Week one matchup in Lakewood in which Mentor rallied to beat the Eagles 29 – 28.
Mentor/Eds Part 2 was even more exciting as Mentor once again had to rally to tie the game at 28 with 1:55 left to send the game into overtime.
In the extra time, St. Eds scored first on a five-yard pass from senior quarterback Conor O'Malley to senior running back Joe Formani. The PAT gave the Eagles a 35 – 28 lead.
On Mentor's turn, they moved inside the 10-yard line, and on third down from the 7-yard line, a pass interference call against the Eagles gave them another chance after the incomplete pass.
Quarterback Ian Kipp then advanced on a keeper to the two-yard line, where the Cardinals faced fourth down,
Kipp then called his own number again, barreling in over Eagle defender Richard Johnson for the score, his second rushing TD of the night.
Mentor coach Steve Trivisonno then shocked many in attendance by opting to go for two for the win.
On the deciding play, Kipp scrambled right before finding his favorite target, Luke Floriea, to complete the two-point play, sending Mentor to the state semifinals.
For the game, Kipp completed 13 of 23 passes for 274 yards and two touchdowns. He added 69 yards and two scores on the ground.
Floriea had a monster game, hauling in seven catches for 205 yards and both aerial scores.
Early on, St. Eds appeared appeared to be in the driver's seat to the semifinal instead, as they dominated much of the first half, racing to a 21 – 7 halftime lead, and outgaining the Cardinals 277 yards to 163 yards.
In that first half, O'Malley completed 8 of 9 passes for 151 yards and two touchdowns and ran for 35 yards and another score.
Formani, for his part, gained 82 yards on 22 carries in the first half, as Mentor's defense could not find a way to stop the Eagle's ground game.
O'Malley would finish 11-18 passing for 178 yards and three scores in the air and added another 48 yards and two scores on the ground.
Seniors Tom Lombardo and Mackenzie Wainwright were O'Malley's favorite targets, each hauling in three passes, including a touchdown for each,
Formani continued his ground dominance in the second half, finishing with 193 yards on 43 carries. He added one touchdown catch.
Overall, St. Eds held a big advantage over Mentor on the ground, outgaining the Cardinals 258 to 155.
The Cards' main ground threat, Brian Trobel, did gain 82 tough yards on 13 carries, but needed a big 34-yard run on Mentor's game-tying drive to account for a large chunk of his total. Trobel added three catches for 30 yards and a touchdown.
For the game, St. Eds outgained the Cardinals 436-409, but could not stop the explosive offense when they needed to.
For the Eagles, their hopes of repeating as Division I champions have ended, but they nevertheless had a tremendous season.
Coach Tom Lombardo praised his team and thanked them for their efforts as they knelt one final time on the field for the 2019 season.
For Coach Trivisonno and his Cardinals, their quest for a state championship continues next Friday night as the team looks to send Trivisonno into retirement with the school's first football state title.

NEO Sports Insiders Newsletter
Sign up to receive our NEOSI newsletter, and keep up to date with all the latest Cleveland sports news.