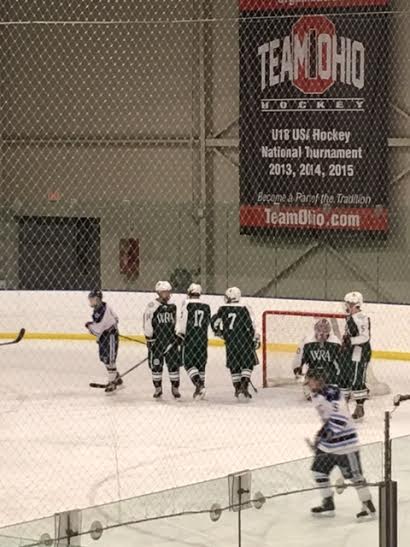 BROOKLYN, OHIO – The final match up for Baron Cup I Quarterfinals for Wednesday will have #4 Kenston against #5 Western Reserve Academy.
The previous match up back in December had Western Reserve defeating Kenston 6-3 at Kent.
Western Reserve scored first in the first period at the 7:39 mark with a goal from Sam LaFontaine assisted by Otto Bohan.
Western Reserve started to show signs of running away with the game early during the second period. At the 10:28 mark Brett Erskine scored a goal that was assisted by Bohan and LaFontaine.
Shortly after in the second period Western Reserve scored another goal from Jacob Dachille at the 8:54 mark. Kenston began showing signs of frustration during the second period but persevered through it to score with :15 left in the second period with a goal from Jonathan Wiegand that was assisted by Lou Sugarman.
Western Reserve was leading after the second period with a score of 3-1.
In the third period Western Reserve continued their success and pulled away with the win by scoring two goals. At the 11:13 Bohan scored a goal that was assisted by LaFontaine then Bohan scored again this time assisted by Erskine, at the 4:32 mark to officially put the nail in the coffin.
Bohan had 2 goals and 2 assists in tonight's game against Kenston.
Nate Hopkins had 25 saves and came away with the win while Kent Mack had 29 saves and got the loss.
Western Reserve defeated Kenston 5-1 to go on to play Shaker Heights Saturday at 5:30 PM in the Baron Cup I Semi-Finals.