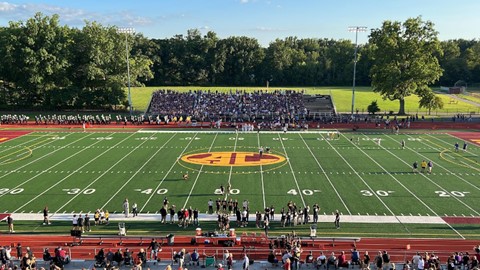 AVON LAKE –
On a beautiful Friday night for football, Avon Lake welcomed their rival Avon to Shoremen Country. Both sides of the stand were wild well before opening kickoff. The environment of the stadium gave a great feeling of rivalry. Avon Lake looked to continue its undefeated season after starting 3-0. Avon on the other hand was coming off a tough loss to Glenville and were looking to bounce back. The Silver Rail Rivalry was set to be a great matchup.
First Half Showdown
Throughout the first half, both teams were fighting hard, and it was hard to tell who wanted it more. Avon got it started off on both sides of the ball. They forced an Avon Lake 3-and-out to begin the game. Then they quickly scored thanks to a 30-yard TD pass to Cam Santee. This gave Avon a 7-0 lead with 7:27 to play in the 1st quarter. Avon's defense, led by senior defensive tackle Amin Abdul, stifled the Avon Lake offense through the first quarter. At the end of the first quarter, the Eagles led 7-0.
At the start of the second, Avon Lake held possession deep in their own territory. Junior running back Wade Nelson then broke away from everyone on his way to an 81-yard TD run. This was the first of two TDs for Nelson in the game. His score tied the game up at 7 apiece. Avon quickly responded with a 39-yard TD pass from QB Sam DeTillio to WR Ethan Holbrook. Avon's defense came up big again forcing their 2nd fumble of the game in the second quarter. Not too long after, the Eagles were driving again. Junior defensive back put a stop to that when he picked off Avon in the red zone. After an Avon Lake drive stalled, the Shoremen saw themselves on the defensive side of the field. Two plays into the Eagles drive, Derek McCrum picked off Avon again! This time returning it 58 yards to set up Avon Lake with great field position. With just 12 second left in the first half, QB Jeremy Dzik found WR Luke Stuewe in the end zone for a TD.
Heading into halftime, the Eagles and Shoremen were knotted up at 14.
Second Half Dominance
Much like the first half, Avon came out ready to play. QB Sam DeTillio found WR Drew Lindsey for a 49-yard pass that would set Avon in the red zone. A few plays later, Jakorion Caffey capped off the drive with a powerful 5-yard TD run. However, Wade Nelson was not done putting his mark on the game. On the ensuing kickoff, Nelson took it 98 yards to the house to keep Avon Lake tied with Avon at 21. After that big play, Avon did not give up much more. Sam DeTillio led a methodical offense throughout the remainder of the game. To go along with the two passing touchdowns in the first half, DeTillio added 2 rushing touchdowns to his total. When it was all said and done, Avon scored 21 unanswered points. They reclaimed the Silver Rail Rivalry Trophy after Avon Lake defeated them last year.
Week 5
Avon Lake (3-1) will travel to Berea-Midpark to take on the Titans while Avon (3-1) welcome Elyria (2-2) into town.
Key Performers
Avon:
QB Sam DeTillio: 17 for 28 passing, 306 yards, 2 TDs, 2 Rushing TDs, 2 INTs
RB Jakorion Caffey: 19 carries for 91 yards and 2 TDs
DT Amin Abdul: 5 TFLs, 3 sacks, 1 forced fumble
Avon Lake:
QB Jeremy Dzik: 14 for 21 passing, 133 yards, TD, INT
RB Wade Nelson: 8 carries 91 yards, TD, kick return TD
DB Derek McCrum: 2 INTs

NEO Sports Insiders Newsletter
Sign up to receive our NEOSI newsletter, and keep up to date with all the latest Cleveland sports news.