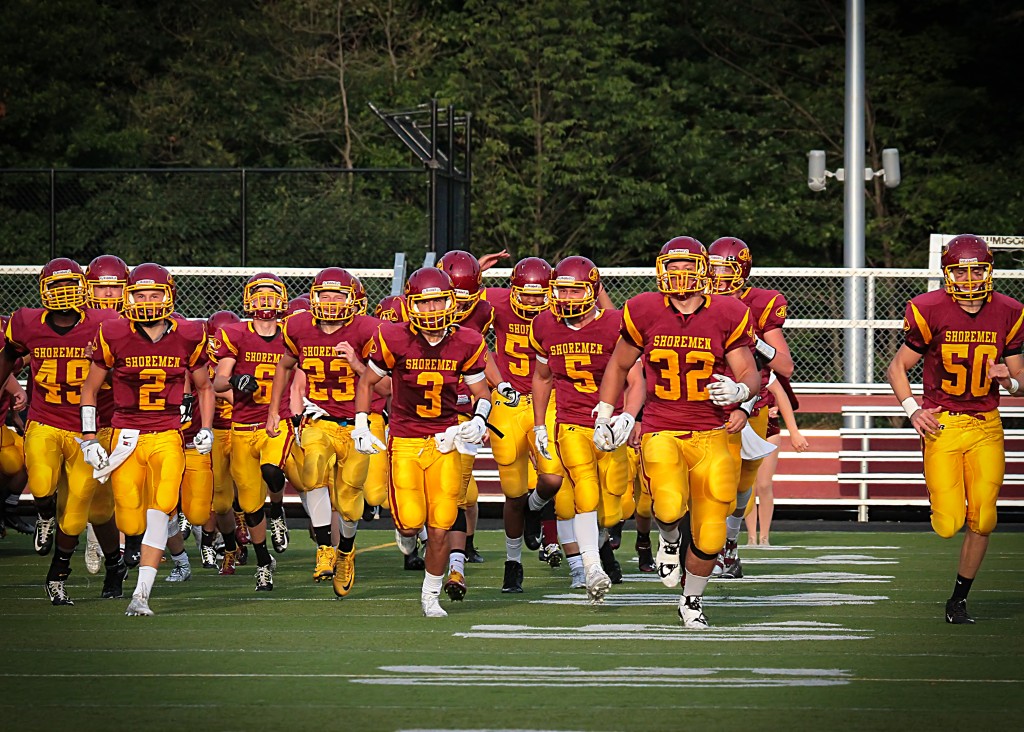 This game recap is brought to you by: Crystalina's Pizzeria, visit them at 36962 Detroit Rd. Avon, Ohio or online at www.crystalinaspizzeria.com or call at 440-934-1011. #thechoiceisCrystalclear
Avon Lake, Ohio- Fall was in the air tonight at Avon Lake Memorial Stadium. The 2017 High School football season is in full force and a packed house went home happy.
Avon Lake QB Jack Mikolich connected with WR Caleb Burr on a 6 yard TD pass on a 4th and goal with 4:00 on the clock to lead the Shoremen to a 21-20 victory over the Elyria Pioneers.
No one was more excited than Avon Lake Head Coach Matt Kostelnik, who made his debut as head coach tonight at his alma mater. Prior to the game Coach Kostelnik on how he felt coming in: "I'm ready to rock and roll, just get me to the kickoff, last year was last year, this year's team is different, tonight we concentrate on a good Elyria football team, nothing else."
The uniqueness of this game was that both teams had 1st year head coaches as the Pioneers welcomed back former assistant Sean Arno, on his return Arno said: "It's great to be back, the keys tonight are to get to the perimeter and handle the Shoremen up front."
Elyria did just that early in this game. QB Tristan Arno, filling in for injured QB Dontae Beckett, gave Avon Lake a steady diet of bubble screens and passes to his backs, in stern contrast to what Elyria's offense is with Beckett.
The Shoremen drew first blood however scoring on a 17 yard run by RB Konner Riggs with 0:34 left in the first quarter to give Avon Lake an early 7-0 lead. The lead lasted 11 seconds as Pioneers multi talented SE Keshaun Glover took the ensuing kickoff 89 yards down the left sideline and made the score 7-6 after a failed conversion.
The only second quarter scoring was a 9 yd TD pass from Arno to Isaiah Thomas. Arno methodically drove the team 71 yards with a mix of screens sideline throws and on 4th and goal hit Thomas for the go ahead score. The 2 point conversion was good and Elyria led at the half 14-7.
Both teams came out in the second half as they started the game, lock down defense and mistakes kept the game at 14-7 until Avon Lake came up with the game's biggest play.
After forcing an Elyria punt, the Shoremen had a first down at their own 37 with 1 second left in the third. Mikolich launched a beautifully thrown ball down the left sideline that WR Cole Schraff caught in stride for a 63 yd TD The point after made it 14-14 after 3
Arno, 23-46, 250 yards 1TD and ran for another, scored from 15 yards out with 9:10 to go, once again the conversion failed but Elyria led 20-14. The Pioneers defense, stout all night, had been frustrating Mikolich all night long into some rushed throws with interior pressure. Now was the time to put them away.
Mikolich, who for the night was 11-29, 196 yards and 2 TDS, had other ideas. He orchestrated the game winning drive with pinpoint passing and great protection up front. With a first and goal at the Elyria 5, the Pioneers defense stopped the Avon Lake running game cold. And on 4th and goal, Mikolich hit Burr with the game winner.
Konner Riggs led the Avon Lake ground game  with 75 yards on 31 carries and a score. Deviian Williams led Elyria with 4 catches for 95 yards.
Avon Lake travels to North Olmsted next Friday night, while Elyria plays host to Bedford.
Scoring Summary
AL- Riggs 17 run, PAT good
E- Glover 89 KO return, conversion failed
E- Thomas 9 pass from Arno, conversion good
AL- Schraff 63 pass from Mikolich, PAT good
E- Arno 15 run, conversion failed
AL- Burr 6 pass from Mikolich, PAT good
This game recap is brought to you by: Crystalina's Pizzeria, visit them at 36962 Detroit Rd. Avon, Ohio or online at www.crystalinaspizzeria.com or call at 440-934-1011. #thechoiceisCrystalclear