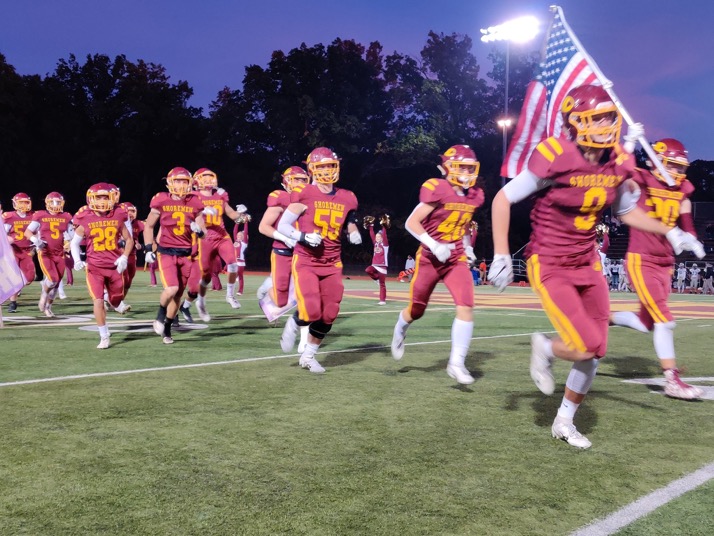 By Mark Perez
AVON LAKE, OHIO – Junior running back Gage Duesler fumbled twice in the first half for Avon Lake.
At halftime, Shoremen's head coach Matt Kostelnik spoke to him.
"Coach Kostelnik [told me at halftime]: 'play your game," Duesler said.
"I knew how to play mine. I had to just keep that ball tight and I had to just keep running hard. The holes just opened up for me."
He bounced back by scoring three touchdowns as he and the Shoremen ran away with the 31-7 victory over Olmsted Falls on Senior Night to secure home-field advantage for the first round.
The 7-3 Olmsted Falls Bulldogs were able to do what no other team could do to the 9-1 Shoremen since Week 5 against North Ridgeville.
Score. A fumble by Duesler on Avon Lake's first play from scrimmage, resulted in the Bulldogs getting the ball on the Shoremen's 21-yard line. Soon, it turned into a Charlie Ciolek 17-yard touchdown pass to Dominyck Newson.
"We were a little down on ourselves," defensive back Russell Tanner said.
"But after that field goal and we got the ball back,.. we're good. We've been in this situation before. I know we are not in it a lot, but we are fine."
Tanner recovered a muffed snap by Ciolek and intercepted him as well in the first half.
Olmsted Falls' triple option running style racked up 123 rushing yards in the first half.
"(Olmsted Falls) were getting up to our pitch guy," Kostelnik said.
"They were doing a great job with a slight tweak that we didn't see on film. They were executing the first half… We had to make slight tweaks and [make Ciolek hold the ball] just a hair longer and allow for out pitch man to get downhill."
Kostelnik didn't want to get into too much detail about their defensive adjustments, because of the chance that they might see this team again in the playoffs.
Whatever they did worked, as they shut out the Bulldogs' offense to beat all-time record for least amount of points scored in Lorain County history, according to Tanner.
Special teams got going too. The versatile Harry Herbert kicked a 43-yard field goal in the third quarter to make the score 17-7.
The Shoremen outscored the Bulldogs 24-0 in the second half.
The second fumble by Duesler happened on a second and goal on the six-yard line.
He broke free from a tackle, gained some momentum before being tackled by multiple defenders.
As Duesler was going to the ground, he reached for the goal line as the ball popped out and was recovered in the end zone by Olmsted Falls.
On Avon Lake's side, they believe the play was not a fumble but rather, he crossed the line before he lost possession, which would have counted as a touchdown and voided the fumble.
"I don't think I crossed the goal line," Duesler describes the fumble.
"But, I could have sworn my knee was down or my elbow hit the ground, which caused the ball to pop up. It is what it is and we just bounce back."
He did bounce back with his rushing stat-line was 17 carries for 188 rushing yards, three touchdowns, and two fumbles.
This win for Avon Lake allows them to host a playoff game in Division II, Region 6.
Olmsted Falls is stumbling into the playoffs as they lost three of their last four games and will have to go on the road for the first round.
Depending on the other games in the region, the Bulldogs could possibly face the Shoremen as soon as next week in the same stadium if they are the seventh seed.

NEO Sports Insiders Newsletter
Sign up to receive our NEOSI newsletter, and keep up to date with all the latest Cleveland sports news.