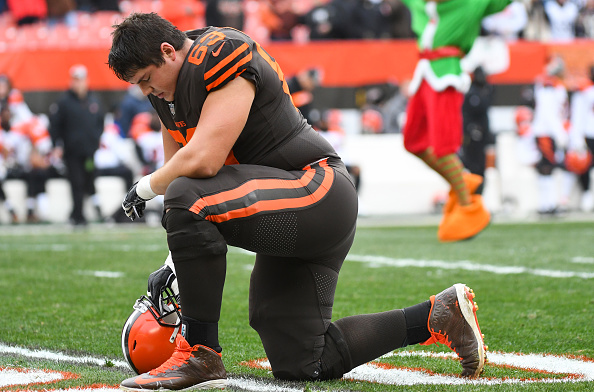 Austin Corbett's place with the Cleveland Browns has always been a curious one.
The offensive lineman was taken with a high second-round pick in last year's draft despite Cleveland already being set at both guard positions. The team's attempt to have him replace retired left tackle Joe Thomas was a short-lived experiment. He then spent the bulk of the 2018 season riding the pine, only playing in 14 offensive snaps for the entire year.
None of this seemed to play a factor when GM John Dorsey decided to trade veteran Kevin Zeitler in March, seemingly opening the door for Corbett to take over at right guard this season.
However, Corbett has yet to take advantage of the opportunity Dorsey created for him. Though it's still early, his inability to secure the starting right guard position is one of Cleveland's biggest training camp concerns.
As of yesterday, the Browns were still running a three-man rotation at right guard, with Corbett, Kyle Kalis and Eric Kush all getting their fair share of snaps with the first team offense. Based on coach Freddie Kitchens' comments on the matter, the lack of a clear front-runner isn't something he's thrilled about.
Kitchens not only confirmed nobody has solidified the right guard position, he also made a point to wish somebody would. After noting Corbett, Kush and Kalis have each had their fair share of good and bad moments, he made sure to hammer home that "under no circumstances are we ready to name the starting guard."
It may seem extreme to worry about Corbett's inability to stand out when competing against Kush (who's on his fourth team heading into his sixth season) and Kalis (who went undrafted), but this is the situation Dorsey created.
The fact is he thrust Corbett into the spotlight the second he traded Zeitler, viewed by many as one of the best guards in the league. In doing this, Dorsey indirectly showed how much he trusts his 2018 second-round selection.
When a move like that happens, the hope is training camp is full of nothing but confirmation that Corbett is proving Dorsey was right to move Zeitler.
That's not what we're hearing.
Instead, we're being told the right guard position is up for grabs, that there are multiple players in the mix, that nobody's running away with it. Despite being drafted 33rd overall, Corbett is struggling to beat out two players with a combined 14 starts in seven seasons.
It's fair to worry about this, regardless of how early we are into training camp.
Keeping quarterback Baker Mayfield upright is one of the Browns' biggest keys for success in the upcoming season. However, only two positions on the offensive line could be considered secure, as both left guard (Joel Bitonio) and center (JC Tretter) are all set.
Outside of that, it's nothing but question marks.
Can left tackle Greg Robinson, who spent Monday getting worked over by Myles Garrett, prove last season wasn't a one-hit wonder?
Can right tackle Chris Hubbard bounce back this year after giving up 8.5 sacks in 2018?
As you can see, the last thing the Browns need is more concern at offensive line. Yet, that's exactly what they have in Corbett, a player who was gift-wrapped an opportunity to start, but is struggling to take advantage of it.
Dorsey made a big bet on Corbett when he traded Zeitler. It could arguably be one of the biggest gambles he's taken since joining the Browns.
Right now, said gamble isn't paying off. While Corbett has time to take hold of the starting right guard position, it sure sounds like his work is cut out for him.

NEO Sports Insiders Newsletter
Sign up to receive our NEOSI newsletter, and keep up to date with all the latest Cleveland sports news.