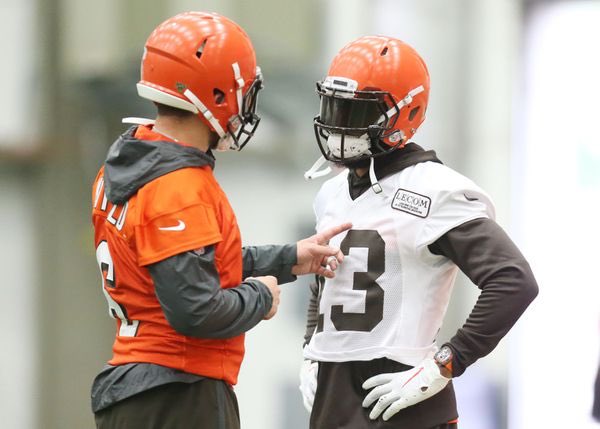 Tuesday marks the first day off for the Browns since training camp opened last Thursday.
So while the players take a day to catch their breath, it seems like an appropriate time to reflect on the first five days of training camp. There has been plenty to see out in Berea so far, so here are five things that have stood out to this point.
1) Freddie is running camp his way
Remember that made for TV exchange between Hue Jackson, then running backs coach Freddie Kitchens and offensive coordinator Todd Haley on Hard Knocks last year? The one where Jackson poo-pooed Kitchens for suggesting that players who are out at least be dressed for practice, then boasted about how it was his team and he'll run in how he sees fit? Well, now it's Kitchens team and he got his wish.
Players being held out of practice for rest or wear and tear maintenance are dressed to practice and standing with their position group throughout the day. Kitchens wants his players involved even when they can't be and made it known a couple days into his first training camp as head coach that guys off on the side riding the stationary bike is a bad look.
On top of that, Kitchens is really tapping into the Browns history and trying to bring meaning to being a member of the Cleveland Browns — something that in recent years has been followed by a hardy laugh for most. It's all part of Kitchens plan to bring the Browns back to prominence. He's doing things his way and so far it looks like the right way.
2) Odell Beckham is a one-man show
As expected, the Browns newest star is must watch at practice or on social media. Not a day of practice has passed that OBJ wasn't caught on video making or attempting and nearly pulling off an acrobatic one-handed catch.
For Browns fans, Beckham Jr. is arguably the most talented football player to grace North East Ohio with his presence in decades. All the talk of the baggage he'd bring with him from the Big Apple just feels like slander at this point. He's been a standup teammate and is exactly as electrifying as he's advertised.
Meanwhile, Baker Mayfield looks extremely comfortable heading into his second season and as he and Beckham Jr and the rest of the offense continue to get in sync over the next month it will feel like your watching a giant awakening. This unit could really be something special.
3) The offensive line needs time
In that vein, how special the offense becomes could depend heavily on the development of the offensive line over the next month. Aside from J.C. Tretter at center and Joel Bitonio at left guard, the O-line was the Browns biggest concern entering camp and it remains that nearly a week in.
Now part of that, as I wrote on Monday, is that you can always expect the offensive (especially the offensive line) to be behind the defense at the start of training camp. Kitchens shot down that notion but having covered training camps for other teams, it's generally true. In no way should Browns fans be sounding the alarms five days into camp. However, the fact that Austin Corbett has been unable separate himself at right guard and instead remains in open competition for the job, and the fact that Greg Robinson hasn't shown the same consistency he did late in the season last year is a bit concerning. Keep an eye on this group over the next few weeks.
4) The defensive line could be special
Freddie Kitchens hasn't been shy in calling the defensive line one of the Browns greatest strengths and so far he's been proven right at camp. The front four of Myles Garrett, Larry Ogundjobi, Sheldon Richardson and Olivier Vernon has been downright dominant, so much so that it's made it hard for the offensive to get much done because someone is constantly in the backfield.
Again, some of that falls on the offensive line, which should get better as time goes on. But for now, this early camp ownage by the D-line is a welcomed sign of what's to come. That group can really do some damage against opposing offenses this season and everyone knows a great defense starts with being able to generate pressure. One possible concern with the starting defensive line is that there isn't much depth behind them — hence why the Browns pursued Gerald McCoy and Michael Daniels. The Browns missed out on both those guys, but more options could become available over the next month to help with their lack of depth.
5) Duke Johnson is staying put…for now anyway
It sure doesn't sound like the Browns have any intention of moving running back Duke Johnson anytime soon, despite his trade request earlier this offseason. When Drew Rosenhaus was spotted at practice on Monday, the obvious assumption was that maybe something was brewing. According to Cleveland.com though, general manager John Dorsey extinguished that pretty quickly saying that Rosenhaus was just there to check on his client, reiterating that they have no plans to trade the dual threat back.
For now at least, it seems that Johnson has accepted the fact that he's still a Cleveland Brown and maybe even smoothed things out with the team. Before being sidelined with a hamstring injury was receiving plenty of reps as the second-string running back and as long as Kareem Hunt remains a liability (there's no guarantee he stays on the straight and narrow) there really shouldn't be any rush to move Johnson.

NEO Sports Insiders Newsletter
Sign up to receive our NEOSI newsletter, and keep up to date with all the latest Cleveland sports news.