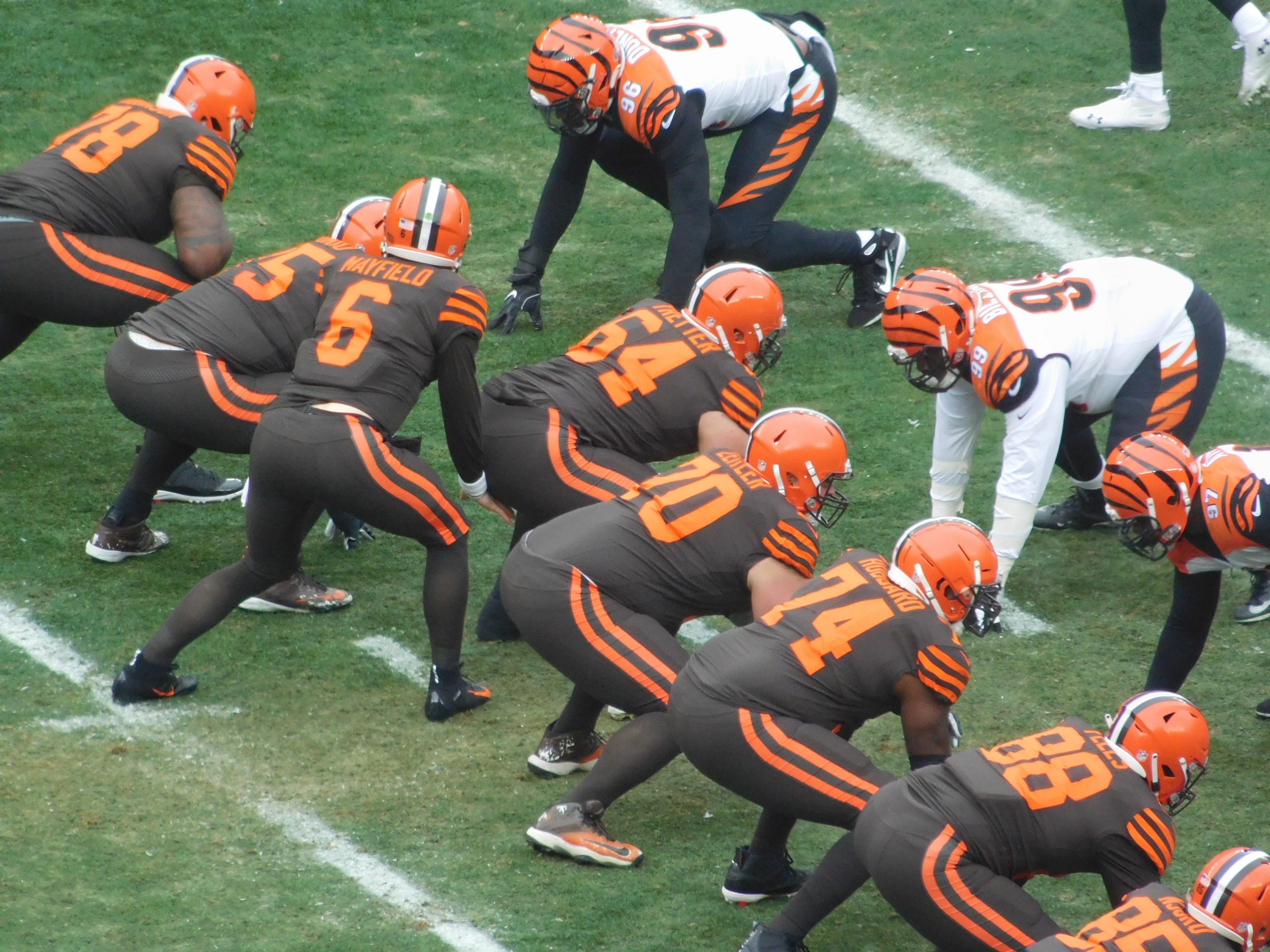 Everyone knows how stacked the Browns are heading into the 2019 season. But as much as the Browns roster shines at the skill positions it lacks at one key area that five days into training camp remains the team's biggest concern: the offensive line.
Aside from J.C. Tretter at center and Joel Bitonio at left guard, the other three positions along the Browns O-line could be considered questionable, including one at right guard that is fully up for grabs.
So when presumed starting left tackle Greg Robinson – the Browns are hoping he builds on a solid finish to last season – had a bad day against Myles Garrett on Monday it's going to raise red flags.
It's a totally understandable reaction, particularly in a game where we, as fans, love to react to singular games, days and plays to judge a player's ability. But this early into camp is far too soon to worry about struggles along the offensive line. In fact, it's expected at this time of year.
A general rule of thumb to follow at the start of any team's training camp is that the defense is always ahead of the offense. That is consistently a pretty natural tendency. Offenses take a lot of continuity to become a well-oiled machine, whether it be communication along the offensive line, timing between the quarterback and his receivers, running backs helping in pass protections; there are a handful of things that have to be in sync.
Those things can take time to develop, particularly when you have new receivers like Odell Beckham Jr. and an O-line that is continually rotating bodies.  And even in today's day and age of more complex coverages and defensive schemes, defensive assignments are much clearer and defined. Pass rushers and defensive lineman may have a stunt to remember but their ultimate goal is to push the pocket. On the back end, without a lot of wrinkles being thrown in from the offense right now, the coverage guys know who or what are they're responsible for and do it. It's much simpler.
Take it from Freddie Kitchen's who was hardly concerned about Robinson's struggles against Garrett on Monday.
"I think Myles is a pretty good player, and I think Greg is a pretty good player," Kitchens said. "I think that is a good competition. When Myles is in the backfield, I would say he is supposed to be there and that is where I want him most of the game."
This is the part where you say, "yeah but it's Robinson's job to stop elite pass rushers like Garrett!" Yes, on Sundays and the occasional Monday and Thursday this fall it will be his primary job.
Right now, it's about the offense getting in sync. That takes time.
The O-line is by far the Browns most troubling position so concern over their struggles or over the fact that no favorite has emerged at right guard is completely fair. Just be wary of sounding the alarms five days in and keep in mind that the offensive is behind the defense at this point. There's no need to panic…yet.

NEO Sports Insiders Newsletter
Sign up to receive our NEOSI newsletter, and keep up to date with all the latest Cleveland sports news.