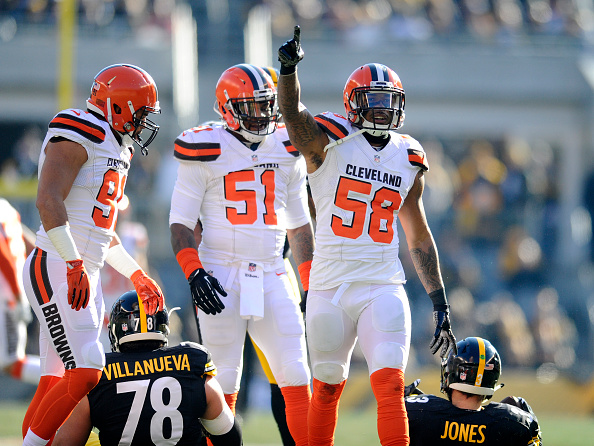 By Nick Broulis
As we get closer to the first preseason Cleveland Browns game of the new season, when they host the Washington Redskins, on August the 8th, the Broulis Beat Report will finish off the defensive side of the ball with a look at the front seven.
THE LINEBACKERS
Aside from the offensive line, linebacker might be one of the weaker units on this 2019 Cleveland Browns team.
Joe Schobert is at linebacker on the outside and has played well since his rookie season. When it comes to coverage skills, Schobert is really good. As for his tackling, Schobert needs to improve on that. I think Schobert is a solid player and when he's not on the field, the defense looks lost. This is the final year of his contract, so it'll be interesting to see how the Browns handle Schobert, especially with the additions of rookies Sione Takitaki and Mack Wilson.
Up next is Christian Kirksey. In 2018, Kirksey started seven games, then came the home game against the Carolina Panthers when Kirksey hurt his hamstring and was done for the season. Kirksey is under contract through the 2021 season, but again, we don't know what John Dorsey's plans are with Takitaki and Wilson. The good thing is, every team needs quality depth. Also, we shall see how well Kirksey plays after being off for half a year. Both Schobert and Kirksey are really good at running from sideline to sideline. They both have to get better in run defense.
Now that I've brought up the rookies in the previous two sentences, let's actually talk about them.
In the 2019 draft, Cleveland selected Takitaki out of BYU. Takitaki is best known, on the field, for being a high energy player who loves to hit hard. I'm anticipating Takitaki seeing the field quite often this year. Whether that be on special teams or as an extra linebacker. I'm also hoping that Sione pushes hard for a spot.
Fellow rookie linebacker Mack Wilson is from Alabama and was a fifth-round pick for Cleveland. Another linebacker that is big and can run. I'd like to see how well Wilson can be once he gets enough playing time, which may be this year or next.
This position is thin as you can see and behind Takitaki and Wilson, you'll hear the names Ray Ray Armstrong, Adarius Taylor and Willie Harvey among others.
DEFENSIVE LINE
Going from a weakness to a strength is the defensive line for the Browns.
When the Browns traded for Odell Beckham Jr., it was originally a separate trade from also acquiring edge rusher Olivier Vernon. After the trades were complete, they just decided to call it all one trade.
Dorsey traded Emmanuel Ogbah to Kansas City, it was because Dorsey felt Ogbah wasn't getting the job done. Myles Garrett needs someone opposite him to put more pressure on the offensive line.
Vernon has been in the NFL since being drafted by the Miami Dolphins in 2012. Injuries have played a role in Vernon being able to play an entire season the past two seasons. The Browns are hoping that Vernon stays healthy for most of the season and that he can be a disruptive force opposite Myles Garrett. Cleveland would love for Vernon to be the player he was in 2013, when he had 11.5 sacks. If not that, then the player he was in 2016, when he had 8.5 sacks.
During free-agency, Cleveland wanted to improve their defensive line and improving their pass-rush. Quarterbacks hate pressure up the middle. Dorsey signed Sheldon Richardson to a three-year deal worth $37 million. Richardson is known for his ability to cause chaos in the middle of the line and Cleveland needs that badly. Richardson was drafted by the New York Jets and later spent time with Seattle and Minnesota.
When it comes to pressure up the middle, Larry Ogunjobi has been a solid addition for the Browns. A third-round pick back in 2017 by Cleveland, Ogunjobi is the type of player you look for in the mid to later rounds of the draft. This was a great find. Ogunjobi isn't going to rack up a lot of stats for you and won't be a team's sack leader, but he causes a lot of problems up the middle. I said in the previous paragraph that the Browns need that.
The Browns made Garrett the number one overall pick in the draft three years ago. In year one, Garrett had 7 sacks in 11 games. Last year, in 16 games, Garrett racked up 13.5. Now that Myles has some help on the other side with Vernon, teams won't be able to double Garrett any longer and that should help increase Garrett's sack total. At 6'4 and 272 pounds, Myles is a load to handle, especially with his athleticism.
Other players to listen for and keep an eye on when it comes to the line are Chris Smith, Brian Price, Trevon Coley, Genard Avery who had a good rookie season, Chad Thomas, Carl Davis and Anthony Zettel.
Cleveland, on paper, has one of the better and deepest defensive lines in the league. If the Browns can improve their run defense and create more sacks, this defense can be scary.

NEO Sports Insiders Newsletter
Sign up to receive our NEOSI newsletter, and keep up to date with all the latest Cleveland sports news.