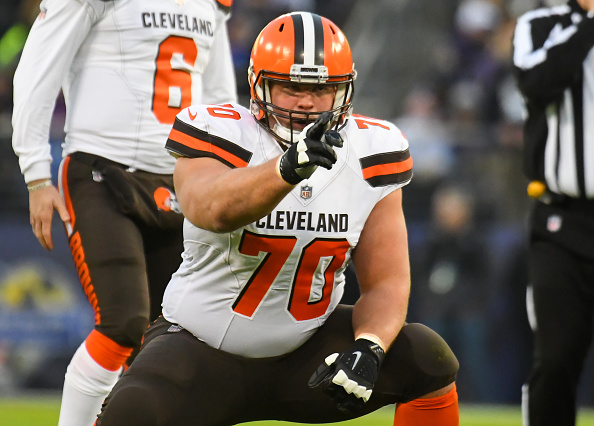 Give credit where credit is due, when it comes to pulling off surprising moves, John Dorsey has become quite an expert.
Just as we anticipated all week, the Cleveland Browns GM pulled off a trade with the New York Giants. However, Odell Beckham Jr. wasn't even remotely involved.
Instead, Dorsey traded guard Kevin Zeitler in exchange for star pass rusher Olivier Vernon, adding strength to the edge of Cleveland's defensive line. It goes without saying that pairing Vernon with Myles Garrett is certainly an upgrade for the team's front seven.
With that said, the loss of Zeitler makes it tough to fully evaluate this trade. In dealing away one of the team's best lineman, this trade could be considered Dorsey's biggest gamble since arriving in Cleveland.
Sure, the Browns GM has previously made moves which sparked initial confusion. He bet big on Baker Mayfield despite other available quarterback prospects getting higher grades, and drafted corner back Denzel Ward over stud defensive end Bradley Chubb.
Just recently, Dorsey took the risk of signing troubled running back Kareem Hunt, despite knowing such a move would cause a significant uproar.
So, yes, Dorsey has proven he's willing to take a gamble.
That said, this one definitely causes more pause than usual.
In Zeitler, the Browns had one of the best guards in the league. Pro Football Focus gave him a 91.7 pass blocking grade for 2018, which happened to be the highest among guards in the NFL.
Kevin Zeitler should improve the Giants' offensive line immediately. pic.twitter.com/LxVUDrvThd

— Pro Football Focus (@PFF) March 8, 2019
Essentially, the Browns boosted their defensive line, but may have made a bigger (albeit negative) impact to their offensive line. Sure, Zeitler wasn't cheap, and I'd understand Dorsey's thinking when it comes to moving a guy the previous regime signed. That said, he also wasn't just some overpaid scrub.
Zeitler also helped keep Mayfield upright. This, of course, is the key reason why Dorsey may be playing with house money when it comes to this move.
In dealing Zeitler, Dorsey weakened the protection his franchise quarterback will receive on a weekly basis. A key reason for Mayfield's uneven play during the first half of his rookie season was the absurdly high amount of pressure he was facing every Sunday. When his jersey stayed clean during the back half of the year, he had the offense firing on all cylinders.
As a result, it's a major risk to move such a significant piece of the offensive line. Should Mayfield experience increased pressure in the 2019 season, it'll be easy to see this move as a reason why.
Not only is Dorsey betting on the trade of Zeitler being a good idea, he's also laying down high hopes for Austin Corbett, the guard he selected in the second round of last year's draft.
It's not a leap to assume Dorsey felt free to send Zeitler packing because he was confident in Corbett's ability to take the reins. That said, was this confidence due to the young lineman's talent, or was it based simply in the fact Corbett is his guy and Zeitler wasn't?
Unfortunately, we haven't seen enough of Corbett to assume otherwise. He barely touched the field in 2018, hardly getting enough snaps to provide a good read on what he can do. As a result, we won't know for sure whether Dorsey was wise to make this deal at all until Corbett gets legit playing time.
That certainly won't be a problem, now. With Zeitler out of the way, we can pretty much pencil Corbett in as a starting guard for this team in 2019.
While I understand the value Vernon brings to Cleveland's defense, it's difficult to evaluate the return in this trade when you consider what the team gave up to get it.
Dorsey dealt away one of the best guards in the league. He did so as a vote of confidence in the unproven lineman he drafted the year before. And, if it doesn't work out, his franchise quarterback is going to be frequently feeling the heat on Sundays.
This surely won't be the last gamble Dorsey makes with the Browns. For now, though, it's certainly the one which causes the most anxiety.

NEO Sports Insiders Newsletter
Sign up to receive our NEOSI newsletter, and keep up to date with all the latest Cleveland sports news.